'They could say, come finish with us' – Dale Steyn predicts Virat Kohli's next IPL team after RCB
Virat Kohli will step down as RCB captain after IPL 2021.
Updated - Sep 21, 2021 1:07 pm
3.3K Views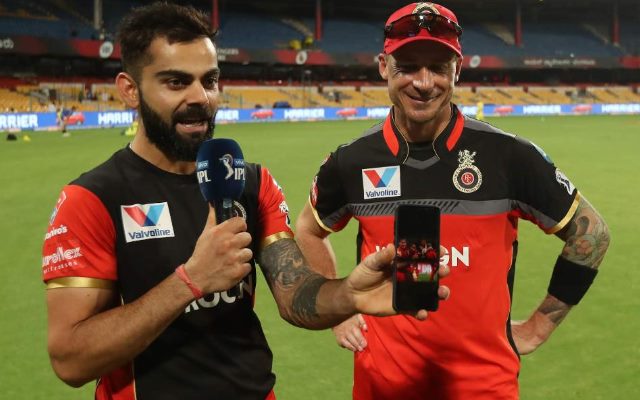 Follow us on Telegram
Virat Kohli has taken a couple of massive decisions in the week gone by which have taken the cricket world by storm. On September 16, the talismanic cricketer announced he'll step down as India's T20I captain following the conclusion of this year's T20 World Cup. While fans and experts weren't done digesting this news, Kohli, a couple of days later, notified leaving Royal Challengers Bangalore (RCB) captaincy as well after the completion of Indian Premier League (IPL) 2021.
Kohli, who has been RCB's full-time captain since 2013, has enjoyed a sensational run in IPL as a batter. In fact, he's the only player with over 6000 runs in the competition to date. However, the last couple of years haven't been that sensational for the veteran player. Hence, many believe Kohli relieved himself for the leadership role to focus on batting.
Speaking of the same, former South Africa fast bowler Dale Steyn reckoned Kohli took the decision to avoid fingers from being pointed at him. "He may be just trying to put out and extinguish some fires before they happened, having relinquished the Indian captaincy. If he had two or three bad scores in the next couple of games people might start questioning whether he should give up the RCB captaincy too," Steyn said on ESPNcricinfo.
"So before that even comes into question, he may have decided that let me just say that this is also part of my thinking," he added. For the unversed, Kohli announced stepping down as RCB captain in a video posted on the franchise's official social media handle. In the clip, the 32-year-old mentioned he would play for RCB till the time he plays IPL. However, Steyn, who has shared the RCB dressing room with Kohli, believes the batsman can change his decision.
Delhi Capitals might welcome Virat Kohli: Dale Steyn
Citing examples of Chris Gayle leaving RCB and football legend David Beckham leaving Manchester United, Steyn said Kohli might follow their route as well. As Kohli hails for Delhi, the Proteas talisman believes, Delhi Capitals might welcome the Indian skipper in their set-up.
"It doesn't matter how good a player you are, you could see yourself walking. We've seen Chris Gayle leave the team. We have seen David Beckham leave Manchester United after playing for an entire lifespan for them. You never really know; you have these famous people playing for their clubs for a long time and who knows. Virat is originally from Delhi and for all we know, they (Delhi Capitals) could say 'come finish with us," asserted Steyn.
Follow us on Google News