'This is cheating' – James Anderson to Jasprit Bumrah after facing the bouncer barrage at Lord's
The incident which fired the Indian team was actually started by James Anderson who had a go at the Indian pacer after the play ended on day three.
Updated - Aug 20, 2021 9:52 am
107.9K Views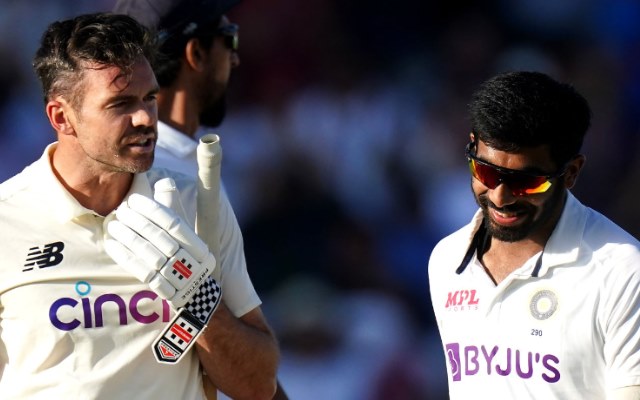 Follow us on Google News
The recently concluded Lord's Test match between England and India will be remembered for several reasons in the years to come. All the Indian players played their individual part in helping them win the famous Test match at the home of cricket and take a 1-0 lead in the five-match Test series. One of the more famous moments or rather incident was what happened between Jasprit Bumrah and James Anderson. 
The incident happened late on day three when Indians were trying to bowl out England in their first innings. Jasprit Bumrah bowled a 10-ball over to Anderson, in which he overstepped four times. In that over, he bowled a few short pitch deliveries to the veteran pacer. The Lancashire man didn't take it nicely and had a little war of words with the Indian pacer. 
The drama of this incident escalated on days four and five as other individuals from both teams got into it. In a Youtube video of Ravichandran Ashwin's channel, the Indian fielding coach R Sridhar finally revealed what Anderson said to Bumrah which escalated the matter.
After England was bowled out on day three and the players were walking back to the dressing room, everyone witnessed Anderson having a go at Bumrah, as the latter kept smiling back. 
James Anderson was not happy with the pace at which Jasprit Bumrah bowled
The screenshots of the video on Ashwin's channel were uploaded to Twitter by a fan with subtitles. It was revealed that Anderson said to Bumrah that when everyone else was batting, he bowled at a speed of 80 or 85 mph but as soon as England's no. 11 walked out he started bowling at the speed of 90 mph. 
It was also revealed that Bumrah while walking back to the dressing room went past Anderson telling him that the bouncers which he bowled were not intentional. Since the start of his career, Bumrah has maintained a good on-field image and has hardly ever seen having a go at any player. It is almost like he doesn't engage in verbal volleys with the opposition. 
After the incident on day three, Anderson was seen having a word with Virat Kohli on the field while the latter was batting. Kohli was heard saying that Anderson had abused Bumrah on the previous day. On day five, when Bumrah walked out to bat, the England bowling attack bowled bouncers at him. Bumrah also had a chat with Jos Buttler, who later in the day had another engagement with Kohli. Bumrah had said to Buttler and other England players, "I wasn't the one complaining about the pace, man."
Follow us on Telegram