Throwback to the time when Virat Kohli chose Anushka in the 'IPL Swayamvar'
Shah Rukh Khan had managed to embarrass Virat Kohli in front of a big audience using Anushka's name.
Updated - Jun 1, 2018 2:04 am
1.5K Views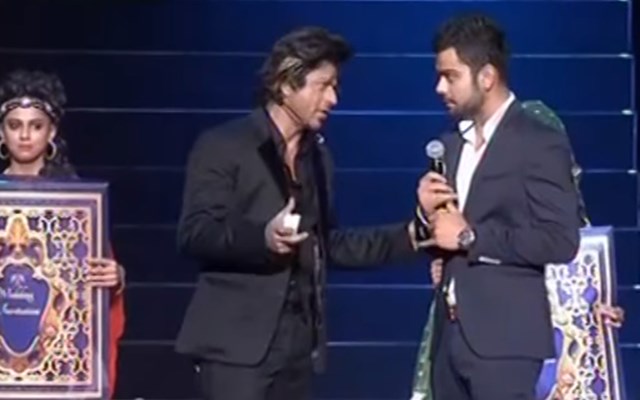 Team India skipper Virat Kohli recently married Bollywood diva Anushka Sharma. The couple have been setting some serious couple goals for quite some time now. The love that they have for each other is indeed very awe inspiring. Both Virat and Anushka are not shy of showing their love for one another. Virat keeps posting updates about the upcoming works of Anushka, and the lady never misses an opportunity to celebrate the on-field heroics of her husband.
Well, it has not always been this way for the lovely couple. Virat Kohli and Anushka Sharma had kept their relationship very private prior to their wedding. In fact, even their wedding came as a big surprise for many. They kept it very secretive and made the announcement about the same only after they got hitched in Italy. Before the two got married, they did not like talking about their relationship in public.
But in a very funny incident some years ago, Shah Rukh Khan had managed to embarrass Virat Kohli in front of a big audience using Anushka's name. The couple had just started dating in the year of 2014. During the opening ceremony of the IPL 2014, Shah Rukh Khan played the host for the cricketers and the guests present at the evening. He called Virat on the stage and hosted an 'IPL Swayamvar' for the Indian cricketer.
SRK asked Virat about the ideal partner he would like to have. Virat answered by saying that his partner should have good hair and big eyes. SRK joked and showed some hilarious pictures to Virat and asked him to choose a partner from those. Then, he suddenly pulled out a picture of Anushka Sharma and mocked Virat by asking, "I am sure you do not know her."
Here is the picture: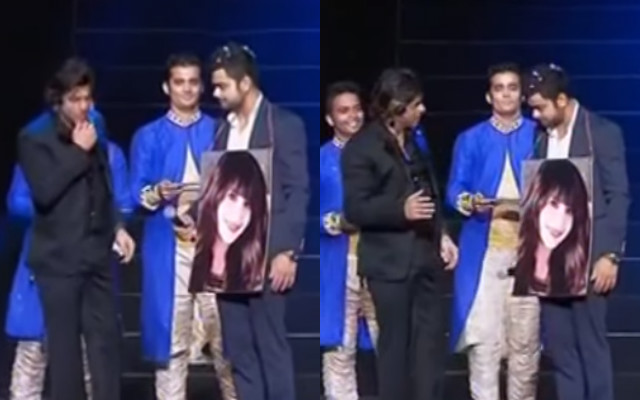 A very embarrassed Virat was seen blushing as he gushed, "Aise mat karo yaar (Don't do this man)". The people in the audience found it very funny and could not stop laughing. The likes of Ajinkya Rahane and Suresh Raina were seen laughing during the entire episode.
Check out the video here:
For the latest cricket news, follow CricTracker.