Tim Paine gives a calm-headed reply to an abusing Indian fan
Kohl and Paine were involved in an heated exchange during the Perth Test.
Updated - Dec 21, 2018 11:59 am
35.3K Views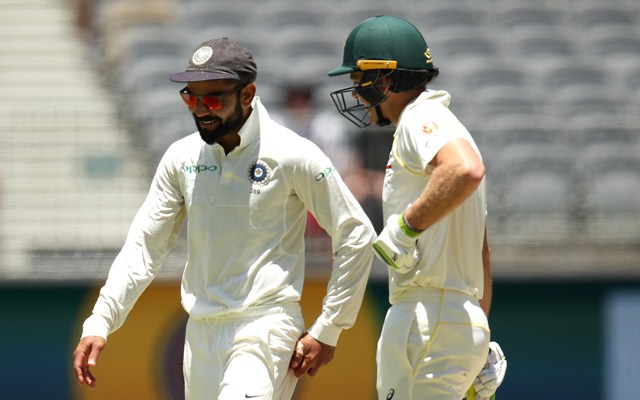 More than Australia's series-levelling win, the Perth Test was the talk of the town for the verbal duel between Virat Kohli and Tim Paine. Things were heated up a lot between them during the third and fourth day of the Test match and finally the on-field umpire Chris Gaffaney had to intervene. Different versions of the banter came out in the media while even the BCCI released the statement refuting all the reports of Kohli making controversial statements on the field.
While it was the Indian captain who started it all, even Paine didn't hold back and sledged the other Indian batsmen in the second innings. He even asked Murali Vijay if his captain was a good bloke off the field and whether he had any liking for him. Marcus Harris tried to get into Rishabh Pant's mind before the last ball of the fourth day and clearly, all was not well between the two teams.
An Indian fan repeatedly abuses Paine
Meanwhile, an Indian fan was impressed at all with Tim Paine for getting involved in the argument with Virat Kohli. He repeatedly abused him comparing his stats with Kohli in a Twitter conversation with the other Australian cricketer Travis Birt. While Birt kept referring the Australian captain as 'King Paine', the Indian fan kept on reminding him Paine's stats.
The Twitter user also went on to say that he was waiting for Paine to visit India at some point in his career while also added that he will get dropped from the team next year. During an animated conversation between the two, Paine, despite being abused so hard, kept his cool and responded to the fan suggesting him to settle down.
Paine has surely won the hearts of the Australian fans with his calm demeanour since the ball-tampering saga and the Perth Test victory has put the icing on the cake now. Expect the home crowd to stand strongly behind its captain and the team now in the Boxing Day Test.
Here's the thread of the convo:
Whilst he's may be a renowned bandwagoner…..The truth is he's extremely tight and loves free stuff.. #seethebombersflyup pic.twitter.com/UJLmsno1KR

— Travis Birt (@T_Bird81) December 14, 2018
Keeping in the family with the giants there Trav……

— Tim Paine (@tdpaine36) December 15, 2018
Useless mf Tim Paine

— Rajesh (@Rajesh73450085) December 18, 2018
That's a bit harsh…. He good man and now KING PAINE!

— Travis Birt (@T_Bird81) December 18, 2018
That's a bit harsh…. He good man and now KING PAINE!

— Travis Birt (@T_Bird81) December 18, 2018
I will stone his head when he visit India

— Rajesh (@Rajesh73450085) December 18, 2018
You throw a stone better than Kohli throw a tantrum?

— Travis Birt (@T_Bird81) December 18, 2018
That useless mf Paine must know what is the power of guy with 63 international 100s at age of 30
Eagerly waiting for his visit to India

— Rajesh (@Rajesh73450085) December 18, 2018
Yeah, but how many stumpings does he have?

— Travis Birt (@T_Bird81) December 18, 2018
This mf Tim Paine played 16 or 17 test matches till now
I don't want see more stats
This useless mf will not get job anywhere on earth he is already 33 he will be kicked out of team next year and will regret for his mistake through out his life

— Rajesh (@Rajesh73450085) December 18, 2018
You mentioned stats…. You also mentioned King Paine has played 16 or 17 tests….. Which is a stat

— Travis Birt (@T_Bird81) December 18, 2018
How can anyone clearly know that b*stards name?? He played 16 or 17 tests till now
That unknown b*stard will remain unknown forever

— Rajesh (@Rajesh73450085) December 19, 2018
An Australian cricket captain in a country with a population of 25 mill….. OR just another salty Indian fan boy in a population of a billion….. I think I know who will remain unknown forever #kingpaine

— Travis Birt (@T_Bird81) December 19, 2018
Captain who avg 30 in first class 😂😂

— Rajesh (@Rajesh73450085) December 19, 2018
Captain who avg 30 in first class 😂😂

— Rajesh (@Rajesh73450085) December 19, 2018
37 in test cricket as a keeper…. We'll take that…. Mr Tim Paine he's a mad bastard.. He from Rokeby

— Travis Birt (@T_Bird81) December 19, 2018
I will smash that useless little b*stard ask him to visit India

— Rajesh (@Rajesh73450085) December 19, 2018
Settle down Rajesh

— Tim Paine (@tdpaine36) December 20, 2018
[interaction id="5c1b73fc5e0e5f420e002a5e"]