TNPL 2018: Anil Kumble's Spektacom to introduce new technology in the tournament
"I am thankful to TNPL for giving Spektacom an opportunity to debut in a tournament that will be viewed by millions," Kumble said.
Updated - Jun 22, 2018 1:19 pm
6.9K Views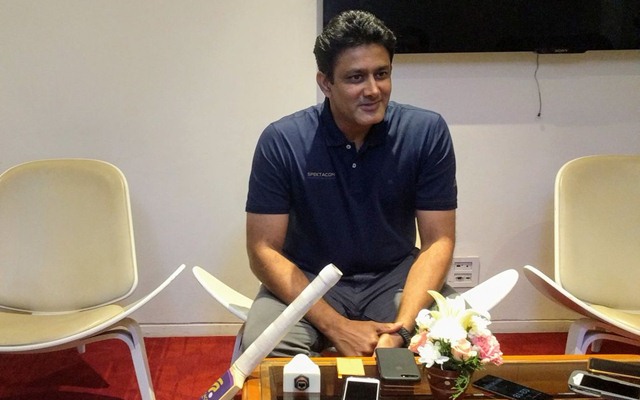 Follow us on Telegram
A new technology that helps analyze batting will be on display during the third edition of the India Cements-Tamil Nadu Premier League (TNPL) to be held across three venues in the state between July 11 and August 12. Spektacom is a technology that measures – in real-time – bat-speed, power and tracks whether or not the ball has hit the sweet spot of the bat.
"I am thankful to TNPL for giving Spektacom an opportunity to debut in a tournament that will be viewed by millions," said former India captain Anil Kumble, founder of the company that owns the technology.
"It is a sensor-based technology which operates with a smart sticker. Once you put the sticker on the bat, it becomes a smart bat," added the 47-year-old who also thanked TV broadcasters Star Sports for the exposure to the new-age technology during TNPL 2018. Millions of viewers watch live TNPL action on Star Sports Tamil and Star Sports 1.
The legendary leg-spinner also spoke about the game at large during an interaction with a select group of journalists in Chennai on Thursday.
Excerpts from this chat with TNPL:
On the growth and popularity of TNPL…
TNPL is a great platform for youngsters. Washington Sundar's consistent performances in the TNPL fast-tracked him into the IPL and into the Indian team. Similarly, with T Natarajan last year when he came out of the blue and nobody knew who he was.
On the huge impact of Twenty20 format…
Definitely Twenty20 cricket has garnered great response. This format has done a world of good to fitness and fielding standards. Fielding is an opportunity where the course of a game can be changed completely. Twenty20 is a stage where teams and players have realized the significance of fitness and fielding aspects.
On TNPL being held in the districts…
I think it's important to take the game to the hinterlands. No matter how much you watch on television, if you see your heroes in flesh and blood in front of you, that creates an impact on any youngster wanting to take up the game. With places like Tirunelveli and Dindigul hosting matches, that'll help the game spread far and wide.
On wrist spinners being very effective in Twenty20…
In my opinion, it is all about creating a doubt in the mind of a batsman. Any batsman takes a fraction of a second extra to read a wrist spinner and that determines the success of a wrist spinner over a finger spinner. In the shorter formats, the margin of error is very minimal. Variations are the key. The googlies, flippers will definitely confuse the batsman.
Follow us on Google News