'To go past Harbhajan Singh in 80 Tests is phenomenal' – Rahul Dravid hails 'match winner' Ravi Ashwin
Rahul Dravid also added that it has been a pleasure working with Ravi Ashwin.
Updated - Nov 30, 2021 10:45 am
723 Views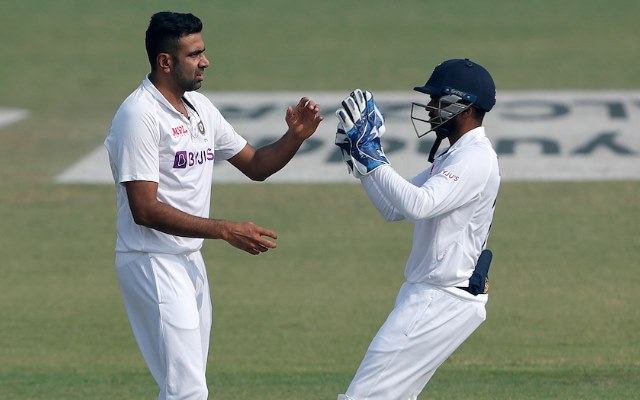 Follow us on Telegram
Ravichandran Ashwin had his moment with history during the 1st Test between India and New Zealand. The right-arm off-spinner went past bowling great Harbhajan Singh and is now currently sitting at the 3rd place in the list of Indian bowlers with the most wickets in Test cricket, with 419 scalps to his name.
And now, the Head Coach of the Indian cricket team Rahul Dravid has showered his praise on Ashwin. Dravid labelled Harbhajan as a 'fine bowler' but stated that Ashwin's achievement is a phenomenal one.
"Harbhajan was a really fine bowler, someone I've played a lot of cricket with. He was a terrific bowler for India and what Ashwin's done to be able to go past in just 80 Test matches is a phenomenal achievement," said Dravid after the match.
Ravi Ashwin has been a match-winner for India: Rahul Dravid
Rahul Dravid also added that Ashwin has been a match-winner for the Indian side and said that he pulled things back for the Ajinkya Rahane led outfit on Day 5. Adding that Ashwin keeps evolving as a bowler, the Indian Head Coach said that one does not achieve success like Ashwin unless he keeps improving.
"Ashwin has been an absolute match-winner for India, even today you saw on this difficult wicket the way he pulled us back into the game (and also) on that third morning with that spell of 11 overs. And today just to keep us alive in the game is a tribute to his skill and ability.
I think he's just evolved, he keeps growing. He's one of those guys who keeps thinking about the game, keeps changing, keeps evolving. That's why he's got where he has. You don't achieve what Ashwin has achieved without growing and improving and evolving," said Dravid.
Dravid also added that it has been a pleasure working with Ashwin and concluded by stating that he is really happy with Ashwin's incredible feat with the red cherry in hand.
"It's a pleasure to have someone like him in the dressing room and to work with him. It's phenomenal and really happy for what he's achieved," concluded Rahul Dravid.
Follow us on Google News