Told Shoaib Akhtar to comfortably spectate the game when he asked me for 2011 WC final tickets: Harbhajan Singh
Harbhajan Singh told Shoaib Akhtar that he could come to watch the final in Mumbai as a spectator.
Updated - Apr 3, 2021 11:00 am
13.6K Views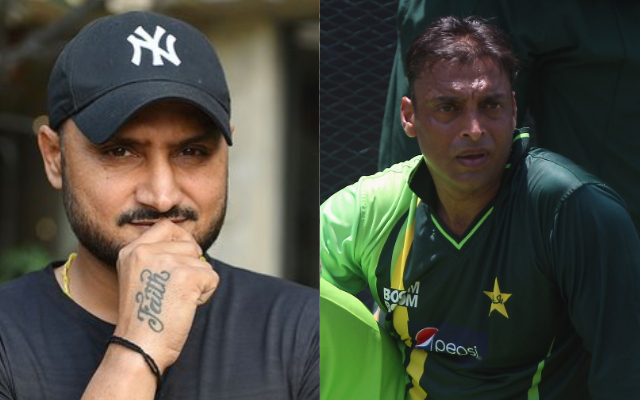 Follow us on Telegram
Harbhajan Singh and Shoaib Akhtar are two of the most colorful characters in the world of cricket. Both men were the lynchpins of their respective sides during their playing days in the bowling department. And, both these cricketers do not shy away from voicing their opinion.
And now, Harbhajan Singh has revealed the conversation between him and Akhtar ahead of the 2011 World Cup semifinal. Before the high-octane semi-final clash between India and Pakistan in the 2011 World Cup, Shoaib Akhtar asked Harbhajan Singh for a few tickets so that his family and a few relatives could come to watch the match.
So, 'Bhajji' called the Punjab Cricket Association (PCA) and arranged for four tickets. And, when Harbhajan gave the tickets to Akhtar, the Pakistan speedster wanted the Indian off-spinner to arrange for four more tickets for the final as well.
"Shoaib Akhtar told me the night before the match that he wants some tickets for his family and relatives from Pakistan. So, I said no problem, and I called PCA (Punjab Cricket Association) and somehow arranged some four tickets for him. When I went to give them to him, he said 'It will be great if you can arrange four tickets for the final as well," revealed Harbhajan in a chat with Sports Today.
"I will give you four more tickets as well," said Harbhajan Singh to Shoaib Akhtar
Harbhajan further continued that when asked why Shoaib Akhtar wanted four more tickets, he stated that the Pakistan side was going to Mumbai to play the final. To that, Harbhajan told Akhtar that it would be the Indian side that will be playing the World Cup summit clash and Akhtar could come to watch the final in Mumbai as a spectator.
"I asked what he would do with them. He asserted that they (Pakistan) were going to play the final in Mumbai. I replied 'If you are going to Mumbai, then where are we going? India will play the final, and you should come and watch. I will give you four more tickets as well, no problem, you come and comfortably spectate the game,'" said Harbhajan.
After India beat Pakistan in the semi-final of the 2011 World Cup, Harbhajan cheekily asked Akhtar whether he would still like to come to watch the final between India and Sri Lanka. But then, Akhtar declined.
"After the game, I told him 'if you still want to come and watch the game in Wankhede on 2nd of April against Sri Lanka, you are more than welcome to come'. But he said 'no man, I should head back now'," concluded Harbhajan.
India beat Sri Lanka in the final of the 2011 World Cup by 6 wickets to emerge as the champions. MS Dhoni was awarded the Player of the Match award for his unbeaten 91.
Follow us on Google News