Top 5 Highest individual scorers in junior cricket
Updated - Jun 19, 2016 8:06 am
75 Views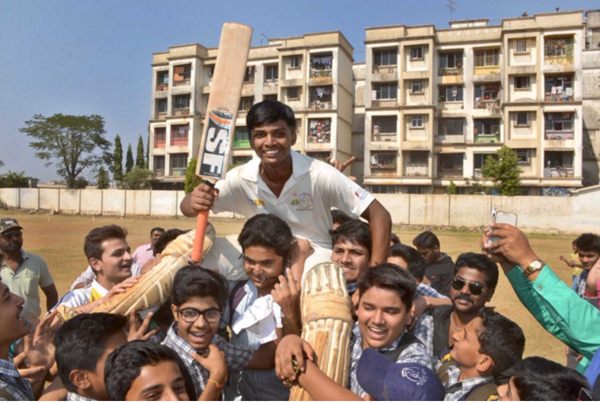 Follow us on Google News
We have witnessed some fine performances by the youngsters, who burst into the domestic scenario at a very tender age, courtesy some record-breaking knocks. Age group cricket has proved to be a platform for batting talent to nurture especially in Indian cricket. An 116-year-old record for the highest individual score was recently broken by a 15-year old Indian boy. Let's have a look at the top five highest individual scorers in junior cricket:
5. Armaan Jaffer 498 v IES Raja Shivaji School:
Armaan Jaffer burst in the limelight with his classy 498 against IES VN Sule Guruji. Playing for the Rizvi Springfield in the 
2010-11 season Jaffer
 batted for a total of 359 balls, hitting 65 fours and 16 sixes in his superb knock that lasted 437 minutes. He and partner Siddharth Singh, who scored 177, also fell just 33 runs short of breaking the 664-run partnership record set by Sachin Tendulkar and Vinod Kambli in 1988.
4. Prithvi Shaw 546 v St Francis HS:
A 14-year old Prithvi Shaw smashed a record-breaking 546 during a Harris Shield match in the 2013-14 season at the Azad Maidan in Mumbai. Shaw's innings lasted 367 minutes, he batted over two days, his knock included a blistering 85 fours and five sixes which helped his team reach a big score. Prithvi is seen as a serious batting talent and has keen eyes on him since he played the marvelous knock.
3. CJ Eady 566 v Wellington:
In a club match between the Tasmanian club Break o' Day and the Wellington club in the year 1902, CJ Eady scored 566 runs from a total of 908. He remained unbeaten, plundering the hapless bowling attack. Interestingly, he also took all the 10 wickets, giving away 42 runs in an innings for South Hobart versus East Hobart in 1906. Eady was six feet three inches tall and was known for his hard-hitting batting.
2. 628* – Arthur Collins 628* v North Town:
Arthur Edward Jeune "James" Collins was a soldier who played cricket too. As a 13-year old, he scored 628 not out runs over four day's of play in June 1899. People all over from Old Cliftonian wanted to have a glimpse of the young man making history on the 22 yards. Collins was dropped several times as the match between Clarke's House and North Town House witnessed some exciting events. The match was a timeless one, and his record stood for 116 years.
1. Pranav Dhanawade 1009* v Arya Gurukul:
Playing for KC Gandhi School, the Mumbai boy turned into an overnight sensation, all thanks to his mammoth knock of 1009* that turned out to be the highest score in an officially recorded match. Pranav amassed 354 of his runs through sixes, and 516 runs in boundaries against Arya Gurukul School. He smashed 129 boundaries and 59 sixes on his way to the first ever 1000 runs recorded by a batsman.
Follow us on Telegram