Top Stories: Things that made news in the cricket world today
All the news stories that hogged the headlines today.
Updated - Oct 7, 2020 11:45 pm
211 Views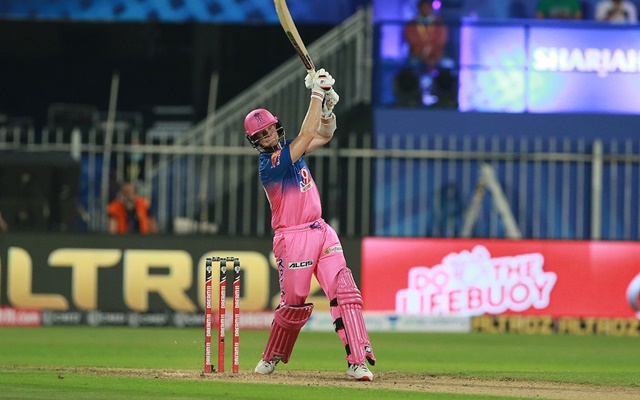 Follow us on Telegram
IPL 2020: RR's Steve Smith fined for slow over-rate against MI
On Tuesday, October 6, Rajasthan Royals (RR) lost to the Mumbai Indians (MI) by 57 runs at the Sheikh Zayed Stadium in Abu Dhabi.
Adding insult to injury, Steve Smith, their skipper, was fined for slow over-rate.
He was fined INR 12 lakhs, with the offence being the Royals' first in the tournament.
'Ben Stokes is the best all-rounder but not God' – Aakash Chopra warns Rajasthan Royals (RR)
With Ben Stokes' return, RR are hoping to get back to winning ways and ultimately book a Playoffs berth.
Cricketer-turned-commentator Aakash Chopra has pointed out Royals' poor middle-order.
Chopra also mentioned that while Stokes might be the best all-rounder today, he could be left to do things alone like Jos Buttler was against Mumbai Indians.
IPL 2020: KKR's Ali Khan ruled out of the tournament
Kolkata Knight Riders (KKR) have been dealt with a body blow as Ali Khan, their fast bowler, has been ruled out of the 2020 Indian Premier League (IPL).
The speedster, reportedly, has sustained some injuries and won't be able to recover in time.
Earlier, Khan became the first bowler from the United States of America (UAE) to be a part of the prestigious and cash-rich tournament.
Ajinkya Rahane is an integral part of the team, won't trade him mid-season: Delhi Capitals
The 13th edition of the Indian Premier League is on with full zeal and class, where Delhi Capitals (DC) are sitting comfortably on the second slot in the points table.
With stiff competition in the cash-rich league, players are thriving hard to get in the Playing XI of their respective squads.
In the same light, there have been a lot of questions whether Delhi will be pitching in their senior campaigner, Ajinkya Rahane, or not.
Sanjay Bangar picks Rishabh Pant as MS Dhoni's ideal replacement in Indian side
There have been a lot of talks going over who can fill in the shoes of legendary MS Dhoni behind the wickets after he drew curtains over his international career.
Rishabh Pant has impressed critics quite a lot after showing great work behind stumps for the Delhi franchise.
He has also contributed with his bat well in the IPL 2020 season, and that is why he has become an integral part of DC in death overs.
Late Najeeb Tarakai's family not blaming car driver for cricketer's demise
On Tuesday, October 6, Afghanistan cricketer Najeeb Tarakai lost his life after meeting with a fatal car accident.
He breathed his last on Tuesday morning at 4:00 am after remaining in coma for a few days. On Friday, October 1, he met with the accident in the Jalalabad city.
However, his family doesn't want to put the blame on the car driver and said that it can't compensate for the massive loss.
Ricky Ponting wanted me to run Aaron Finch out: Ravi Ashwin
Ravi Ashwin could have found himself tangled into another controversy.
However, he evaded any unruly circumstances after he refrained from running out Aaron Finch at the non-striker's end.
Back in 2019, the veteran sparked a controversy after he ran out Rajasthan Royals' (RR) Jos Buttler. But this time around, he let Australia's Finch off with a warning.
Family bid farewell to Dean Jones with a lap of the iconic MCG
The cricket fraternity around the world suffered a great blow when former Australian cricketer, Dean Jones, breathed his last in a Mumbai hotel.
He was part of the broadcast setup of the on-going Indian Premier League, but a massive heart attack ended in life in the spur of the moment.
His colleague and friend, Brett Lee, was present with him during the unfortunate incident and tried reviving him, but all went in vain.
Brian Lara picks his strongest contender to take over MS Dhoni
The entire cricket fraternity was left stunned a couple of months ago when MS Dhoni– one of the most successful skippers of the sport– bid adieu to international cricket.
The former India captain's retirement from the biggest stage has left Indian fans in dilemma over the wicketkeeping spot.
While KL Rahul has cemented his place behind the stumps in the limited-overs format, many still feel that 23-year-old Rishabh Pant has a ton of potential.
IPL 2020: Brad Hogg feels Dinesh Karthik should continue as KKR skipper with Eoin Morgan in the team
Dinesh Karthik has been under some pressure in the ongoing Indian Premier League (IPL).
His bad form with the bat has couple with a few poor decisions as the skipper and the fans are demanding for him to be sacked now.
They want the World Cup-winning Eoin Morgan to lead KKR for the rest of the season and expect him to bring the team back on track.
IPL 2020: Here's why Sunil Gavaskar used the term 'Brown' instead of 'Mankad' during Ashwin-Finch incident
Ravichandran Ashwin, bringing back memories of his 'Mankading' incident from the previous edition, tried to pull off another one in the on-going IPL 2020.
During the encounter between Rajasthan Royals (RR) and Royal Challengers Bangalore (RCB), Ashwin got the chance to 'Mankad' Australia's Aaron Finch.
However, Ashwin refrained from doing so and only issued a warning to the Australian.
Follow us on Google News