Top Stories: Things that made news in the cricket world today
All the news stories that hogged the headlines today.
Updated - Jun 14, 2020 8:58 pm
146 Views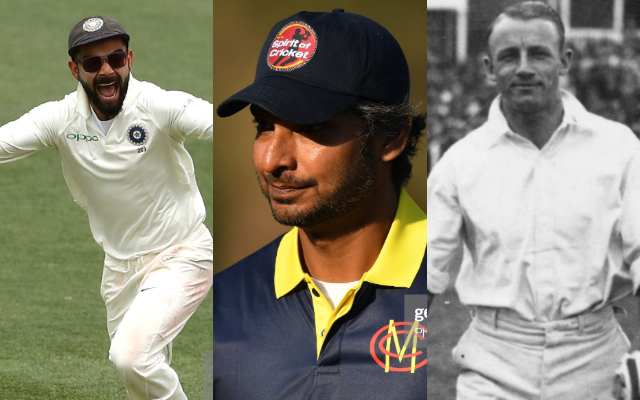 Follow us on Telegram
Virat Kohli has the opportunity to become the greatest after Sir Don Bradman: Kumar Sangakkara
Virat Kohli and his rise in international cricket has been exceptional ever since he has made his debut at the highest level.
A lot of current and former cricketers have bestowed praise on him every now and then for his extreme dedication towards the game.
And former Sri Lanka cricketer Kumar Sangakkara has once again spoken highly of the Indian skipper stating that he has a chance to become the greatest after Sir Don Bradman.
Wanted to be selfish and play for myself: KL Rahul
KL Rahul, the Indian batsman, revealed how the talk-show controversy in January 2019 helped him become a better cricketer going forward.
The fiasco got him banned along with Hardik Pandya and their careers were in the doldrums.
However, the Karnataka-born made a comeback in the home T20Is against Australia and went on to play in the 2019 World Cup as well.
After my bowling speed, now my life has also slowed down due to COVID-19 lockdown: Irfan Pathan
Former India all-rounder Irfan Pathan was known for his excellent swing and seam movement.
He would often make life tough for batsmen with his ability to swing the ball both ways.
Irfan's impressive bowling attributes even led to people comparing him the Indian legend– Kapil Dev.
England Women's couple Natalie Sciver and Katherine Brunt postpone wedding due to COVID-19 pandemic
England's Natalie Sciver and Katherine Brunt had also announced their engagement last year and were planning to get married on 19 September in France.
However, the coronavirus threat has postponed their wedding plans as they want their families, friends and team-mates into the same room for the occasion.
Along with their sporting schedule, COVID-19 outbreak has also taken a toll on players' personal life.
'Ricky Ponting acted like the umpire himself' – Harbhajan Singh recalls 2008 Sydney Test against Australia
Harbhajan Singh, the veteran Indian off-spinner, has taken a sly dig at former Australian skipper Ricky Ponting for acting like an umpire during the 2008 Sydney Test.
The game was marred with all sorts of controversies and umpiring goof-ups.
In the second innings, Ponting claimed opposition captain Sourav Ganguly's catch and raised his finger, signalling it's out.
'If you don't talk about them, you are digging yourself a bigger hole' – Monty Panesar on dealing with mental health issues
Monty Panesar, the former England cricketer, reckons that not talking about mental health issues can lead to dire consequences in the future.
The retired spinner feels that opening up on the problems can help one's family stay aware of what's wrong with the individual.
The 38-year-old Panesar himself has gone through the hardships after being diagnosed with paranoia.
MS Dhoni's last-ball six in 2011 World Cup final will remain in Indian cricket history forever: Sourav Ganguly
No Indian fan can forget Ravi Shastri's words from the commentator's box– 'Dhoni finishes off in style… A magnificent strike into the crowd.'
It was truly a never-to-be-forgotten moment for every Indian who was glued to his television sets.
It was a triumph which will be remembered for generations as Dhoni smashed Sri Lanka's Nuwan Kulasekara for a six to seal the 2011 World Cup victory for India.
BCCI threatens suspensions to employees for leaking critical information to media
The Board of Control for Cricket in India (BCCI) has threatened to suspend its employees for violating the guidelines of their contract and giving interviews to the media.
The world's richest cricket board isn't happy for the fact that critical information is being leaked.
The BCCI is currently in a bit of a fix as the Indian Premier League (IPL) stands postponed for an indefinite time period due to the coronavirus pandemic.
NADA sends notice to five centrally contracted Indian cricketers; BCCI cites 'password glitch'
Five Indian cricketers who are centrally contracted to BCCI have been sent notices by the National Anti-Doping Agency (NADA).
This happens after the players failed to disclose their whereabouts.
The list of players includes KL Rahul, Cheteshwar Pujara, Ravindra Jadeja, Smriti Mandhana and Deepti Sharma. BCCI has cited "password glitch" as the reason for the delay.
Dhawal Kulkarni dreams of Mumbai Indians winning IPL 2020 defeating KXIP in the final
 The pandemic has led to the cricketers not taking the field for a long time now and expectedly, are missing the marquee T20 tournament as well.
Dhawal Kulkarni is no different to it. He was picked by the Mumbai Indians (MI) and was set to make an impact playing for the franchise this year only for COVID-19 to disrupt his plans.
The Mumbai franchise would've also entered the cash-rich league as the defending champions having won the tournament for the record fourth time last year.
Follow us on Google News