Top Stories: Things that made news in the cricket world today
All the news stories that hogged the headlines today.
Updated - Aug 16, 2020 9:08 pm
20 Views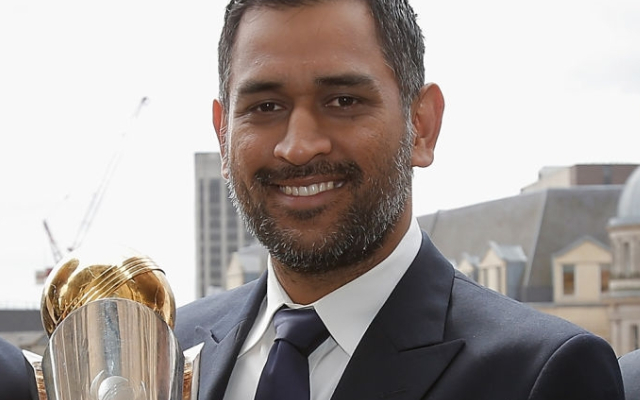 Follow us on Google News
MS Dhoni never expressed any will to BCCI for a farewell match: Former IPL Chairman Rajiv Shukla
MS Dhoni announced his international retirement on Saturday with an Instagram post.
When the fans were waiting eagerly for him to return to the field in the Indian Premier League (IPL), the legend bid adieu to international cricket in his own way.
While he will still play the T20 tournament, Dhoni will never be seen in the blue jersey now.
Had told MS Dhoni I would love to see his World Cup-winning six before saying goodbye to the world: Sunil Gavaskar
Dhoni ended India's 28-year-long wait as he launched Kulasekara for a six over long-on in the penultimate over.
The sight of Dhoni hitting final runs for India is still fresh in the mind of every Indian fan.
Former India opener Sunil Gavaskar, upon Dhoni's retirement, recalled the incident when he had told the wicketkeeper-batsman that he would love to watch his 2011 World Cup-winning six one last time before he says goodbye to the world.
Former India cricketer Chetan Chauhan passes away
Former India cricketer and now the politician Chetan Chauhan passed away on Sunday.
Reports had surfaced on Saturday that he was on life support and unfortunately, he breathed his last on August 16th.
He had tested positive for COVID-19 in July and was since then being treated first at the Sanjay Gandhi PGI Hospital in Lucknow and then in Gurugram's Medanta hospital.
'I had multiple surgeries, setbacks & moments when I felt this is it' – Suresh Raina shares official statement after retiring
The nation was struck with two major blows on 15th August as MS Dhoni and Suresh Raina announced their decision to bid adieu to international cricket.
It was Dhoni who first announced the news of his international retirement. Following him, Raina also shared that he has decided to accompany Dhoni in the path of retirement.
After being sidelined from the national side, Raina was struggling to get back into the India set-up. His last appearance for India was in 2018 against England.
'I am not your first Test wicket' – Kevin Pietersen hilariously congratulates MS Dhoni for an amazing career
Former England international Kevin Pietersen also heaped praise on Dhoni for having an illustrious international journey.
However, Pietersen had a cheeky dig under his sleeve.
Along with welcoming the Jharkhand stalwart to the retirement club, Pietersen pointed out that he wasn't the first Test wicket of MS Dhoni.
MS Dhoni is going to stay forever as any Indian captain won't be able to achieve three ICC trophies: Gautam Gambhir
The 'Captain Cool' is the only captain in the history of the sport to have won three ICC trophies– T20 World Cup (2007), ODI World Cup (2013) and Champions Trophy (2013).
Many players paid tribute to Dhoni and thanked him for his contribution to Indian cricket.
It was also under Dhoni's leadership that India became the No. 1 Test side in 2009 and the team stayed at the top for over 600 days.
MS Dhoni was faster than pickpockets at times: Ravi Shastri
Shastri, who is with Team India in the coaching role since 2017, said that it was Dhoni's ability to effect run-outs and stumpings that stood out from the rest of his potential.
At the highest level, the Jharkhand-born Dhoni holds the record of most stumpings (195), which is 56 more than Sri Lanka's Kumar Sangakkara, who's placed second in the list.
Shastri was so much in awe of Dhoni's fast glove work that he said that the keeper acted faster than pickpockets at times.
'Always a pleasure to play against you' – Adam Gilchrist's message on MS Dhoni's retirement
MS Dhoni has always been compared to a lot of cricketing legends. Throughout his long and momentous career, the cricketer has invariably received tremendous warmth from his loyal fans but the existence of criticism has also been equally there.
The wicketkeeper announced his arrival in cricket with great flamboyance and an attacking manner.
It led to a long lasted comparison with arguably the most attacking keeper-batsman Adam Gilchrist.
'Dada, this guy has got the gift of hitting the ball hard' – Sachin Tendulkar on identifying MS Dhoni's potential
Sachin Tendulkar, the former Indian cricketer, went down the memory lane to the time when a young and swashbuckling MS Dhoni was taking baby steps among the big boys of the sport.
Dhoni got off the worst possible start as he perished for a golden duck against Bangladesh in Chattogram.
He was stranded mid-pitch with Mohammad Kaif even as Khaled Mashud Pilot took the bails off at the striker's end.
'You will always be my captain' – BCCI releases video of Virat Kohli paying tribute to MS Dhoni
Soon after Dhoni's retirement, the current and former cricketers reminisced the times he smothered the bowling attacks with his batting and also led the country to three ICC trophies.
But the relation between him and Virat Kohli is completely different. The latter respects him so much and is like an elder brother to him.
Kohli penned down an emotional message on Twitter and Instagram as well for him admitting that he became emotional.
Follow us on Telegram