Top Stories: Things that made news in the cricket world today
All the news stories that hogged the headlines today.
Updated - Aug 17, 2020 8:53 pm
54 Views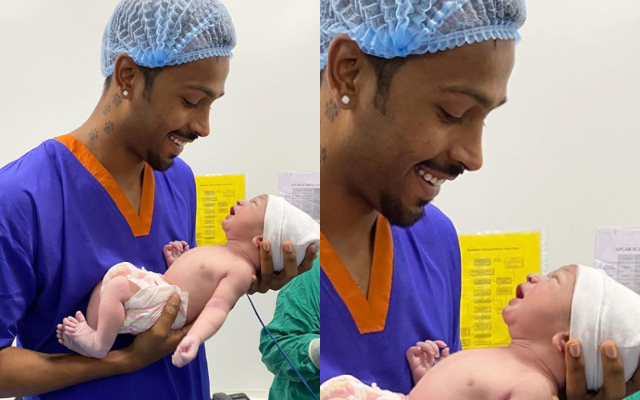 Hardik Pandya reveals the name of his son in latest Instagram story
India all-rounder Hardik Pandya and his wife Natasa Stankovic had taken the social media by storm after announcing that they were blessed with a baby boy on July 31.
Hardik had shared a picture with Natasa, thanking her for giving him the 'best gift ever'.
Hardik, in his recent Instagram story, has finally spilled the beans on the name of his son.
Patanjali will only make bid when no other Indian company bids for IPL sponsorship: Ramdev
Yoga Maestro Ramdev was clear cut in saying that Patanjali will only bid for the title sponsorship of the Indian Premier League (IPL) if other Indian companies don't step in for the same.
The Board of Control for Cricket in India (BCCI) is trying hard to find new sponsors after mobile brand VIVO backed out following the altercation between the Indian and Chinese Government.
Ramdev also said that he won't be entertaining any Chinese products to dominate the Indian market.
We hope that MS Dhoni doesn't make a decision like that and quit CSK: Chennai Super Kings CEO
Indian Premier League is about to go live from September 19th.
With just over a month to go for the same, all the teams are involved in preparing for the extravaganza.
However, the surprise news during the preparation came when Mahendra Singh Dhoni the Chennai Super Kings (CSK) captain resigned from International cricket.
'He's got all the trophies in his bag' – Misbah-ul-Haq heaps praise on MS Dhoni after his retirement
Ever since the most successful captain of the Indian side, MS Dhoni has announced his retirement, people can't stop praising and pouring congratulatory posts on his way.
Another one in the series is Pakistan coach Misbah-ul-Haq, who is of the opinion that captain cool had "changed the whole face of Indian cricket" and served the Indian cricket to its very best.
The 39-year-old is known for having lifted all the ICC trophies where he never failed to display his class and fine leadership skills to lead the team on the path of victory.
'Necessary to keep everyone safe' – Rajasthan Royals react to England, Australia players missing their IPL 2020 opener
Several players from Australia and England are most likely to miss the opening encounter of this year's IPL.
However, on the positive side, these players will get in the rhythm and will be match-ready before joining their IPL sides.
England players have already started playing international cricket but the upcoming series comprising three ODIs and as many T20Is will be the first one for the Aussies.
Chris Nenzani resigns as Cricket South Africa (CSA) president
Cricket South Africa (CSA) is going through a serious downfall. The team is not doing as per the standards from quite a sometime and so is the board.
Now. Chris Nenzani the president has finally resigned from his position.
The organization is under great scrutiny and his departure was all but confirmed as he has decided to quit 22 days before he would have forced to quit.
Now that he has gone, Indian cricket will only realize how good MS Dhoni was: Nasser Hussain
Mahendra Singh Dhoni brought curtains to one of the most celebrated careers of Indian cricket with his retirement on 15th August.
The post he shared on Instagram to confirm the same also ended the long term discussion of whether he should make a comeback or not.
Dhoni faced a lot of criticism in his 16-year long career like all the big cricketers of this cricket-obsessed nation.
MS Dhoni and Yuvraj Singh changed the concept of chasing in ODIs: Ajit Agarkar
Tributes have been pouring from all the corners of the world and all of them are different in their own ways.
Former pacer Ajit Agarkar has lauded captain cool along with Yuvraj Singh for changing the concept of chasing in ODIs.
Dhoni's helicopter shot and fine lofted drives by Yuvraj were enough to win games for India.
Suresh Raina reveals reason behind retiring with MS Dhoni on 74th Independence Day
MS Dhoni and Suresh Raina shocked the Indian cricketing followers with their respective retirements on August 15th, India's 74th Independence Day.
Though Dhoni's retirement was expected to come at any time, no one expected Raina to bid adieu as he was just 33 years old.
The duo is currently in Chennai for a week-long IPL 2020 preparatory camp.
MS Dhoni doesn't deserve to go out with a small message on social media: Shoaib Akhtar
Mahendra Singh Dhoni has always been praised for being a grounded person even with the amount of success he had.
The former captain has been one of the greatest all-time match winners India ever had. Almost all the cricketers share a lot of respect for the great man they shared the field with.
Shoaib Akhtar like many others shared his views on the retirement of the former cricketer.
'I salute you Lieutenant colonel MS Dhoni' – Ravi Shastri hails Mahi as 'Baadshah' of the sport
Ever since Dhoni took the retirement step, the giants in cricket fraternity as well as others can't stop sharing their experience with him.
While fans flooded his post with comments, teammates started sharing their fondest memory with the captain cool on their social media handles.
Every wish and post is special in its own way, but there are some things that always stand out and here it is.
'Mai hundred maara Test cricket mein, bas yaar' – When MS Dhoni wanted to announce his retirement after maiden Test ton
Mahendra Singh Dhoni was always about composure. He came with a terrific reputation of being a hard hitter and aggressive batsman, but his nature was invariably calm.
He never displayed his emotions even in extreme situations.
Imagine a captain who has just hit a six to win the World Cup himself, anybody would have gone silly and jumped and cried but the captain cool just smiled and absorbed all the emotions inside him.