Tributes flow as Martin Crowe is laid to rest in an emotional funeral
Updated - Mar 11, 2016 8:00 am
32 Views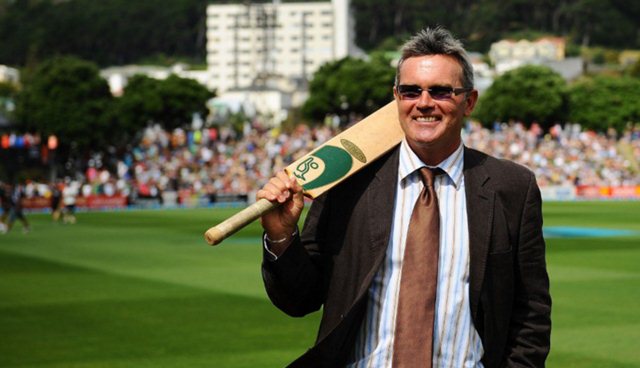 Follow us on Google News
Cricketing greats honoured Martin Crowe at an emotional funeral for New Zealand's greatest batsman on Friday, with his cousin, Hollywood star Russell Crowe, acting as a pallbearer. About 1,000 mourners packed Auckland's Holy Trinity Cathedral to remember Crowe, who died on 4th March aged 53 after a long battle with cancer. The batsman's brother Jeff, himself a former Black Caps captain, said the family had been touched by the outpouring of grief from across the cricketing world. He was in Bangladesh on umpiring duties when Martin died and said there were heartfelt tributes from many involved in the game, including "a new Indian cricket generation."
There were many small touches, redolent of Martin Crowe's eye for detail. The service order was orange, a favourite colour while his casket was adorned with the image of a butterfly. The funeral began with footage of Crowe's innings of 142 against England at Lord's in 1994, his most cherished performance, accompanied by the Pink Floyd instrumental The Great Gig In The Sky.
"It had never really dawned on me… what a huge splash he made, what a true inspiration he was. Wasim Akram reminded me just the other day that Martin was the greatest batsman he ever bowled to — no higher praise than that," Crowe senior told the service.
Former team-mates shared memories of a player who averaged 45.36 despite being plagued by injury in his 77-Test career, hitting 17 centuries — still a New Zealand record. New Zealand's former wicket-keeper Ian Smith read out a message from Australian great Allan Border, Crowe's fierce rival who became a close friend.
"Cricket has lost one of its iconic players. He will be fondly remembered, greatly missed but never forgotten, a true champion," Border said. Smith said Crowe's cricketing brain was unsurpassed, describing him as years ahead of his time in devising a shortened form of the game that paved the way for Twenty20. He also shared lighter memories, such as Crowe imitating opponents' techniques during rain delays in the dressing room and forcing team-mates to repeatedly watch films featuring his Oscar-winning cousin.
"(Martin) was in Gladiator as an extra, he was a senator — well he was never going to be a footsoldier was he?" Smith quipped, referring to the Russell Crowe blockbuster. The actor's presence at the service had been in doubt due to prior commitments, but he made the trip to New Zealand with his children. He did not address the service but after Crowe's death had tweeted: "My champion, my hero, my friend. I will love you forever." He helped carry a casket bearing a giant inlaid silver fern to a hearse outside the cathedral as students from Crowe's former school Auckland Grammar performed a haka.
Smith said he saw Crowe in recent months "as things were shutting down" due to the cancer that was first diagnosed in October 2012 and then returned in September 2014.
"I won't remember him that way. I'll always see a great man at the crease. White helmet, silver fern on… playing the most perfect straight drive back past the bowler for four," he said.
Follow us on Telegram