Trust me, you will miss Dhoni a lot more in India, when he retires: Dean Jones
Updated - Jun 20, 2016 12:48 pm
41 Views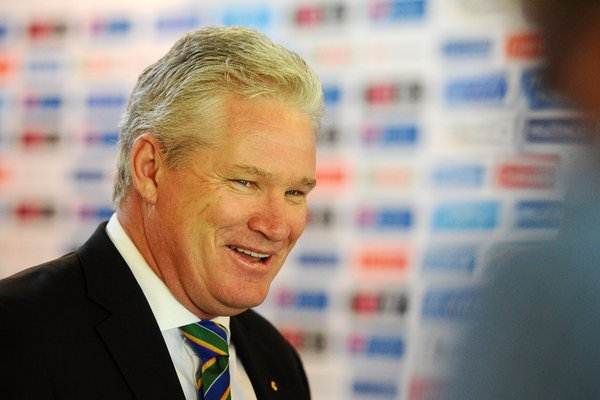 Former Australian batsman Dean Jones feels that Indian ODI skipper MS Dhoni will be "missed more in sub-continental conditions" once he decides to call it quits from the limited overs format. Jones, also felt that pushing great players into retirement is not a great idea. The former Australian dasher thinks rather contrastingly to a couple of former Indian cricketers who feel that Virat Kohli should take over the reins from MS Dhoni.
"We are pretty quick to push our great players out. What's Dhoni has done for Indian cricket, let him find his own time. I don't think Virat is in a huge rush to captain everything (format) at the moment. Time will come. Trust me, you will miss Dhoni a lot more in India, when he retires," Jones said in an interview to PTI.
Recently, former India team director Ravi Shastri had said the time had come and Kohli was "ready" to lead in all the three formats.
Also, read – I don't think Mohammad Amir will get a hostile reception: Imran Khan
"I think that will happen soon. Dhoni will end of as one of the greatest players India has ever produced. Honestly, it is no big rush."
Dhoni, who has called it quits from the Test format, recently led a second string India to a 3-0 whitewash against a lowly Zimbabwe, his first ODI series triumph in 20 months, since their 2-1 win against the West Indies at home in 2014.
The charismatic skipper, who has all the World titles under his belt, also looked out of sorts in the recently-concluded IPL where his new franchise Rising Pune Supergiants finished seventh out of eight teams.
Also, read – If you can play Test cricket, you can adapt to the shorter formats easily: Narendra Hirwani
All this at a time, when Kolhi is in the form of his life as the Aussie said he's the world's best cricketer at the moment.
"Virat is really in a good part of his life. He looks brilliant with the way he's playing. He's happy. He is super fit. He's just a great example for the youth of India. He looks and presents himself as an athlete. More strength to him. I just love watching him play.
"I find him refreshing. I love his charisma. I think he's got personality. He walks into bat and you have no idea what's going to happen. He's just really cool. He is polished, now knows how to finish it off. He is the best player in the world probably now for me," he said showering praise on the Indian youngster.
Also, read – Suharawadi Shuvo discharged from the hospital
Jones further said Kohli has played some good cricket to get past the South African versatile cricketer.
"It's a big thing because I thought AB was up there… You'd to do something 'stupidly good' to get past him. He's got past him over the last year, ever so slightly. To watch Kohli bat is an honour," said Jones.
The BCCI is in the process of finalising the coach for Team India but Jones, who coached Islamabad in the Pakistan Super League (PSL) last season, said he's not in the running.
Also, read – BCB to investigate on the abandoned DPL match
"No, I'm not going anywhere. Teams are mainly led by great captains. I think India have great leaders in Kohli, Dhoni and a lot of good senior players… whoever coaches them will do a good job. The CAC of VVS, Sourav and Sachin are following the right process to make a proper decision. It's the number one/best job in the world as a coach. Your shoulders are under more pressure but at the same time whoever they pick will do a fantastic job," he said.
"I'm too busy commentating. I really enjoyed the coaching job with Islamabad in the PSL. Coaching a national team is completely different, where you're not only managing players but coaching them as well. But, in franchise, it's about just managing and getting the selection process right."
"It's a great game. I just feel privileged that I'm 55 and still earning a living from the game. I am still enjoying just as much as I did when I was young."