Twitter berates James Anderson for shredding Ravi Ashwin's picture following Mankad controversy
Ashwin's act was criticised by many but Anderson went to another level.
Updated - Apr 2, 2019 12:34 pm
3.2K Views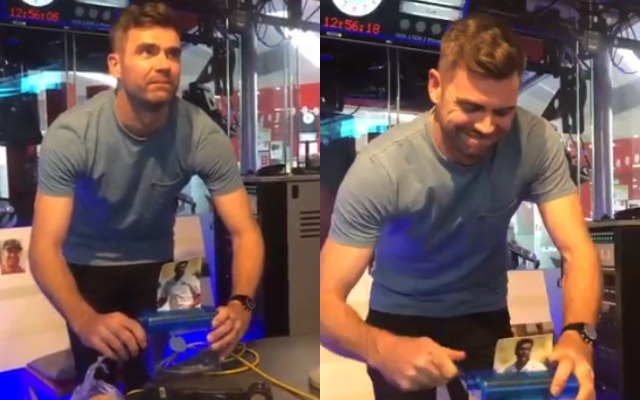 Follow us on Google News
England Test spearhead James Anderson risked the ire of the Indians fans as he shredded Ravi Ashwin's photo in the wake of the Mankad controversy. The first major controversy of the ongoing Indian Premier League (IPL) took place on last Monday during the game between Rajasthan Royals and Kings XI Punjab. The game was going on smoothly with the Royals well in the driver's seat.
Chasing 185, the Royals were cruising at 108 for 1 with their opener Jos Buttler going great guns with the bat. The England star was batting on 69 off just 43 when Ashwin decided to make him pay for leaving the crease early. On the fifth ball of the 13th over, the off-spinner was about to deliver the ball when he set his eyes on Buttler's movement in his delivery stride. He then briefly paused and watched Buttler leaving the crease before Mankading him.
Ashwin then immediately appealed to the umpire who instead referred the decision to the third umpire. With Mankad very much a legal mode of dismissal, the third umpire did not wait long to adjudge Buttler out. The dismissal turned out to be the turning point of the match as Royals collapsed to a 14-run defeat. From 108 for 1 in the 13th over, they slipped to 170 for 9. But the result of the game was not the talking point as the cricketing world was busy discussing the Mankad controversy which many consider against the spirit of the game.
The likes of Shane Watson, Dale Steyn, Eoin Morgan and several other biggies from the world of cricket condemned Ashwin's act. But while all of them resorted to commenting, James Anderson went overboard to show his objection. England's highest Test wicket-taker was seen shredding a photograph of Ashwin as he expressed his displeasure on the Mankad.
Unsurprisingly, the fans were not at all impressed with Anderson's act and did not waste much time in slamming him. The fans made it clear that the act from the legendary pacer was totally uncalled for.
Here's the video:
EXCLUSIVE: @jimmy9 give us his unique take on @josbuttler's controversial run out last week…

More rows should be settled like this.

Full story on this week's #Tailenders https://t.co/YOQ4PMSwiu pic.twitter.com/hYCPpdSqJm

— Greg James (@gregjames) March 31, 2019
Here's how fans reacted:
Poms are so easy to trigger. Need people to Mankad these fairies more often.

— Karthik Manjunath (@karthik3645) April 1, 2019
Ashwin's act was controversial but this is undoubtedly unethical.

— Vivek Sharma (@_captain_v) April 1, 2019
As much I disliked Ashwin's mankad, was this really necessary?? 😒😒 Jimmy you're a legend, you don't need to do these stunts

— JoeRooted (@sh_nuu) March 31, 2019
After watching this, i feel that the place of jimmy is under my foot because Ashwin's action was under rule of icc.

— Hemant 🎓 (@hemant094) April 1, 2019
Would have preferred that you verbally shredded him to pieces than that. Somehow it doesn't sit comfortably with me and I support Pakistan. #Tailenders

— Asam (@asamsalim) March 31, 2019
So, taking a wicket by absolutely legal means is a problem for the people like Jimmy Anderson but throwing jelly beans on pitch. was perfectly legal. Pomps have lost their mind in the game they invented. @BrandNachiketa

— Maruth (@lastcrusaider) April 1, 2019
And this.. far unsporting and pathetic behavior than what @ashwinravi99 did. What Ashwin did was within the laws. Not expected from @jimmy9. Really in poor taste. That's what we can expect from poms I guess.

— omkar adgaonkar (@omkaradgaonkar) April 1, 2019
Agreed what Ashwin did was not in the spirit of the game.. But what you are doing is just a shame & disgust. @josbuttler remember you got to play few more years of @IPL in India@BCCI

— Main Chowkidar Raj👒 (@AndeDursu) April 1, 2019
very worst behaviour of @jimmy9 than ashwin ……so arrogant person he is . take 500+ test wkt mostly in england and flop in overseas and subcontinent ….not a legend material

— cricklover (@Siddheshbadhuj1) April 1, 2019
As he cannot be the no.1 test bowler in the recent circuit, so he's doing these nonsense with the picture.. he's afraid of Ravi Ashwin… rather he must think that Sir Don Bradman himself credited this…. he is nothing in comparison to icc's rules…it's a part of the game…

— Souvan Sengupta (@SenguptaSouvan) April 2, 2019
[interaction id="5c9f3bd9924c0fe3d092af51″]
Follow us on Telegram