Twitter bursts into laughter after Rishabh Pant comes up with hilarious convo with Tim Paine
The users on Twitter seemed to have enjoyed the conversation.
Updated - Dec 29, 2018 12:05 pm
1.7K Views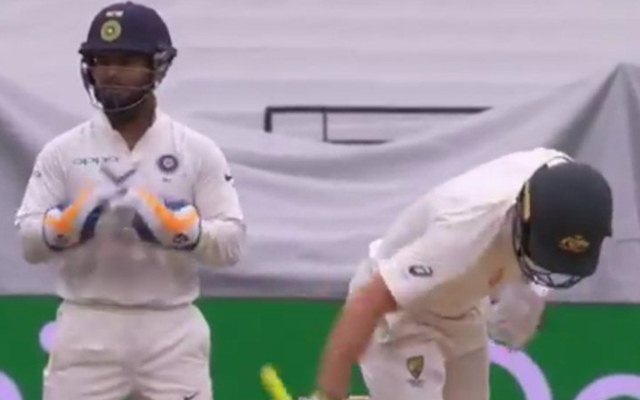 Follow us on Telegram
The four-match Test series between Australia and India has turned out to be a competitive one thus far. In this high-profile series, the stump microphones have also been used, something which has brought forth many conversations between players of both the teams. The second Test at new Perth Stadium saw Tim Paine and Virat Kohli engage in quite a few heated altercations.
In the ongoing Test at the iconic Melbourne Cricket Ground (MCG), Paine along with Indian wicketkeeper-batsman has had some hilarious conversations. When Pant was batting in India's first innings, Paine continuously kept chirping away, which was, undoubtedly, to ruffle Pant's feathers. He even hurled some funny words when Rohit Sharma was in the middle.
Rishabh Pant comes up with funny words
To Rohit, Paine said that he would support Mumbai Indians (MI) in the Indian Premier League (IPL) if the batsmen managed to hit a six. Thereafter, Pant decided to give it back and kept saying something when Paine came to bat during Australia's second innings.
The tactic to get under Paine's skin eventually worked as Paine was soon nipped out by left-arm spinner Ravindra Jadeja after the batsman scored 26 runs from 67 balls with the help of four boundaries.
Pant said, "We've got a special guest today, come on boys. Special appearance today boy, come on. No responsibility there from the captain. Running away, always running away. Too difficult, too difficult," he said before adding "Have you heard of the word, a 'temporary captain', ever? I am seeing it. You don't need anything to get him out. He loves to talk, that's the only thing he can do. Only talking, talking."
Here is the video
"Have you heard the word temporary captain ever?" 😂😂😂@RishabPant777 resumes his hostilities with Tim Paine https://t.co/faCh1ocJgj #AUSvIND pic.twitter.com/yBKWZvjQbg

— Telegraph Sport (@telegraph_sport) December 29, 2018
In the meantime, the users on Twitter seemed to have enjoyed the conversation and they made some hilarious comments over the matter.
Here is how Twitter reacted to the banter
Pant doing it to Paine #AUSvIND #Pant #Paine pic.twitter.com/crKrW6E3la

— Manish Singh👨‍👩‍👧 (@Manish_05Singh) December 29, 2018
I think commentators should take rest when Paine and Pant are on the ground@RishabPant777 & @tdpaine36 #INDvsAUS

— Ramshankar Bag (@BagRamshankar) December 29, 2018
Aisa kyu lag rha Paine ko out nahi kar rhe taaki Rishabh Pant banter kar sake #AUSvIND

— Rishabh Srivastava (@AskRishabh) December 29, 2018
Anyone want to see Pant as a captain for Sydney Test? I just want to see Pant and Paine going for the toss. Whattay scene that would be! 😆

— Vijendra Rai (@The_FergieWay) December 29, 2018
Pant to Paine#AUSvIND #TemporaryCaptain pic.twitter.com/7BnBBe5fOw

— Anurag Akarsh (@Im_AA) December 29, 2018
IT'S REALLY GOOD TO SEE HEALTHY BANTER ON THE CRICKET FIELD BETWEEN RISHAB PANT AND TIM PAINE, IN A GOOD SPORTSMANSHIP SPIRIT WITHOUT CROSSING THE LINE, WHATEVER YOU MAY THINK OF TIM PAINE BUT HE SHOULD BE GIVEN CREDIT FOR LEADING AUSTRALIA IN VERY TOUGH TIME #INDvAUS #india

— AN ORDINARY INDIAN SPECTATOR 🇮🇳 (@rajarajeshvari1) December 29, 2018
They should institute a new award in Test Cricket. The 'Paine & Pant' award, to be given to the worst sledging performances every year. #AusvsIndia #Paine #Pant

— Ashish C Bardapurkar (@riquelme08) December 29, 2018
Pant giving it back more than what Paine gave. I love this game #AusvInd

— Naveen (@ImNsamy) December 29, 2018
Pant vs Paine has to be one of the highlights of this series .#TooMuchFun #ausvind

— NautankiKudi (@kadampekadam) December 29, 2018
Rishabh Pant taunting sledging scumbag Paine is the best thing I have heard today. What a fantastic rebuttal from the youngster. 👏 #AUSvIND #INDvAUS

— Akshay Kumar G (@AkshayShakira) December 29, 2018
Pant looks more natural at it, this early. Imagine the entertainment value he could bring as he gets more seasoned. Paine looks like a nice guy trying to be a bad ass #misfit

— Karthik kunchukuttan (@Karthikkuttan) December 29, 2018
Pant vs Tim Paine right now.. & pant behind the stumps
@RishabPant777 #AUSvsIND pic.twitter.com/GH3yDVRvI5

— Baba Firangi (@babafirangi) December 29, 2018
Rishabh Pant is just so progressive with his hand or speech so that he can arrange meeting with Tim paine to crack new jokes for nextday onwords. #AUSvIND

— Rahul (@Ek_1Ansuuuu) December 29, 2018
Rishab pant has become a "paine" in the ass for Australia. The banter between them is gold. "Temporary captain" 🔥 😂😂😂#AUSvIND @RishabPant777

— Rohith Gangaraboina (@RohithVikky) December 29, 2018
Follow us on Google News