Twitter bursts out its anger on KL Rahul for scoring a duck and wasting a review
Rahul got out for a duck in the very first over.
Updated - Oct 4, 2018 10:51 am
2.3K Views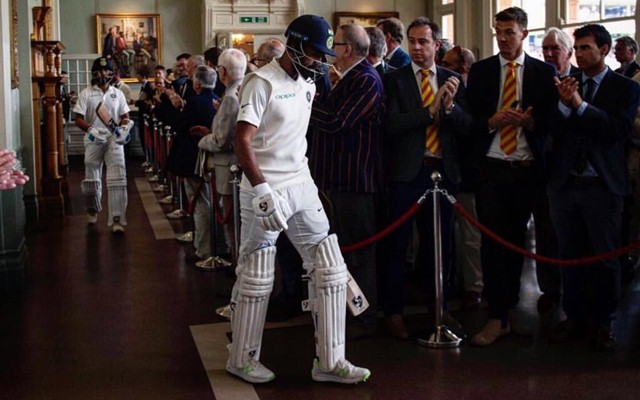 Test cricket is back in India and fans across the country will be pleased to see the no.1 team in their own backyard, taking on the Windies. The visitors haven't been successful in the country- the last time they won a Test here was back in 1994. However, India have made several changes to their side which could give Jason Holder's team a tiny bit of advantage.
In the opening slots, it's no more Murali Vijay and Shikhar Dhawan. Both of India's Test openers have been axed, with youngster Prithvi Shaw making a Test debut in Rajkot today. However, his partner KL Rahul got off to a terrible start this morning after India won the toss and elected to bat first. He was adjudged LBW, but the batsman decided to go for the review which turned out to be a rather poor one.
Shannon Gabriel fires one in
Shannon Gabriel, one of the Windies' best bowling prospects, bowled the first five deliveries of the match with good pace. The final ball of his over was at 143.5kph. It was a full delivery from wide of the crease, but it seamed back in sharply from outside off. Rahul only managed to inch forward but ended up playing it around his front pad and was struck right in front of the middle stump.
He was out plumb and it was as easy a decision for the umpire as he'd like. But the Karnataka batsman chose to review the decision. Hawk-eye showed that it was missing off stump and leg stump, and instead crashing straight into middle stump only to prove that Rahul had wasted yet another review as he did in the Asia Cup. Twitter was obviously quite disappointed with Rahul's call as well as his shot selection.
Here's how Twitter reacted:
KL Rahul is dumb. He reviews plumb decisions

— Sicario (@Indian_paradox) October 4, 2018
KL Rahul is in Indian Team to waste a review #INDvWI

— Rahul rathi (@Rahul1605550) October 4, 2018
KL Rahul Is The Only Player Who Wastes His Wicket As Well As Review…#INDvWI

— Babu Bhaiya (@Shahrcasm) October 4, 2018
Kl Rahul is opposite of Dhoni in term of DRS..

Dhoni review system#INDvWI #klrahul #Dhoni #ViratKohli #PrithviShaw #RohitSharma

— Fazakkir Fozail (@ffozail) October 4, 2018
There should be penalty within the team for wasting a review #KLRahul #INDvWI

— Akshay (@akshay1497) October 4, 2018
KL Rahul and the love affair with wasting review!

I don't think that KL Rahul is a better player and batsman than Rohit Sharma.

KL Rahul is in the team because he lick the shoes of Virat Kohli. Favouritism!#INDvWI

— Manish (@IManishh10) October 4, 2018
KL Rahul is still vulnerable to balls coming in. Poor start from the opener as he is out for Duck! Even worse is wasted a review when it was Plumb.

— CricBeat (@Cric_beat) October 4, 2018
Wasting a review means he was out 2 times in a single bowl. And @klrahul11 becoming the master piece for this talent. #INDvWI #klrahul

— Immortal Soul (@BongSoul15) October 4, 2018
Gabriel to KL Rahul
Pitching Outside Off ✅
Impact inline ✔
Wickets Hitting ✔

He was not playing that ball still he took review and… #INDvWI

— aNUP mAHAPAtRA (@am_i_anup) October 4, 2018
Again wrong DRS taken by KL Rahul, I mean it was plumb LBW as a batsman he knew there was no bat and he was gone. Such a waste of review😤#INDvWI

— Legendrock31 (@Munnaaaaahhhhh) October 4, 2018
That review by KL Rahul is a clear exmple of how today's cricketers neither have cricketing brains nor do they think for the team above their own self. #INDvWI

— Sanskari Bhediya (@pkg_lonewolf) October 4, 2018
@ KL Rahul… stop using reviews for the sake of your ego… (KL's eternal plight of the inswingers)

— shreya🌷 (@STtalkscricket) October 4, 2018
That was atrocious from KL Rahul to review that decision. DRS is to avoid mistakes and no umpire would have got that wrong. You cannot put yourself before the team. Hope this doesn't cost the team. #Selfish #INDvWI

— Rakesh Sourirajan (@raksourirajan) October 4, 2018
KL Rahul has wasted a review Other Customary review will be wasted by Virat Kohli #INDvWI #WIvIND

— POTLI BABA KI (@ashish_bijalwan) October 4, 2018
So KL Rahul committing same mistake.. First of LBW and then to review plumb one #CBhaveyoursay

— anish thakkar (@anishthakkar983) October 4, 2018
Once again KL Rahul gets out foolishly and then wastes a review also. Its time that Virat Kohli bans him from using DRS!! #INDvWI

— Prakash Kala (@prachand15) October 4, 2018
#INDvWI It seems that he didn't take his breakfast in the morning today so he ate review. #KLRahul

— Prince Pandey 🇮🇳 (@princepandey_) October 4, 2018
Wow what a start by KL Rahul.

It's like "Gareebi me ataa gila" bhumi pujan karke Chala bhi gya aur review bhi khagya. 🙂#INDvWI

— …🙇… (@CrickFreak_rd) October 4, 2018
KL Rahul jab kabhi out hota he, Review bhi sath le jata he…

— Aakash Akki (@AakashAkki20) October 4, 2018
[interaction id="5bb4acf2126706c6707fa931″]
Keep following CricTracker for more news and updates.