Twitter calls for Alastair Cook's retirement
The debate over Cook's ability to continue his Test career has been raging for quite some time now.
Updated - Aug 19, 2018 7:07 pm
8.7K Views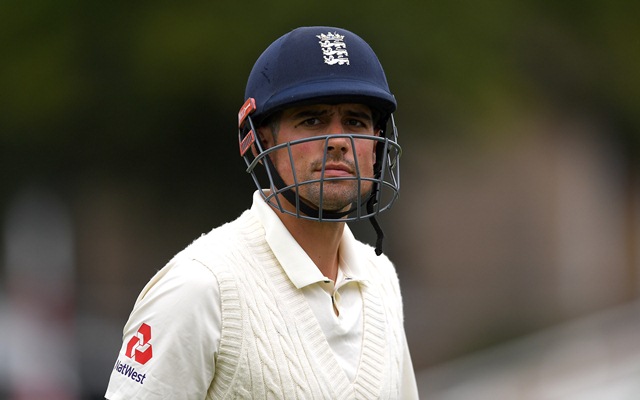 Alastair Cook has had some glorious days for the English team. From scoring back to back tons to making the most epics comebacks, the 33-year-old has been privy to one of the most admired cricketing careers in the long list of England batsmen in recent times. But is the sun finally about to set on the stylish southpaw's career?
The debate over Cook's ability to continue his Test career has been raging for quite some time now. Repeated failures coupled with some visible shortcomings in his technique have only added fuel to this fire. The batsman's yet another failure against India in the third Test at Trent Bridge has set Twitter churning, speculating over an imminent retirement.
Cook fails yet again to make a mark
Batting second at Trent Bridge after having dismissed India for a total of 329 runs in the first innings, England had been looking comfortable in the first session of the second day owing to a budding partnership between the two openers, Keaton Jennings and Alastair Cook. The Indian pacers took some time to get it right with the new ball and the English batsmen looked comfortable at the crease, to say the least.
However, it was Ishant Sharma who had the last laugh! Having been dropped by Cheteshwar Pujara only 2 deliveries before, this time around keeper Rishabh Pant didn't make the same mistake as he held on to the ball Cook pushed out and ended up edging into the waiting gloves of the young debutante. This dismissal set tongues wagging all over, considering such a dismissal has become all too frequent to be pardoned for a batsman of Cook's calibre.
The figures don't seem too uplifting for Cook either. At Trent Bridge alone, the batsman has had a dismal record till date, with an abysmal average of 22.25 in the 18 innings that he's played. He has only one half-century to his name on the venue. Further, the man bowling against him also had a clear upper-hand on him, show the statistics.
Out of the 498 deliveries that Ishant has bowled to Cook, he's been able to extract 10 dismissals and maintain a whopping 83.30% of dot balls, indicating a severe chasm in the left-hander's technique.
Here's what Twitter had to say:
Alistair Cook needs to be "RESTED " caught behind, again, low score, again, move all the team up one, gives room for Curran to slot in, who by the way scores runs as well as taking wickets.

— John Regan (@regan1951) August 19, 2018
Cook playing his last Test series??? #EngvInd

— Aakash Chopra (@cricketaakash) August 19, 2018
Same old @AlastairCook problem. Few runs and caught at slip. #AlastairCook. Is he set in stone in this team? Will no one say to him? GO. #TestMatch.

— STEP69 (@holmbush) August 19, 2018
I think Alastair Cook's days ought to be numbered now, he looks like a walking wicket every time he bats. #ENGvIND

— JC Weaver (@jarodcweaver) August 19, 2018
Everytime From last One year he has the same Complain he should take retirement with all respect it's better for him and cricket too

— Shama (@Shama27_94) August 19, 2018
Stuart Broad has scored more Test match runs at Trent Bridge than Alastair Cook.

— bet365 (@bet365) August 19, 2018
Alastair Cook's poor form continues in this series. 13,0, 21 & 29 now

— Chris Stocks (@StocksC_cricket) August 19, 2018
The player who has 12500 Test runs of 159 Tests and is staggering in every Test.
Cook is not doing justice with his ability.#ENGvsIND @TrentBridge

— Tanuj Singh (@TanujSi47701251) August 19, 2018
#EngvsInd-England looks badly undercooked literally. Coukdcwell be Cooks last series? Jennings not great either. England batting bigger headache than India's in this test.

— Srikanth (@srikanthan09) August 19, 2018
New openers please! #bbccricket #ENGvsIND

— Robin Gray (@ThatRobinGray) August 19, 2018
Cook shit again…. #ENGvsIND

— Steve Edwards (@Eddy_Senior) August 19, 2018