Twitter comes up hilarious memes after Google search shows Anushka Sharma as Rashid Khan's wife
Rashid Khan and Anushka Sharma are trending on social media.
Updated - Oct 12, 2020 4:31 pm
7.5K Views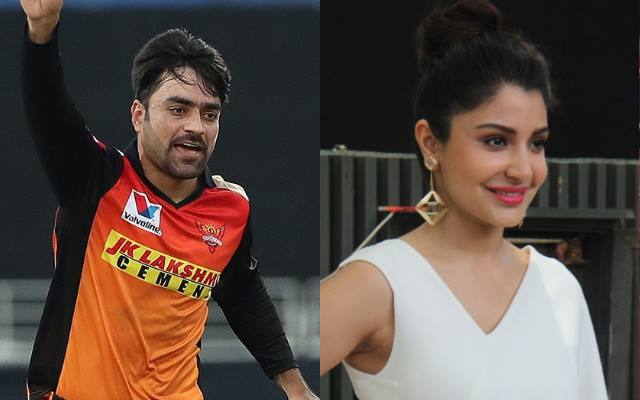 Rashid Khan delivered another expectional spell against the Rajasthan Royals (RR) on Sunday for his team Sunrisers Hyderabad (SRH) in the ongoing Indian Premier League (IPL). Even though SRH lost the game thanks to Rahul Tewatia an Riyan Parag's heroics, the Afghanistan leg-spinner was praised a lot for his antics with the ball. He is turning out to be one of the most economical bowlers of the season.
However, on Monday, Rashid Khan was in the news for some other hilarious reason and was rather trending on social media. The reason for the same was the blunder from Google as it was showing Anushka Sharma as Rashid's wife after searching 'Rashid Khan wife' on it.
It is a well known fact that Rashid Khan is only 22 years old and is unmarried. Moreover, Anushka Sharma, the Bollywood Diva, is married to none other to India and Royal Challengers Bangalore (RCB) skipper Virat Kohli. The adorable couple got hitched on December 11 in 2017 and also threw multiple receptions in Delhi and Mumbai to their industry friends.
Why is Google showing Anushka as Rashid Khan's wife?
The reason for Google showing Anushka Sharma as Rashid Khan's wife is the latter's answer to one of the fan questions back in 2018. During a chat session on Instagram, the leggie had picked Anushka and Preity Zinta as his favourite Bollywood actresses. The response had then gone viral with so many news outlets headlining it and it has led to Google making the blunder.
Meanwhile, this has given the opportunity for the social media gimmicks to take hilarious potshots at the trio of Rashid Khan, Virat and Anushka through their memes. Ever since the Google search has gone viral, a lot of memes are being made with the fans having a drool over the same.
Amidst all this, the people involved in this matter doesn't seem to be affected at all. While Rashid will be keen on doing well for SRH in the IPL in UAE, Anushka is living happily with her husband in a bio-secure bubble during the cash-rich league.
Here are some of the memes:
Google search shows rashid khan's. wife is Anushka sharma #ViratKohli #AnushkaSharma
#RashidKhan

meanwhile Virat Kohli And Co pic.twitter.com/tXMu5avFwq

— Arsh (Team Nikki)🦂 (@HosaKaBhaiArsh) October 12, 2020
Google showing Rashid Khan's wife is Anushka Sharma
Rashid Virat pic.twitter.com/45pEnPReH8

— Rishav (@sayminame___) October 12, 2020
Google showing Rashid Khan wife is anushka sharma
Meanwhile Google~ pic.twitter.com/M9c280THcV

— नितिन (@Wagadiyoni3) October 12, 2020
Anushka : I'm not Rashid Khan's wife .

Google : #AnushkaSharma pic.twitter.com/obKmqlOSRb

— Rohit (@dBigDangTheory) October 12, 2020
google search shows anushka sharma's name while searching 'Rashid khan's wife'

"Rashid khan right now" pic.twitter.com/TKucnt69Fu

— Barbaad engineer ♋️ (@unmakedengineer) October 12, 2020
Google say rashid khan wife anushka sharma
Search karne se pahle like bnta hai

#RCBvsKKR pic.twitter.com/T7E5eZ02lI

— Md faishal alam (@faishal035) October 12, 2020
Google showing Rashid Khan wife is Anushka Sharma
Virat Kohli rn: pic.twitter.com/PtEiSD5dTu

— Akhandbarbaadi (@akhandbarbaadi) October 12, 2020
That Moment When U Realize Google Search Results Show Anushka Sharma As Rashid Khan's Wife pic.twitter.com/J2m9fHG2OW

— Parth (@paarrthhh) October 12, 2020
Virat after google shows anushka as rashid's wife 😂 pic.twitter.com/xmJLZbcJlr

— Babydevil😈✨ (@09Babydevil) October 12, 2020
Google showing Anushka Sharma as young senior citizen Rashid khan wife.
Kohli to Google be like :- pic.twitter.com/j4l2R79Ps5

— hiteshraya (@Hiteshraya) October 12, 2020
Kohli bhai kya h ye google is showing @AnushkaSharma as wife of Rashid Khan . 😂😂😂😂 @imVkohli #ViratKohli pic.twitter.com/v82b3fYxZi

— Gourav Soni (@gouravsoni000) October 12, 2020