Twitter erupts as man drives his car into the field of play during Ranji match
The man deliberately trespassed into the center of the field even after attempts made to stop him.
Updated - Nov 3, 2017 8:51 pm
4K Views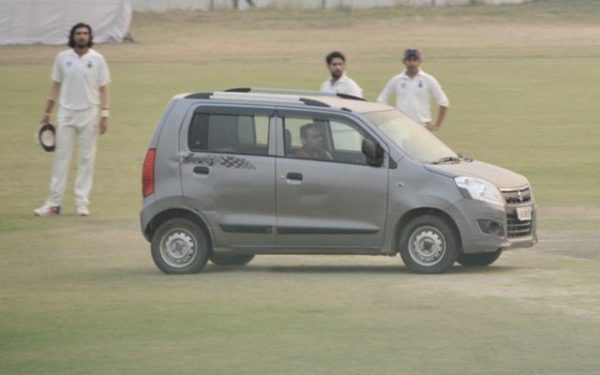 The capital of India, Delhi, is renowned for hosting people of the extremes. With the citizens of Delhi, there largely is no middle ground in their behaviour. Delhi is home to people having hollow audacities and boasting their network at the top administrative level.
This is the very reason why the city has been stereotyped by common phrase "Jaanta hai Mera Baap Kon hai?". During the fourth round Ranji match between Delhi and UP, Delhiites added yet another feather to their cap as a fellow citizen of Delhi, Girish Sharma, trespassed into the field of play with his WagonR at the Air Force Sports Complex, Palam.
The match boasted the presence of international stars such as Ishant Sharma, Gautam Gambhir, Rishabh Pant and Suresh Raina, who appeared befuddled over what transpired in front of them. However, Girish was oblivious to the security and kept doing rounds across the centre of the pitch.
Apparently, the man claimed that he was lost and drove into the field of play due to the absence of security even though it was clearly evident that he ran past umpires and players attempting him to stop from creating a further ruckus. In fact, he drove over the wicket twice, showing no respect for India's premier domestic tournament.
The match resumed after a brief halt after an inspection of the pitch as it was found out to be unharmed and 'playable' after averting potential danger.
The match was shifted to the Palam ground as Ferozshah Kotla was engaged for hosting the first of the three T20Is between India and New Zealand on Wednesday. The ground is adjacent to the Palam underpass, which is one of the busiest routes in New Delhi, connecting the Airport. The ground is largely used for visiting teams to train and practice in the IPL.
Let us look at how Twitter reacted to this rare incident
New low in Indian sports' fandom. Delhi-UP Ranji Trophy game was halted because a car drove into the middle of the pitch today at Palam A Ground, Delhi. pic.twitter.com/SLLqT9Br2w

— Venkat Parthasarathy (@Venkrek) November 3, 2017
In cricket its Cover Drive.
This idiot,drove his car into #RanjiTrophy match at Palam. Pls help identify. Name & Shame pic.twitter.com/6m73sqB47q

— #Sports & Me (@SunilYashKalra) November 3, 2017
Looks like he is looking for directions: Bhaisaab, zara bataiye G23/7, sector 4, New Palam Extn kaha hai?

— Sanjeev Sanyal (@sanjeevsanyal) November 3, 2017
Seen cover drive and square drive during the match but not seen car drive which happened during Ranji match ?

— Broken Cricket (@BrokenCricket) November 3, 2017
Today's Delhi-UP Ranji Trophy game was halted because…
a car drove into the middle of the pitch!!

Bhai Delhi mein kuch bhi ho sakta hai!

— Shivam Patil (@aimlessloner) November 3, 2017
That must be a first – "Car stops play". Ranji Trophy game between Delhi and UP held up by man driving to the pitch at the Air Force ground.

— G Rajaraman (@g_rajaraman) November 3, 2017
Car Stops Play! New entry in cricket's book.

— G Rajaraman (@g_rajaraman) November 3, 2017
When you don't treat dulhe ke fufa ji well.

He in the middle of wedding: pic.twitter.com/xOHmsnBTgU

— Silly Point (@FarziCricketer) November 3, 2017
When you follow google map to reach your destination ? pic.twitter.com/J9pWIZ7pSU

— 18? (@Crichipster) November 3, 2017
How a girl flaunts her new dress when no one pays attention to it. pic.twitter.com/ULL2FWLVLz

— Silly Point (@FarziCricketer) November 3, 2017
Someone check Sallu's whereabouts just in case. https://t.co/QOKqB4eBXn

— cricBC (@cricBC) November 3, 2017
Taking "Dilli se hun bhen****" to a whole new level. https://t.co/mDBvtf5T4p

— SAGAR (@sagarcasm) November 3, 2017
Get over streakers and dogs.. In Delhi, a Ranji Trophy game was halted as a man drove car onto the pitch @BCCI #RanjiTrophy @ranjiscores pic.twitter.com/qRcpVvnKKf

— Navneet Mundhra (@navneet_mundhra) November 3, 2017