Twitter finds Harbhajan Singh's commentary boring in the Edgbaston Test
He has been roped in by Sky Sports to cover India's tour of England.
Updated - Aug 3, 2018 6:04 pm
876 Views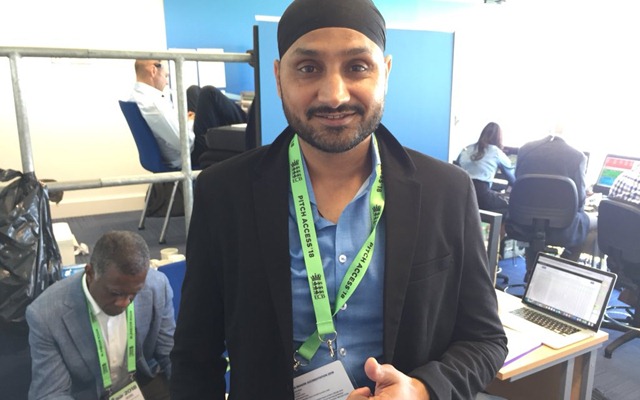 Follow us on Google News
Team India are currently dominating the ongoing Test match at Edgbaston against England thanks to some superb bowling from Ishant Sharma and Ravi Ashwin. The commentators on air also loving the proceedings in the middle who are in awe of the visitors for the way they've tied the batsmen up. Harbhajan Singh has been roped in by Sky Sports for this tour and even he is commentating in this game. However, Twitterati is busy trolling him over his new role.
Bhajji seems to have given up on his international career and is more often seen analysing the game on different news channels. Though he was the part of the Chennai Super Kings (CSK) this year in the Indian Premier League (IPL). He also bowled well in a few games and played a crucial role in his team's title-winning campaign.
Meanwhile, he was signed by Sky Sports to cover India's tour of England as a cricket expert and he was seen in the commentary box during the limited-overs leg as well.
Fans don't like Bhajji's commentary
Even as Team India is bossing the game on the third day of the Test match in Edgbaston, Twitter is having fun trolling Harbhajan Singh for his terrible commentary. The fans are not at all in a mood to accept him in his new role and hilariously have advised him to refrain from taking the mic in his hand.
However, the 38-year-old cricketer is having fun it seems. He has gelled well with his fellow commentators and will continue doing it for the rest of the series as well. Recently, he also took a cheeky dig at Ravi Shastri who was caught napping in the dressing room on the first day of the Test.
The Cameraman had spotted Team India's head coach sleeping during the second session and Bhajji had asked Sanjay Bangar to wake him up who was listening to the commentary on his earpiece.
Here's how Twitterati trolled him:
Dafaq no one wants to continue from what Bhajji said😂😂

— Silly Point (@FarziCricketer) August 3, 2018
Dear Harbhajan Singh..big fan, you were amazing as a bowler but commenting is certainly not your cup of tea. Sincerely. #INDvENG

— Devavrat (@Moflish) August 3, 2018
*and in the commentary box now: Harbhajan Singh*

Me: *mutes tv*

— βαтsү🏏 (@itsalokj) August 3, 2018
Who the hell got @harbhajan_singh in the commentary box ? Horrific 😱 #ENGvIND

— Ahmer Nazir (@iAhmer) August 3, 2018
Harbhajan singh sounds like a drunk guy who's blabbering when he finishes that full bottle of Whiskey #EngvInd

— Rasool (@imrasool) August 3, 2018
Everytime I hear @harbhajan_singh voice, I switch to hindi commentary. Its like dhinchak puja perfoming in coke studio..lol

— Slayer of Taimurs (@rajnish27k) August 3, 2018
Can someone escort Harbhajan Singh out of the commentary box? #cringeworthy #ENGvIND

— Shnuster (@MrShnuster) August 3, 2018
Harbhajan Singh's commentary is like I'm watching cricket on my phone at 2G speed…. Taking 3-4seconds to speak 1 sentense.

— Mufaddal Vohra (@mufaddal_vohra) August 3, 2018
@KumarSanga2 & @harbhajan_singh talking bollocks about Dhawan's Catch. The ball clearly touches the ground and they are still going on about it 😂😂 ffs retired crickters. #skysportscricket #engvsind

— poudel_sabin (@SabinPo03087629) August 3, 2018
@harbhajan_singh stop the filth please. @SDhawan25 himself wasn't sure of the catch and it WAS not out. How come to you it looked out? By your statement, @SGanguly99 was clearly out in 2nd innings in SCG 2008! 🤦🤷

— Venkataraghavan V (@sairaghavan5694) August 3, 2018
s/o to @SkyCricket for consistently putting forward the most educative, humorous and insightful commentary team. (i'm ready to excuse Harbhajan Singh's presence as a 'celebrity cameo')

— Shalaj Lawania (@snoopshalpy) August 3, 2018
Bhajji leave commentary box for god's sake. U are unbearable. Probably the worst.

— Kartikeya (@KartikeyaDutta) August 3, 2018
Someone please tell me what on earth Harbhajan Singh is doing amidst that lot. What are the yard sticks, I wonder.

— VIJAYAKRISHNAN KB (@VIJAYAKRISHNA19) August 3, 2018
a chappair to whoever suggested, and then to the person who hired Harbhajan as a commentator.

— Ahmed (@azkhawaja1) August 3, 2018
Indian batsmen and Harbhajan Singh both struggling in "English" conditions! 😛 #ENGvIND #SkySports

— Keshuv Huria (@Keshuv_With_a_U) August 3, 2018
Keep following CricTracker for more news and updates
Follow us on Telegram