Twitter furious after Sanju Samson is once again sidelined from India's playing XI
Pant was preferred over Samson yet again.
Updated - Dec 6, 2019 8:34 pm
1.9K Views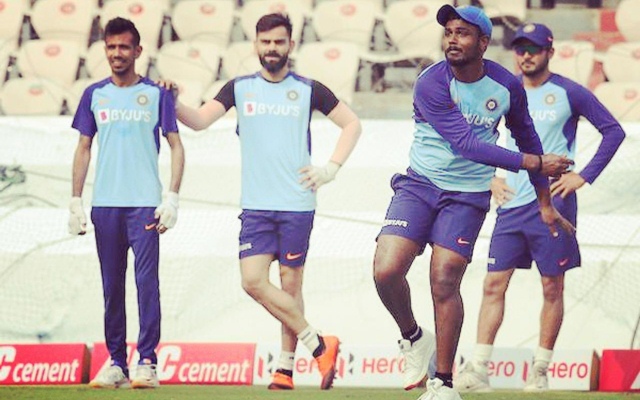 The much-awaited three-match Twenty20 International series between hosts India and defending champions West Indies finally kicked off at the Rajiv Gandhi International Stadium in Hyderabad. As always, going into any India series- especially in white-ball cricket- the debate is around their team selection.
Who will play? Who will miss out? Are the two frequent questions. And, when it comes to the current scenario, the biggest talking point is around the conundrum around picking the misfiring Rishabh Pant or to give the opportunity to Kerala swashbuckling wicketkeeper-batsman Sanju Samson.
Pant has come under the scanner courtesy his extended lean phase with both the bat as well as with the gloves and calls have grown louder in the past month or so for the selection of Sanju Samson in place of the southpaw. And, so when Virat Kohli announced at the toss that Pant will take precedence over Samson in the first T20I, social media went ablaze.
Not the first time that social media has outraged with Sanju Samson not playing
This is not the first time that social media has outraged over Sanju Samson's exclusion. The tearaway right-hander was drafted into the T20I squad for the series against Bangladesh after having smashed a plethora of records during his whirlwind double-century in one of Vijay Hazare 50-over Trophy fixtures back in October. However, Samson warmed the bench in all the three games as he watched Rishabh Pant struggle both in front and behind the wickets.
Fans were expecting that he would now be given a fair run in the next series against the West Indies. However, to their utter shock and dismay, Sanju Samson wasn't even selected in the 15-man squad to take on the defending world champions. And, it was only due to an unfortunate injury to Shikhar Dhawan that the wicketkeeper-batsman was drafted in the set-up.
Coming back to the game, India once again went with a safety-first-attack-second approach as they continued to sideline Kuldeep Yadav in favour of off-spinning all-rounders in Washington Sundar and Ravindra Jadeja.
Here's how Twitter reacted to Sanju Samson's snub
I don't understand the fact why Sanju Samson is doing the same Mistake Again and Again by not Liking Anushka Sharma Pics on Insta I mean how long he would like to wait????🤓🤓🤓🤓 #INDvsWI #sanjusamson

— 🍕🍕🍕 Stylish S 🔥🔥🔥 (@JCBwaliLadki) December 6, 2019
I think #RishabhPant is VIP or VVIP'S Family, cz #SanjuSamson only watching his wrost play for long time instead of replacing him. #INDvsWI 😡

— JoKeR 🃏 (@Beat_ItJoker) December 6, 2019
Why sanju Samson is not playing in place of Rishabh pant??#askstar

— AJIT GUPTA (@GUPTA99AJIT) December 6, 2019
How much more does Sanju Samson has to wait to show his masterclass and to show that he is the real successor of M.S.Dhoni?????? @bhogleharsha @IamSanjuSamson

— Chetan Patil (@ChetanP59130864) December 6, 2019
Sanju Samson ne konsi galti ki hai yeh to bata do

— Sajan Randhawa (@crtified_fan_AK) December 6, 2019
Thank god Khaleel Ahmed is not there in the playing XI, & feeling bad that #SanjuSamson is missing#INDvsWI

— Dhiraj (@Dhiraj_d009) December 6, 2019
@StarSportsIndia #selectdugout Don't you think Sanju Samson deserves a chance ? If we would have given the same chance to Sanju which we had given to Pant , Sanju would have been a legend by now.. That's what I feel, what do you guys say about this ?

— Aneesh (@Aneesh_Vishnu) December 6, 2019
#INDvWI #SanjuSamson Common Windies , Common 💪💪💪
We Support You to Thrash Indian team today at Hyderabad 😕😕😕#WeWantSanju

Kerala Support WI against Indian Cricket team 🙋🙋🙋

— NiTiN NeYYaN (@Nithin_Neyyan) December 6, 2019
#INDvWI #SanjuSamson I am with Windies Today 💪💪💪#WeWantSanju

— NiTiN NeYYaN (@Nithin_Neyyan) December 6, 2019
Baffling how much support @RishabhPant17 pant is getting frm the team management… That too on the cost of India losing matches and talented players like sanju samson are being hard done with @BCCI @ESPNcricinfo #asktheexpert #INDvsWI https://t.co/wwhPqXMGvx

— Jitendra Soni (@jdsoni7) December 6, 2019
Sanju Samson is better than Pant know. Why he is not getting chance #starnakelu

— Anup C Halekote (@HalekoteC) December 6, 2019
Wish @windiescricket win today, so that the pride and arrogance of @imVkohli and @BCCI will get a befitting reply!#SanjuSamson 🔄 #RishabhPant #INDvsWI
– #ImDoneWithThisCrap

— Arun Raj (@Arun_kuttu_0712) December 6, 2019
sanju samson deserves a chance, lets hope he might be given an opportunity for the next matches.

— Aditya (@Aditya3149) December 6, 2019
Am windies fan today , maybe forever !#sanjusamson #bcci

— Sujith Mangari (@sujithmnair1) December 6, 2019
So Sanju Samson is once again chosen to be part of the 'Cheerboys' 🙂#T20Series

— Antony Fernandez (@leucaindica) December 6, 2019