Twitter goes ballistic as India punishes Pakistan bowlers in Champions Trophy
Indian batsmen made merry off sloppy Pakistanis at Edgbaston
Updated - Jun 4, 2017 8:36 pm
22.3K Views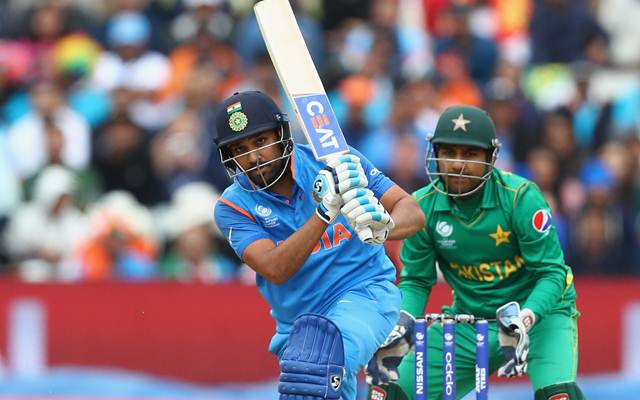 India faced off Pakistan at Edgbaston, Birmingham for the fourth time in Champions Trophy and the patient spectators were treated to delight from the Indian batsmen. The match was infested with rain as the match paused twice during the first innings of the innings.
Shikhar Dhawan and Rohit Sharma started the innings off to a perfect start with their mammoth partnership of 136 runs in 148 balls. Shikhar Dhawan displayed why he's the big tournament player. His fairy-tale relationship with Champions Trophy continued as he scored a brisk inning of 68 off just 65 balls smashing six boundaries and a maximum. He was hitting the ball at a strike rate of 104.
Rohit Sharma played a kind of circumspect innings towards the later half of his innings, but played the role of a sheath anchor with his 91, scoring seven boundaries and two sixes. However, the stars of the innings were Virat Kohli, Yuvraj Singh and Hardik Pandya who exhibited their stroke-making, providing the impetus at the death.
Virat Kohli announced his presence in the Champions Trophy with a brilliant 81 off just 68 balls. hitting the balls as sweetly as ever. He smashed six fours and three sixes in the process, at a strike rate of almost 120. Yuvraj Singh scored a 28-ball half-century and ended up with 53 runs at a whopping strike rate of 166.
The final flourish was provided by India's answer to Ben Stokes, Hardik Pandya. He smashed Imad Wasim for three consecutive sixes in the 48th and the last over of the innings. Pandya played a memorable cameo of 20 runs in just six balls at a strike rate of 333.
Before Wahab Riaz hobbled off the pitch in pain, he was taken for plenty by the Indians. At an economy of 10 runs per over, Riaz gave away as many 87 runs in his 8.4 overs. Imad Wasim and Hasan Ali also proved to be expensive as India posted a total of 319 at the end of 48 overs. Pakistan has a task on their hands to chase down a target of 324 runs by Duckworth-Lewis Method
Here's a look at how Twitter reacted to the Indian onslaught
Bowlers who have conceded 80 or more runs in an innings in ODIs:
Lasith Malinga 7 times
Wahab Riaz 4#CT17 #INDvPAK

— Saj Sadiq (@Saj_PakPassion) June 4, 2017
That's Yuvraj Singh for you. #INDvPAK pic.twitter.com/3zmMt0nQcz

— CricTracker (@Cricketracker) June 4, 2017
Now Only Two Things Can Save Pakistan From Defeat:
1. Rain
2. Allahu Akbar#INDvPAK #INDvsPAK Vintage #Yuvi #RohitSharma Virat Kohli #CT17

— Sir Jadeja (@SirJadeja) June 4, 2017
Ranveer and Sachin came to the stadium today. The Bollywood Star talked about cricket. The Cricket Legend talked about his movie. #INDvPAK

— SAGAR (@sagarcasm) June 4, 2017
'Team 420' Needs 100 Less To Win Against India.Which They'll Never.

Kudos To Team India. Thrashed Pakistanis Away!#INDvPAK #INDvsPAK #Yuvi

— Sir Jadeja (@SirJadeja) June 4, 2017
72 runs in last 4 overs!!!! Phew!!!!!#INDvPAK

— Rajneesh Gupta (@rgcricket) June 4, 2017
*Pakistan team meeting*

Motivational speech:

Boyz, 320 to win. 3200 to each to lose. The choice is yours. Go for it.#INDvPAK

— Keh Ke Peheno (@coolfunnytshirt) June 4, 2017
#Pakistan's Only Hope To Avoid Loss. ??????????#INDvPAK #INDvsPAK Vintage #Yuvi #RohitSharma Virat Kohli Hardik Pandya #Rohit pic.twitter.com/aAd6heiPHs

— Sir Jadeja (@SirJadeja) June 4, 2017
Pakistani fans right now. ? #IndvPak pic.twitter.com/pcO99RhqLN

— Silly Point (@FarziCricketer) June 4, 2017
Imad Wasim

Expectations and Reality #INDVPAK #CT17 pic.twitter.com/YdiSOfwRgP

— Sameer Allana (@HitmanCricket) June 4, 2017
Indian fans curently dancing for joy
Pakistan fans currently dancing for rain#INDvPAK #CT17

— Saj Sadiq (@Saj_PakPassion) June 4, 2017
.@imVkohli showing Pakistan who is the daddy, yet again. #CT17 #INDvPAK

— Nikhil ? (@CricCrazyNIKS) June 4, 2017
This was a real gem from @YUVSTRONG12 . His 53 of 32 has changed the momentum.#INDvPAK

— Mohammad Kaif (@MohammadKaif) June 4, 2017
Wahab Riaz's 87 runs conceded today is the most runs ever conceded by a bowler in Champions Trophy history #CT17 #INDvPAK

— Saj Sadiq (@Saj_PakPassion) June 4, 2017
Power, Elegance, Beauty, Class. Yuvraj Singh Is Simply The Best.????#INDvPAK #INDvsPAK #PakvInd #Yuvi #YuvrajSingh #RohitSharma pic.twitter.com/XKDbgwuGOn

— Sir Jadeja (@SirJadeja) June 4, 2017
Yuvraj 53* in 30. Coming off an illness that needed hospitalisation. Rock star. #INDvPAK #CT17

— Anand Vasu (@anandvasu) June 4, 2017
Yuvraj SIngh's 29-ball fifty is the 5th fastest fifty in the Champions Trophy and the fastest by an Indian. #INDvPAK #CT17

— Sampath Bandarupalli (@SampathStats) June 4, 2017
Only way to escape Kohli-Yuvi fire. Get injured. #IndvPak

— Silly Point (@FarziCricketer) June 4, 2017
Not playing Junaid Khan over Wahab Riaz has already paid off for Mickey Arthur, Sarfraz and co! #IndvPak

— Sawera Pasha (@sawerapasha) June 4, 2017
Four fifties in the game but my favourite is the one from Wahab Riaz.. #INDvPAK

— Sameer Allana (@HitmanCricket) June 4, 2017
When @imVkohli and @YUVSTRONG12 bat together, you see two of India's all-time ODI greats together. Pak is bearing the brunt now #IndvPak

— Vikrant Gupta (@vikrantgupta73) June 4, 2017
– controlled aggression, rotation of strike, consolidation & power hitting in the end. Too much to learn from this Indian batting. #INDvPAK

— Asif Khan (@mak_asif) June 4, 2017
Singh is King ?? #Yuvraj #CT17 #IndvPak

— Aakash Chopra (@cricketaakash) June 4, 2017
I know you guys love Dhoni but I would prefer Hardik Pandya at no. 5 today instead of MS Dhoni. #IndvPak

— Shubh AggarWall (@shubh_chintak) June 4, 2017
mood rn ?? #Yuvi #INDvPAK pic.twitter.com/icvL4xtHXT

— Artist Rofl Gandhi (@RoflGandhi_) June 4, 2017
A moment of silence for those who were waiting to troll Yuvi.. ?? #INDvPAK

— Trollywood (@TrollywoodOffl) June 4, 2017
Pic1: Salman version of 'Lutt gayeeey'
Pic2: Pakistani Version of 'Lutt gayeeey' #IndVPak #INDvPAK pic.twitter.com/uvK7lDxDa9

— Anonymous Rookie (@rookie_anon) June 4, 2017
Wow. @YUVSTRONG12 still nailing it and as usual looking super cool. #INDvPAK #CT17

— Adam Gilchrist (@gilly381) June 4, 2017
Always Great To Watch Vintage Yuvraj Singh, That Too Against #Pakistan.????#INDvPAK #INDvsPAK #PakvInd #PakvsInd #Yuvi #YuvrajSingh pic.twitter.com/ZVEYe2fkEl

— Sir Jadeja (@SirJadeja) June 4, 2017
#INDvPAK
Jove Lihad. pic.twitter.com/bBjKtV2kbf

— Ramesh Srivats (@rameshsrivats) June 4, 2017
Rohit Sharma's last 3 ODI centuries: 124 vs AUS, 171* vs AUS and 150 vs SA. All have come in losses. #CT17 #INDvPAK

— Sampath Bandarupalli (@SampathStats) June 4, 2017
Pakistan huddles today: 7
Pakistan wickets today: 1#INDvPAK #CT17 pic.twitter.com/iRBNUpfk3q

— Saj Sadiq (@Saj_PakPassion) June 4, 2017
Vintage Yuvraj…..@YUVSTRONG12

— parthiv patel (@parthiv9) June 4, 2017
A good total from India, good to see @SDhawan25 & @YUVSTRONG12 dominate. Now time for some @BhuviOfficial swing! #INDvPAK #CT17

— Tom Moody (@TomMoodyCricket) June 4, 2017
India were brilliant with the bat. Great foundation at the top and power at the back end. Pakistan need someone to make a big ??

— Michael Clarke (@MClarke23) June 4, 2017
Sharma ji ke baad batting karne aaye Yuvraj Singh.
Itna pela ki Pakistan ka dhaaga khol diya.#INDvPAK

— Virender Sehwag (@virendersehwag) June 4, 2017