Twitter goes berserk as Kaviya Maran is seen beaming in the stands after SRH's first victory of IPL 2021
One fan has lauded the Sunrisers Hyderabad (SRH) side for finally making Kaviya Maran smile.
Updated - Apr 22, 2021 11:53 am
10.4K Views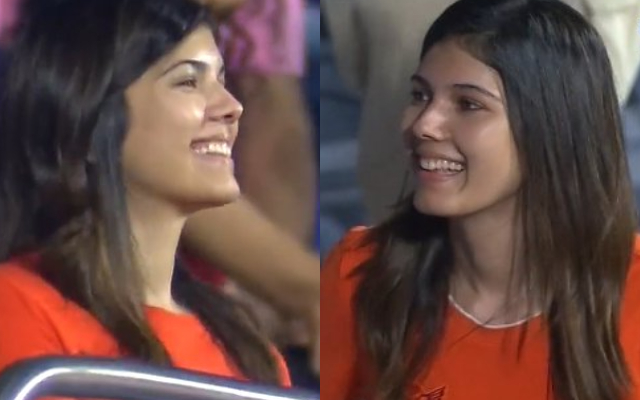 Follow us on Google News
Kaviya Maran was seen beaming on 21st April 2021. An owner who is very emotive, the Sunrisers Hyderabad (SRH) CEO has attended every match that the 'Orange Army' has played thus far in the 14th edition of the IPL. When the David Warner-led side lost their first 3 matches, Kaviya was distraught in the stands.
But then, on 21st April 2021, she was seen cheering and clapping for her side with a big smile evident on her face as the Sunrisers Hyderabad (SRH) side produced a perfect performance in all departments of the game and thrashed the Punjab Kings (PBKS) side with 9 wickets to spare.
On the bowling front, it was Khaleel Ahmed who wreaked havoc with the ball for SRH. The left-arm pacer scalped 3 wickets and gave away just 21 runs in the 4 overs that he bowled. On the batting side of things, it was the 'opener's show' all the way for SRH.
Skipper David Warner and Jonny Bairstow put on a 73-run opening stand for the first wicket to ensure that the 'Orange Army' posted their first victory of the 2021 IPL edition. While Warner scored 37, Bairstow helped himself to a classy 63* off 56 deliveries. Bairstow was also awarded the Player of the Match award for his scintillating performance with the bat in hand. And, nobody in the SRH camp would have been happier than their CEO, Kaviya Maran.
Kaviya Maran in ecstasy after Sunrisers Hyderabad post their first win of IPL 2021
The talk of social media is the reaction of Kaviya Maran after Hyderabad's victory. In fact, a video has surfaced on social media where a fan has captured Kaviya beaming in the stadium.
Several other fans have also reacted to Kaviya Maran's joyful state. One fan has lauded the Sunrisers Hyderabad (SRH) side for finally making Kaviya smile. Another Twitter user has asked the SRH side not to make Kaviya Maran sad as it hurts.
One fan has tweeted that he is extremely happy for Kaviya Maran. Another fan has tweeted the pictures of Kaviya Maran and MS Dhoni smiling and has stated that these were the two happiest moments of the day.
You can see the various reactions from Twitter below
FINALLY MY CRUSH KAVYA MARAN IS HAPPY AND SHE IS SMILING WITH HAPPINESS. TQ #SRH FOR WINNING TODAYS MATCH AND U MADE US MY BABY KAVYA MARAN TO SMILE 😍😍😍😍😍😻😻😘 pic.twitter.com/MijvvLa8jI

— GHILLI Ganesh (@chinnatarak7) April 21, 2021
She is smiling 😊🥰#SRH #SRHvPBKS #IPL2020 #kavyamaran pic.twitter.com/ekY2yzBOZS

— KishanGoswami45🇮🇳 (@goswamikisham78) April 21, 2021
Today Happiness 🧡 💛
.#PBKSvsSRH #CSKvsKKR #Dhoni #KaviyaMaran pic.twitter.com/KgFgO9u0ww

— Pavan Kumar (@pavanpkkumar777) April 21, 2021
#PBKSvSRH #kaviyamaran #kavyamaran
so what was the best moment of the match ? may i know your veiws fans? #SRH pic.twitter.com/NjYBqCPF3c

— Kaviya Maran Official (@kaviyamaran2021) April 21, 2021
Finally happy for u #kaviyamaran #PBKSvSRH @SunRisers pic.twitter.com/3ehGqYrD4t

— Naveenkumar.kanithi (@Naveen_kanithi) April 21, 2021
Aisi smile ke liye @PunjabKingsIPL ko 1000 baar harte dekh lu @SunRisers se😄😃 #IPL2021 #KaviyaMaran https://t.co/ZQS9PttAK1

— Shailesh (@shaileshpande17) April 21, 2021
😊☺️🥰#KaviyaMaran #SRHvsPBKS #SRH #IPL @SunRisers @davidwarner31 #OrangeArmy pic.twitter.com/C8ZoL4YKBB

— Vikram Sawant ⏰ (@SavantVikram) April 21, 2021
#kaviyamaran 😁😘#PBKSvSRH pic.twitter.com/kE81EMsuRO

— Sumit Raghuwanshi (@tanha___musafir) April 21, 2021
#SRH
Plz don't make her sad 🥺
It hurts ❣️
-mi fan boy #KaviyaMaran #PBKSvSRH pic.twitter.com/7My2EVXH4O

— Peter Dhanaraj (@DhanarajPeter) April 21, 2021
🥰#KaviyaMaran #SRHvsPBKS #SRH #OrangeOrNothing #OrangeArmy pic.twitter.com/yfXkA91U0q

— Kaviya Maran (@KaviyamaranSRH) April 22, 2021
😍 @SunRisers #KaviyaMaran pic.twitter.com/xBAmPK5Q6d

— Vidhura Shekar Reddy (@IamViddu) April 21, 2021
Yeh! @SunRisers people you did it. You made her smile after so many tearful moments. 🙂 #PBKSvSRH #SRHvsPBKS #KaviyaMaran #KKRvCSK pic.twitter.com/vmnzkp29qG

— Saurav Shrivastava (@SaySaurav) April 21, 2021
Follow us on Telegram