Twitter goes wild as Ishant Sharma and Steve Smith get involved in mocking contest
Updated - Mar 7, 2017 9:58 pm
148 Views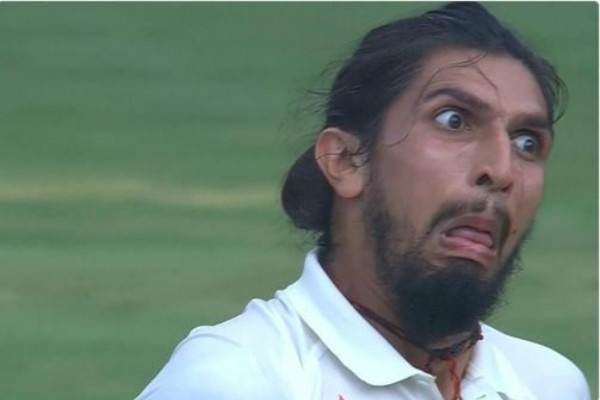 Follow us on Telegram
Australian skipper Steve Smith is not only among the best cricketers in the world right now but he is also one of the most impatient batters that we ever get to see on the 22 yards. When we talk about batsmen with a unique style of batting and actions on the pitch the name Steve Smith definitely comes to our mind. After all, Steve Smith is someone whom you may like or dislike but absolutely cannot ignore. His behavior on the pitch can be defined by frequent head shakes, adjusting his cricketing weapons to perfections, swinging of his bat and a few others.
Indian pacer Ishant Sharma took a chance and mocked the batsman in the weirdest manner possible on Sunday morning, the second day of the second Test in Bangalore. During his first spell Sharma imitated the 27 year old Smith with a freakish shake of his head side-ward down in both directions. Smith, being a no-nonsense batsman retaliated immediately mocking the bowler making some faces of his own in return. The unusual incident was thoroughly enjoyed the Bangalore crowd as well as both the teams but most importantly the ever so active twitteratis.
A similar incident took place during the first test in Pune when all rounder Ravindra jadeja taunted Steve Smith as he survived by a whisker on a Jadeja delivery. Ravindra Jadeja had almost sent Smith to the pavilion when his ball beat the Australian which could have easily caught the edge of Smith's bat. Jadeja instantly broke into a mini-jig throwing a taunt towards the batsman. But Smith prevailed on the occasion as he scored a century and Australia went to thrash India by a huge margin of 333 runs. However, it was Ravindra Jadeja who bagged the wicket of the Rising Pune Super Giants batsman by catching him leg before wicket.
If Monday morning had a face. pic.twitter.com/JByOMS3Ldy

— Trendulkar (@Trendulkar) March 5, 2017
https://twitter.com/AllTimeBakchod/status/838255381046505473
I always knew Ishant Sharma is dentally forward and mentally backward! #INDvsAUS pic.twitter.com/4ZzdrsmAvL

— Pratik Mundra (@EdmGeek) March 5, 2017
Travelling with your girlfriend and you suddenly see your father ??
Ishant Sharma at #INDvsAUS pic.twitter.com/AhvWcV1lvb

— Mohan Chowdary Gutta (@Mohan9999999) March 5, 2017
Ishant sharma's acting is much better then his bowling #INDvAUS pic.twitter.com/WdKZ02GZKi

— Jon ❄️ (@KingInThe9rth) March 5, 2017
Ishant Sharma ~Expression of the decade.wicket nhi mil rhe to kya thodi acting hi kar lete hai!!?? #INDvsAUS pic.twitter.com/TwY0ZpCaQQ

— Meera (@logical2indian) March 5, 2017
The Reaction Of Ishant Sharma is Best Moment of The Match ????? #INDvsAUS

— Rajesh Khilare (@Cricrajeshpk) March 5, 2017
Matt Renshaw And Ishant Sharma's Reaction After Sir Ravindra Jadeja Got Steve Smith's Precious Wicket. #INDvsAUS #INDvAUS pic.twitter.com/GSirOdfeKC

— Sir Ravindra Jadeja (@SirJadeja) March 5, 2017
Only if Ishant Sharma's bowling was as good as his facial expressions are bad pic.twitter.com/uPN1U7iq85

— omar r quraishi (@omar_quraishi) March 5, 2017
https://twitter.com/FreddieFaizan/status/838258629912498176
BCCI: What are your special skills?
Ishant Sharma : pic.twitter.com/VvngPztiax

— Sir Rohit Sharma (@imWrong45) March 5, 2017
Who said Test cricket is boring? Loving the contest between #INDvAUS Not sure anyone will win an #Oscar with their impersonations though.

— Lisa Sthalekar (@sthalekar93) March 5, 2017
Ishant Sharma before and after #IPL auction. pic.twitter.com/YiwYslAe0Y

— Nikhil ? (@CricCrazyNIKS) March 5, 2017
Ishant Sharma, know that pain very well?? pic.twitter.com/8G6eJOC01n

— हरा-me(Hulk) (@ShubhamS90) March 5, 2017
Sharma ji ka beta gives more expressions than most of Bollywood actors. #Bollywood #INDvsAUS #IndvAus Ishant Sharma pic.twitter.com/Q05xzgsrOa

— ikpsgill (@ikpsgill1) March 5, 2017
Wonder if Dhoni would be laughing like Virat is when Ishant Sharma is mimicking Steve Smith.
It not funny. Just disgraceful. #IndvAus

— Pankaj Ahuja (@panku_) March 5, 2017
When someone says to Ishant Sharma that 2 crores is too high a base price for you. #INDvsAUS pic.twitter.com/FQg2YKXgBu

— Kanupriya Chaudhary (@Kanupriyaa007) March 5, 2017
Ishant Sharma just bagged a film with his performance this morning??#INDvAUS #Ishant pic.twitter.com/XfhMQGpBao

— AKOO7 (@AKOO71) March 5, 2017
Follow us on Google News