Twitter is amused to see MS Dhoni and Hardik Pandya together in an advertisement
The duo has been away from international cricket for quite some time now.
Updated - Dec 30, 2018 7:35 pm
632 Views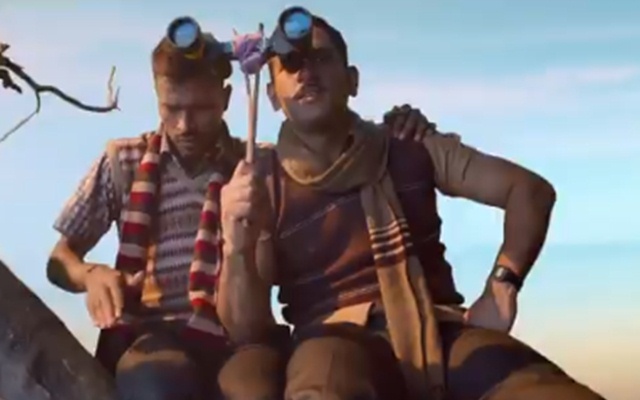 Follow us on Telegram
Former India captain MS Dhoni and ace all-rounder Hardik Pandya have been out of cricket for some time now. While the former has not been playing international cricket since the ODIs at home against the Windies, Hardik was sidelined following a grave injury since the Asia Cup in September and made an impressive return to competitive cricket in the Ranji Trophy earlier in December.
Both will return to the Indian team for the three-game ODI series in Australia in January. Dhoni has also been picked for the T20I series in New Zealand that will follow the Australia tour.
However, the two renowned cricketers made most of their time off the field. Also known for their camaraderie both on and off the field, Dhoni and Hardik recently featured in an advertisement for Star and it has won the fans' hearts. Even Hardik himself was amused by the advertisement calling it "Gajab", the word which he utters in the advertisement as well.
Chittu, Bittu and their binocular
In the video, the two cricketers are seen sitting on the branch of a tree and watching a cricket match with the help of a binocular. They portray roles of two humble men named Chittu and Bittu wearing chappals and speaking in Bhojpuri-style Hindi. Hardik aka Chittu is not comfortable with the idea of watching cricket from the top of the tree and asks his former captain why couldn't they watch it on television at home.
As Dhoni or Bittu explains to him why there is a problem watching cricket on TV, Hardik notices an ad which speaks about the availability of TV channels at a low rate.
The ad came at a time when the general mood in Indian cricket was more than happy as Virat Kohli's side defeated Australia by 137 runs in the third Test in Melbourne to take an unassailable 2-1 lead in a four-match series. Twitterati loved the acting skills of the two cricketers and they came up with reactions to the video of the advertisement which was shared by Hardik.
Here's the video:
Gajab… @msdhoni #SachMein! @starindia #StarValuePack pic.twitter.com/poqMUJ5qi2

— hardik pandya (@hardikpandya7) December 30, 2018
Here are some of the reactions:
Being a bihari I must tell u that even great actors would not catch the accent so amazingly. 10/10 Brilliant 💗

— Aman Agrawal (@IamAgrawalAman) December 30, 2018
What an Ad! 😂😂😂

— Sunny Sharma (@sunnysh93827623) December 30, 2018
Agar aap cricketer nahi hote to Bollywood me Full scope tha 😀😀😀😀 Good Acting

— Pranit Patil (@impanu003) December 30, 2018
Osm pandya and dhoni ❤️❤️❤️🇨🇮 #TeamIndia #StarValuePack

— KL Rahul 👑 #KlrahulFC 🏏 (@KLrahul_) December 30, 2018
@msdhoni@hardikpandya7
It's actually *Gajab , Not ₹49* *Acting. 👌👌👌

— Aparupa Das 54💛 (@AparupaDas9) December 30, 2018
Take a Bow to the entire team of @starindia for thinking of this brilliant Advertisement. It's Hilarious. 😀

— Aditya Saha (@adityakumar480) December 30, 2018
😂😂 Gazabbb hai bhaiyaaaa…. Mazza aa giya🤣🤣 Superrbb ad

— Sarfaraj Nawaj ®️ (@itz_sarfaraj19) December 30, 2018
Luv you my boy @hardikpandya7 you're awesome in this ad. I'm your biggest fan

— priyanka kumar (@Priyank75049401) December 30, 2018
Kaa baat kiye hai.. humare bihari style mein… sun ke maza aa gya.. garda macha diye aap toh.. well acted😊👍

— Anurag Sinha (@anuragsinha1992) December 30, 2018
Pura gajab…ka kar diye aap eeee????🤔👌👌👌👌👌👌👌🤣🤣🤣🤣🤣🤣🤣🤣

— SATYA (@Satyendrap2) December 30, 2018
Aap dono ko ACTOR hona chahiye tha.. Hardik & Maahi bhai …👌👌👌👌👌👌👌👌👌👌👌👌👌👌👍

— Ashutosh Mishra (@imAshu17_) December 30, 2018
[interaction id="5c28ca9c1769cd2c5e10c951″]
Follow us on Google News