Twitter lashes out at Virat Kohli for giving Ravi Ashwin animated send-off
Talking about the issue, Ashwin said that both played with passion.
Updated - Apr 25, 2019 2:10 pm
63.5K Views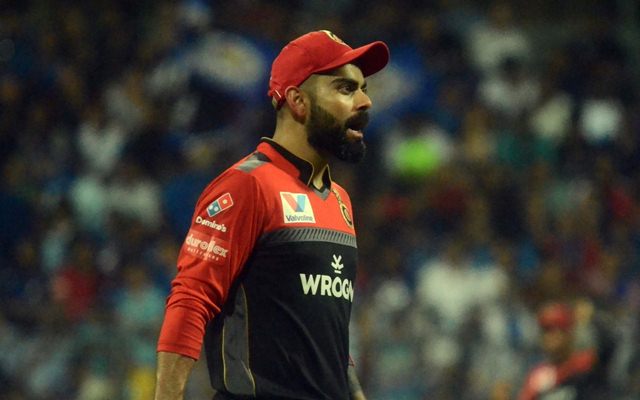 Follow us on Google News
The Royal Challengers Bangalore (RCB), captained by the dynamic Virat Kohli, has started to soar above the expectations and have now won three games on the trot. Their last victory came against the Kings XI Punjab (KXIP) at the M Chinnaswamy Stadium in Bengaluru and the triumph kept their hopes alive of qualifying for the playoffs in this edition's Indian Premier League (IPL).
The game was an animated one where almost 400 runs were scored. Skippers of both the teams, Ravi Ashwin of KXIP being the other, are quite vocal on the pitch and also plays with a lot of excitement and the same was also seen during yesterday's match. Kohli is a prized wicket for any team bearing in mind the truckload of runs he has scored, both in the IPL and international cricket.
The 30-year-old Virat smacked a couple of glorious boundaries and was also dropped once by Mandeep Singh. However, the Delhi-born batter couldn't capitalize on the lifeline and perished to Mohammed Shami in the fourth over of the game. The wicket would've made Ashwin and Punjab happy and subsequently, Ashwin celebrated hard, realizing the significance of the scalp.
Virat celebrates Ashwin's wicket aggressively
RCB ended up scoring 202 courtesy of AB de Villiers' 44-ball 82 with three fours and seven sixes. Punjab got close as all of their top five batsmen scored 20 plus runs with Nicholas Pooran being the top scorer with 46. After the Windies' batsman's dismissal, Ravi Ashwin had the task of scoring 27 runs off the last over. He smacked Umesh Yadav for a six and then perished in the very next ball
Following the skipper's dismissal, Kohli celebrated in an aggressive manner and also made some gestures. Nevertheless, Ashwin later played down the matter and said that both played with passion and it was in the heat of the moment. In the meantime, Twitterati isn't happy with Virat for the behaviour. Subsequently, the users on the social media slammed him.
Here is how Twitter slammed Virat
@imVkohli sachin became the greatest because of his calm composure so as dhoni , the way u trolled ashwin is a shame on ur part , ur unfit as captain

— B V akil sai (@akilpawanism) April 25, 2019
@imVkohli asked his players 2 play aggressively but not 2 get personal with national teammates. Last night his gesture after claiming @ashwinravi99 catch wasn't personal? Ashwin's not part of WC but he's still imp member of test team. @vikrantgupta73 Isn't he violating his words?

— Ishant Agarwal (@iagarwal1991) April 25, 2019
Disappointed virat's behavior how could he be rude to his own country player just aftr takng a https://t.co/cPcxRY0Rrz tat so great to celebrate like tat?He should learn to celebrate it maturely.never expected him to be like this@imVkohli @ashwinravi99 #ViratKohli #Ashwin #Virat

— Smilie (@Angel13Little) April 25, 2019
What's wrong with u Virat Kohli. This is not a celebration it's abusing someone. Ashwin is ur team mate. Give respect ur team mate.

This is unacceptable from Indian Captain.

At d end of d day you'll be remembered for ur behavior

Be Aggressive not to be Arrogant#RCBvKXIP #IPL pic.twitter.com/KbaVadBVNC

— Rohitian World #MI (@RohitianWorld) April 25, 2019
If @imVkohli is just a player its a different issue. He being an #Indian #captain cant do this. He is a rude and rogue at the first order. Shame on #ViratKohli

— MAAKING (@MAAKING08) April 25, 2019
@imVkohli virat bhai i am very big fan of you I love your agression but yesterday which anger you shown to ashwin was not right he is in indian team and in 2018 after south african tour you said to all our players that never mis behave with your own teammate

— Arpit Mishra (@ArpitMi93398664) April 25, 2019
@imVkohli gave @ashwinravi99 a stunning send-off, re-enacting the mankading incident & mouthed off (probably) "Mankad karega bos*dk".

How unbecoming it is of an Indian captain to publicly humiliate a teammate (without provocation) can't be overstated.#VIVOIPL2019 #RCBvsKXIP

— Pratik Bedia (@pratik_bedia) April 25, 2019
Dear @imVkohli sir many peoples are inspiring you & follow you. Please avoid some attitudes . It's a just an IPL game but @ashwinravi99 is a main Bowler in our @BCCI Give them respect. It's not good for our INDIAN team #RCBvsKXIP @cricketaakash

— கவி கார்த்திக் (@ThamilanKarthik) April 25, 2019
Very bad taste of gesture on the part of Indian captain.

— Kallol (@Kallolcurious) April 25, 2019
@imVkohli Shame on you Captain Kohli @ashwinravi99 is a senior Indian player and you should be showing more respect to him.

— Harman Pannu 🚀 (@iharmanpannu) April 25, 2019
@bhogleharsha what is your call on @imVkohli 's behaviour after @ashwinravi99 's wicket last night?
Many people are criticising him for his on field behaviour these days.

— Omkar Khot (@omkarkhot1434) April 25, 2019
Being an ardent fan of @imVkohli .. it leaves me in pain to c da over emotional reaction he gave after dismissing @ashwinravi99 and even @klrahul11 .. ya, the situation was extremely intense.. BT still they are a part of #TeamIndia @IPL @BCCI

— Biswajit_here (@jit_unplugged) April 25, 2019
@imVkohli you may be a great batsman but these behaviors shows your immaturity as a captain… What you did yesterday after taking @ashwinravi99 wicket…. pic.twitter.com/JtfWSDHf8P

— Naren Vishwa (@narenvishwa_nv) April 25, 2019
Yesterday @imVkohli mocked Ashwin during the match of #RCBvKXIP which was not needed at all. I am a big fan of Kohli. But that was not good on his part. I hope he apologizes for his action.

— Lagbhag Chowkidar Gaurav (@AapChomuHain) April 25, 2019
Follow us on Telegram