Twitter Reactions: Kyle Abbott rips Aussies apart as South Africa clinch series
Updated - Nov 15, 2016 6:19 am
43 Views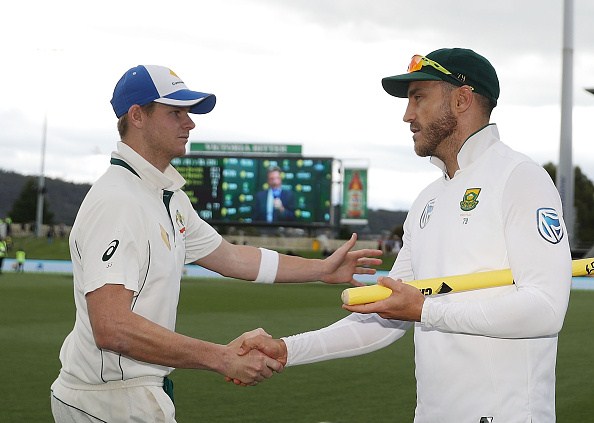 Kyle Abbott claimed some phenomenal figures of 6/77 as the visiting South Africa team clinched a win against their hosts Australia in the second Test at Hobart. This was phenomenal in the sense that the Aussies lost eight wickets in the one and a half sessions played on the day.
What's worse is the simple fact that the Aussies under Steve Smith are in a bit of a rut at the moment. In Smith's first 11 Test matches, he had won 7 and lost none. This had also seen the Australians move up the World Rankings into the top spot.
However, in the last five matches, Smith has lost all five, something that has seen his side plummet to an all time low in the rankings, something that is totally unprecedented and also something the Australians are not completely used to so to speak.
The final day's play ensured that the Australians were on the receiving end of the yardstick when Kyle Abbot began to run riot. The slip cordon was a very profitable place for catchers as most of the wickets fell to the pacers. Even Steve Smith could not ply his heroics to the fore as the South Africans completed an innings win, thus sealing a well-deserved series win.
That said, here are some of the best tweets following the conclusion of the match.
Speechless!
Think I'm gana have a beer at 3am

— Dale Steyn (@DaleSteyn62) November 15, 2016
It's said first innings runs and 2nd Innings wickets are the most important. How good is Kagiso Rabada #ausvsa

— Scott Styris (@scottbstyris) November 15, 2016
Once again, not much to say when a team performs like that! Pure class. #ProteaFire at its best!!! Enjoy the celebrations guys- Umlilooooooo

— AB de Villiers (@ABdeVilliers17) November 15, 2016
Congrats SA too good @Kyle_Abbott87 well bowled bud. Disappointed for AUS, time to stand by them & fight for the rest of the summer.

— Mitchell Johnson (@MitchJohnson398) November 15, 2016
Just woke up… turned TV on.. @StarSportsIndia #AustvSA

Went back to sleep! #OMG

— Dean Jones (@ProfDeano) November 15, 2016
South Africa, BRILLIANT! Well deserved.

— Michael Clarke (@MClarke23) November 15, 2016
Faf du Plessis says Aust erred by not sending full-strength team to recent ODI tour of Sth Af. Allowed Proteas to build confidence #AUSvSA

— Andrew Ramsey (@ARamseyCricket) November 15, 2016
Steyn, Philander, Abott & Rabada all average under 23 with the ball. World class pace attack in any era #wwos #AUSvSA

— Ian Chappell (@IanChappelli) November 15, 2016
Congratulations to our boys who have clinched the series! #ProteaFire #AUSvSA pic.twitter.com/7cF57VudY5

— Cricket South Africa (@OfficialCSA) November 15, 2016
South Africa's series victory has come without Steyn (mostly) and AB DeVilliers. This puts things in some proper perspective. #AusvSA

— Aakash Chopra (@cricketaakash) November 15, 2016
Why are Australia getting so much heat? They nearly doubled their first innings score, didn't they? #AUSvSA

— Gaurav Kalra (@gauravkalra75) November 15, 2016
If we consider UAE as Pakistan's home, South Africa is now the 1st nation to register a innings win at all the other 9 teams' home. #AUSvSA

— Sampath Bandarupalli (@SampathStats) November 15, 2016
Aussies were always known to fight it out.
But this Test team clearly lacking that spirit.
Aussie ki Taisi ho gayi.#AusVSA

— Mohammad Kaif (@MohammadKaif) November 15, 2016
Aussie cricketers should be made to swim back to mainland if want to be picked for Adelaide Test. Need to find out who's committed. #ausvsa

— Dave Hughes (@DHughesy) November 15, 2016
AN UPDATE!
Steve Smith as Test captain….
First 11 Tests: won 7, lost 0, drawn 4
Next 5 Tests: won 0, lost 5, drawn 0#AusvSA

— Mohandas Menon (@mohanstatsman) November 15, 2016
.@faf1307 with the man of the moment @Kyle_Abbott87. Congratulations boys! #ProteaFire #AUSvSA pic.twitter.com/SSpMe3klt6

— Cricket South Africa (@OfficialCSA) November 15, 2016
Test lasted 7 sessions. Spin 0 wkts, 26 overs. If spin had got all wkts in a 7-session match, pitch would've been called 'poor' #AusvSA

— Hemant (@hemantbuch) November 15, 2016
That winning moment. A team of brothers. #ProteaFire #AUSvSA pic.twitter.com/BnRMzfr14p

— Cricket South Africa (@OfficialCSA) November 15, 2016
Kyle Abbott (Man of the Match): It's been a case of waiting for an opportunity. Nice to make something out of it.#AUSvSA

— Cricbuzz (@cricbuzz) November 15, 2016
Australia batted only 558 balls in this Test. Last time they batted so few balls in a home Test loss? Don Bradman's debut, 1928 #AUSvSA

— Brydon Coverdale (@brydoncoverdale) November 15, 2016
Australia's last 5 Tests: LLLLL
Australia's last 5 ODIs: LLLLL#AUSvSA

— Brydon Coverdale (@brydoncoverdale) November 15, 2016
Australia scored 246 for 20 – their worst in a home Test in which they've been bowled out twice since Bradman's debut in 1928-29. #AUSvSA

— Andy Zaltzman (@ZaltzCricket) November 15, 2016
Kyle Abbott is named Man of the Match for his overall match figures of 9/118 #AusvSA pic.twitter.com/rJ9TS18Tae

— ICC (@ICC) November 15, 2016
Bowling coaches around the World will be getting a DVD of this South African display .. Unbelievable consistency and skill .. #AUSvSA

— Michael Vaughan (@MichaelVaughan) November 15, 2016
Abbott is all over the Aussies this morning #AUSvSA https://t.co/toY3Is3rXY

— cricket.com.au (@CricketAus) November 14, 2016