Twitter Reactions: David Warner decimates Pakistan with an unbeaten 151-run knock
Burns missed out on a well-deserved ton. He got out to Yasir Shah after scoring 97 runs.
Updated - Nov 22, 2019 1:19 pm
1.6K Views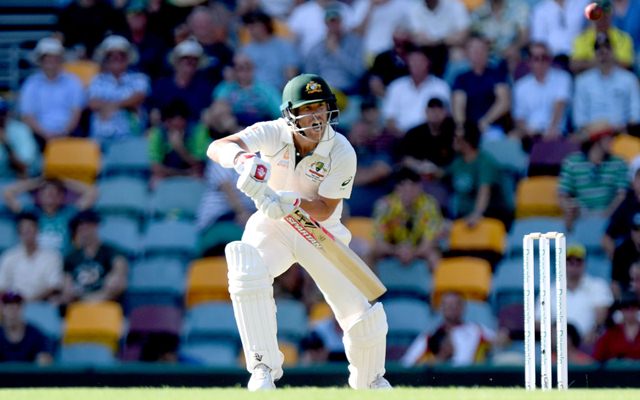 Normalcy has resumed in Australia home season with the hosts continuing to dominate the opposition. After bundling out Pakistan for 240 on the first day, the Australian batsmen made merry of excellent batting conditions. The inexperienced Pakistan bowling attack looked clueless at times and David Warner, playing his first home Test since returning from the ban, slammed his 22nd ton and is still going strong.
The day began with Pakistan hoping to make the new ball count. But Imran Khan and Shaheen Afridi were too short early on which allowed Warner and Joe Burns settle very quickly. Easy singles were allowed and a comfortable start meant the visitors were going to have a long day. There was a lot of hype around Naseem Shah but even he couldn't provide the breakthrough.
Burns and Warner played some gorgeous shots during their stay in the middle with the latter dishing out some exquisite strokes as well. The southpaw had luck going with him as well. Naseem Shah had found an edge of his bat while on 56 soon after lunch but the pacer had overstepped big time. Warner made Pakistan pay for the mistake.
David Warner remains unbeaten as Australia lead by 72
Soon after Tea, David Warner reached his ton and the trademark celebration was on show. Rather, the left-hander was in the 90s for too long and understandably was nervous after what had transpired in the last 18-20 months in his career. However, he seems to be well and truly back now. As far as Burns is concerned, he also looked composed but unfortunately missed out on a well deserved century.
Yasir Shah castled him when on 97 to break the 222-run partnership in the 61st over of the day. However, for Pakistan, this was the only rejoicing moment. Marnus Labuschagne came out to bat number three and looked comfortable almost instantly. He also got to his half-century and remained unbeaten on 55 by the end of the day. Warner, on the other hand, was solid after the century and notched up 150.
Australia ended the day on 312/1 after 87 overs and signs are ominous for Pakistan. The lead will keep extending with every over on the third day and clearly, their bowlers were to blame for the same. They didn't make the ball talk and there was no pressure on the batsmen. Another long day awaits them at The Gabba.
Here's how Twitter reacted:
Warner is back ..

— Michael Vaughan (@MichaelVaughan) November 22, 2019
#Australia has always been a tough place to tour for Asian teams but to see Pakistani bowlers struggling to break the opening partnership for over 200 runs is disappointing. #AusAvPAK #AUSvsPAK pic.twitter.com/IoI8AnvNiI

— R P Singh रुद्र प्रताप सिंह (@rpsingh) November 22, 2019
The Burns wicket is the first ball I've watched of this entire Test. So naturally I'm now accepting all bribes from Pakistan fans to keep watching 😂

— Jimmy Neesham (@JimmyNeesh) November 22, 2019
And that's all she wrote! Game over #AUSvsPAK #thatcontestdidntlastlong

— Dean Jones AM (@ProfDeano) November 22, 2019
If you are forced into a protective ditch on day 2 of a test match, your chances to breach the castle wall become slim! At 0-195 at Tea, it's looking mighty tough for Pak unless they have an incredible last session with the ball.Naseem Shah tho has been impressive with his pace.

— Ramiz Raja (@iramizraja) November 22, 2019
Umpires not calling his No-balls from previous balls has put young Naseem in a false sense of security at delivery. Technology has to come in for the 3rd Umpire to monitor the foot fault. Umpires on-field are missing to many. #PAKvAUS #cricket #AUSvPAK

— Brad Hogg (@Brad_Hogg) November 22, 2019
Oh dear!!! I think it is now time to put something in place to deal with no ball issue. Too many aren't being called therefore players can't make the necessary changes until it is too late #AUSvsPAK

— Lisa Sthalekar (@sthalekar93) November 22, 2019
Oh is that a No-Ball 😂 are u sure Mr . tv umpire #AusAvPAK

— Tino95 (@tinobest) November 22, 2019
Curious that the graphic said fast-medium when Naseem Shah came on to bowl. Every delivery so far has been between 143-148 KPH.

— Ian bishop (@irbishi) November 22, 2019
1 over into his Test Career … but already you can see Naseem Shah is going to be a superstar … !! 16 yrs old & clocking 147 kph with a fantastic action #AUSvPAK

— Michael Vaughan (@MichaelVaughan) November 22, 2019
See, basically David Warner neither gets "Out of form" nor gets "In form" in Tests. Whenever you feel he's Out of Form, bring him in Australia to see him bang everyone. Similarly, whenever u think he's in good touch, wait for him to play an innings outside AUS 🙃 #AUSvsPAK

— That Cricket Guy (@CrickyTweets) November 22, 2019
This no ball problem and why bowlers continue to go close to the line.. it's an early coaching solution.. fix it at an early age. Young bowlers must learn to have their whole foot behind the line. @BrettLee_58

— Dean Jones AM (@ProfDeano) November 22, 2019
Hope Naseem is not seriously injured. Not good seeing the youngster leave the field after one over with in his final spell. Just coming back from Back issues earlier in the year worries me. #PAKvsAUS

— Brad Hogg (@Brad_Hogg) November 22, 2019
So David Warner bats throughout the day. And Steve Smith sits around throughout the day waiting in vain to get a bat. If you didn't know already, Australian summers are very different to English summers #AUSvPAK @cricbuzz

— Bharat Sundaresan (@beastieboy07) November 22, 2019
🙊 Caught behind on a no-ball, and then the bails somehow stay unmoved after the ball clips the stumps.

🤷‍♂️ When it's your day, it's your day David Warner!#AUSvPAK #Cricket

📷Fox Sports pic.twitter.com/T4WL3C9CcJ

— ABC Grandstand (@abcgrandstand) November 22, 2019
What a day for Australia and David Warner!#AUSvPAK

— VIKASH KUMAR (@vkc1000) November 22, 2019
So David Warner bats through a day of Test cricket for only the second time. That's some start to a summer. #AusvPak

— Geoff Lemon Sport (@GeoffLemonSport) November 22, 2019
Amazingly, David Warner has been dismissed three times today, yet not one of these were to Stuart Broad #AUSvPAK

— Dane (@eld2_0) November 22, 2019
It's David Warner's day. Caught behind off a no ball on 56, "bowled" on 151 but the bail is not dislodged despite being hit at 128.2 km/h. #AUSvPAK

— Andrew Wu (@wutube) November 22, 2019
– won't mind David Warner's luck the rest of my life.

— Asif Khan (@mak_asif) November 22, 2019
David Warner is now the only player to score a century in test, ODI, T20I and IPL in the same year.#AUSvPAK

— Kausthub (@kaustats) November 22, 2019