Twitter Reactions: England favorites as a survival battle awaits India
Gill and Pujara ensured that India did not have anything less than 9 wickets in hand going into the last day of the first Test.
Updated - Feb 8, 2021 6:04 pm
26.8K Views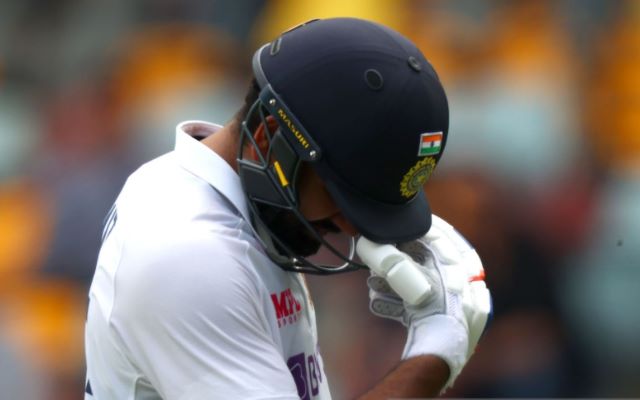 India finished day four at 38/1, in an unlikely – or probably impossible – pursuit of 420 runs on day four at Chepauk. Resuming the day from 257/6, the hosts could not last longer than the first session despite Washington Sundar, playing only his second Test and first at home, showing plenty of promise with the bat. Alongside his Chennai counterpart, R Ashwin, Sundar played some glorious strokes early in the morning, punishing the spinners whenever they shortened or missed their lengths by even an inch, as England delayed for opting the new ball.
Runs kept coming for India at a fair clip, and taking inspiration from his partner, Ashwin upped the ante too, as he slammed Dom Bess for a six over mid-on. With the pacers unable to get any breakthrough, Root's decision to hand the new, hard ball to spinner Jack Leach did the trick as Ashwin ended up gloving a delivery that bounced more than his anticipation to Buttler close by. Shahbaz Nadeem's outing did not last long as Leach induced an edge and Ben Stokes grabbed another sharp chance in the slips.
Sundar was left stranded on 85 as Anderson struck twice in quick succession, getting Ishant Sharma, who awkwardly fended a short ball before lobbing it up to Pope at short leg, and Jasprit Bumrah, who fell to another one of Ben Stokes' sensational catch in the slips.
England piles on the massive lead
Having earned a gigantic lead of 241, England chose to pile up some more to set India a target instead of enforcing a follow-on. Quite surprisingly, though, England made no amends in the batting order as their usual openers walked out to play the few overs left before Lunch. India made early inroads as Ashwin removed Rory Burns on the first delivery of their innings as the southpaw prodded hard at the delivery and edged it to Rahane in the slip.
Ashwin struck soon after the resumption, this time finding the inside edge of Dom Bess, who lobbed up a catch for Pujara at leg slip. Paying no heed to what the track had to offer, Joe Root counterattacked the bowlers as he raced off to 40 from just 32, with 7 fours. Meanwhile, Ishant Sharma picked his 300th Test scalp when he smacked one into Dan Lawrence's pads, who reviewed it to no avail. More success followed for both India and Ashwin, as the spinner induced a thin edge from Ben Stokes through to Pant behind.
England's denial for declaration
While Root kept the flow of runs on, from his end, Bumrah struck moments before the Tea break, pinning the skipper lbw to reduce England to 101/5. It was strange tactics from England post Tea as they continued to pile up their lead without contemplating even once for declaration. Though Ollie Pope and Jos Buttler made valuable contributions, there was hardly a sense of rush in them to add to their tally as they ate up more time. Shahbaz Nadeem, who has had a hard time in the Test, had a reason to celebrate when Ollie Pope picked Rohit Sharma at cover while reverse-sweeping.
Dom Bess then added 35 with Buttler, keeping India at bay, before Ashwin pinned him lbw. Nadeem got his second when Buttler danced down the track but missed to make any connection, giving an easy stumping opportunity to Rishabh Pant. Ashwin ended up with 6 as he knocked over Jofra Archer and followed it up by taking a simple return catch of James Anderson in the 47th over to dismiss England all out for 178.
Leach strikes early
Coming to face a tricky phase, the fag end of the day, Indian openers – Rohit Sharma and Shubman Gill – made a positive start nevertheless. Sharma was not shy in pulling Archer for a six, however, Leach had the better of him. Defending on the wrong line, he bent forward to meet the ball that straightened after pitching, meaning that Rohit was beaten to be cleaned up. Negotiating a testing phase, Gill and the new man Cheteshwar Pujara ensured that India did not have anything less than 9 wickets in hand going into the last day of the first Test.
Here are the best tweets
England is seemingly petrified of forcing a win…typically English 'caution first' approach…I could well be barking up the wrong tree..but Indns can,if they dare,take the initiative & make a momentous 5th Day at Chepauk..sadly sans spectators.!Test Crkt still rules..ok?!!

— Bishan Bedi (@BishanBedi) February 8, 2021
Fifer no : 28th in test cricket !! Congratulations on the 6 wicket haul @ashwinravi99 #Test Cricket #ENGvIND #ChennaiTest !!

— Mithun Manhas (@MithunManhas) February 8, 2021
28th five-wicket haul for @ashwinravi99 one of the Greats in the history of the game and this will be more special with this ground being his home. Most five-wicket hauls in Tests since January 2010 for this man! Congratulations Ash. #EngvsInd @StarSportsIndia pic.twitter.com/gEWl2A0jOX

— VVS Laxman (@VVSLaxman281) February 8, 2021
Congratulations @ImIshant
Taking 300 wkts in test cricket as a pacer is amazing. 3rd Indian pacer to do so. Keep up the good work. @BCCI pic.twitter.com/uSlxVp6p5o

— Chetan Sharma (@chetans1987) February 8, 2021
I would like to know from spinners out there WHY spinners have a cover point on the boundary when you have near on 400 on the board on a pitch that is spinning square … and you an off spinner bowling … and it's the last over of the day !!!!!!!!!!!!! Wtf …. #INDvENG

— Michael Vaughan (@MichaelVaughan) February 8, 2021
Can anyone talk me through this field with Pujara on strike to Dom Bess 385 runs in front with 5 mins to go.🤷‍♂️ pic.twitter.com/s279NyNLNY

— Mark Waugh (@juniorwaugh349) February 8, 2021
If India play England's spinners off the front foot this innings, it's game, set and match!

Rohit should have been back to that delivery.

— Kevin Pietersen🦏 (@KP24) February 8, 2021
🤦🏻‍♂️ oh dear Rohit 🤦🏻‍♂️

— Russel Arnold (@RusselArnold69) February 8, 2021
I really like, Gill. He is some player.

— Kevin Pietersen🦏 (@KP24) February 8, 2021
28 times 5 wicket haul! @ashwinravi99 . Chennai ka Super king hi nahi ab India ka bhi 👑. #Ashwin #INDvENG

— R P Singh रुद्र प्रताप सिंह (@rpsingh) February 8, 2021
Congralutions @ashwinravi99 for 28th fiver in Test cricket. #IndvsEng many more to come.

— Naman Ojha (@namanojha35) February 8, 2021
R ashwin you legend. Yet another Fifer. 🙏

— Sai Kishore (@saik_99) February 8, 2021
Well done @ashwinravi99 for yet another 6 wicket haul.. keep it up

— Harbhajan Turbanator (@harbhajan_singh) February 8, 2021
Mate, sure England could still win this test match. But that doesn' justify this decision to keep batting ! https://t.co/kFJmtyMQV9

— Shane Warne (@ShaneWarne) February 8, 2021
If I was India I would not be trying to get any wickets ! Let England keep batting as it's helping India's cause to save the test match !!!

— Shane Warne (@ShaneWarne) February 8, 2021
So you think @root66 is doing the right thing and not declaring ? Need more runs ? Surely should be bowling now…. https://t.co/DGHdLYVir2

— Shane Warne (@ShaneWarne) February 8, 2021
I hope this last hours mentally doesn't come back to bite England tomorrow … !!

— Michael Vaughan (@MichaelVaughan) February 8, 2021
England's mindset is let's not lose this test match – rather than, what's the best way to win this test match and how many overs could we need ! This batting on decision is now putting a lot of pressure on England's bowlers and particularly their spinners !

— Shane Warne (@ShaneWarne) February 8, 2021
.@MichaelVaughan In Australia India played courageous and brave cricket – was awesome to watch ! Australia played timid and cautious cricket & Australia lost the series. England are playing cautious and timid cricket………..

— Shane Warne (@ShaneWarne) February 8, 2021
A result of consistent hard work persistence ! Perseverance and commitment , and a never giving up attitude what makes our lambu special ! Many congratulations on #300 test wickets keep going ! @ImIshant #indiavseng

— Yuvraj Singh (@YUVSTRONG12) February 8, 2021
India happy to watch England bat here! #INDvENG

— Tom Moody (@TomMoodyCricket) February 8, 2021
Get on with it ….

— Michael Vaughan (@MichaelVaughan) February 8, 2021
Rohit Sharma Today 😂😂😂#AUSvIND #RohitSharma #indiavsaustralia #testcricket pic.twitter.com/1dcK2mD0m4

— ☬ दीपक त्रिपाठी ☬ हिन्दुत्व 🙏 (@follow_back__45) February 8, 2021
No one gives a f about your ipl trophies man @ImRo45
For me, Pant s innings in Gabba is greater than your whole ipl glory.#INDvsENG

— Docteja ➐ (@DoctejaFilms) February 8, 2021
Rohit Sharma right now in Indian dressing room#INDvENG #RohitSharma pic.twitter.com/PEk3iHRuz1

— Siamsid99 (@siamsid99) February 8, 2021
@swiggy_in why are you trolling Rohit Sharma like this?🥲🥲😂😂😂 #RohitSharma #INDvsENG pic.twitter.com/7hVtYT7KyU

— Raghav Gupta (@RaghavG77907814) February 8, 2021
rohit sharma after scoring 5 runs in a test match pic.twitter.com/ISHXxC4gVm

— Neeche Se Topper (@NeecheSeTopper) February 8, 2021