Twitter Reactions: Fans surprised as Irfan Pathan went unsold in the IPL 2017 Auction
Updated - Feb 21, 2017 7:08 pm
192 Views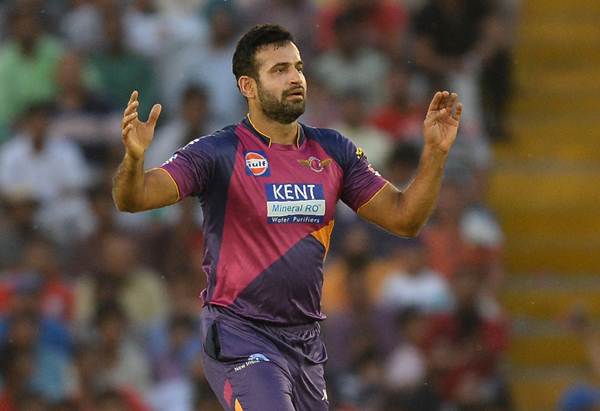 Follow us on Google News
The IPL 2017 player's auction held in Bengaluru on February 20 had quite a few surprises in store. Ben Stokes and Tymal Mills bagging the two most players tag along with a list of uncapped Indian players also cashing in crores. But in comparison to those sold what stunned fans was some big names finding no buyers. Indian pacer Ishant Sharma and allrounder Irfan Pathan were presented twice but no team showed interest in picking them.
Both the players were with the Rising Pune Supergiants in the previous edition, didn't feature in a majority of the matches and were released ahead of the auction. While in Ishant's case his high base price of INR 2 crore went against him as franchises cited that as a reason for not raising a bid in his name after the auction. Irfan who had a contract worth 1 crore with RPS had modestly priced himself at half of it.
Given his form in the recently concluded Syed Mushtaq Ali where his best show against North Zone saw Shikhar Dhawan, Rishabh Pant, and Yuvraj Singh walk back with 3, 2 and 0 runs respectively. He had figures of 3/10 in his 4 overs that also ensured his team West Zone an easy win. Leading Baroda in the Zonal T20 tournament he was the only player along with Deepak Hooda from the team to be picked in the West Zone XI.
A lot of Twitterati felt not getting enough opportunities in the last two editions of the IPL went against Irfan. He was benched for the entire season by Chennai Super Kings in 2015 and just got 4 matches for the PRS. The common link in the two teams was the coach and captain duo of Stephen Fleming and MS Dhoni. While it was West Indies allrounder Dwayne Bravo who didn't let Irfan make a case for selection at CSK with RPS they opted to back Rajat Bhatia over the 32-year-old.
It definitely isn't the end of road for Irfan who recently said that he takes inspiration from Ashish Nehra's comeback and still has the hunger and will to make a national comeback.
Here are some of the reactions from Twitter:
This is sad: No takers for @IrfanPathan in this #IPLAuction. The Indian all-rounder goes unsold. pic.twitter.com/kGUnhBQ7pz

— ScoopWhoop News (@scoopwhoopnews) February 20, 2017
Wow. No Irfan Pathan. That's just strange.

— Chinmay Bhogle (@chinmaybhogle) February 20, 2017
@IrfanPathan stay stong. IPL isnt a destiny.. You'll rock the world again.. You've made mistakes and you've learned from it.. ?

— vishwas borkar (@bvishwas99) February 21, 2017
stokes-14.5cr, @IrfanPathan & @ImIshant unsold and they said #ipl is for #indians @BCCI @vikrantgupta73 @IPL #IPLAuction

— gaurav shandilya (@thegaurav10) February 20, 2017
What's wrong with the @IPL franchisees @IrfanPathan as done so well in #SyedMusthaqAli in last 2 seasons n goes unsold #injusticetotalent

— Sujjad (@ImSujjad) February 20, 2017
Stokes bought for 14crores 50 lakhs.@IrfanPathan was unsold…
Seems that IPL franchises have lost faith in Indian players….#IPLAuction

— Rituraj (@themerrydevil) February 20, 2017
Munaf Patel sold but Irfan Pathan is still unsold…..One of the Qayamat ki Nishani.#IPLAuction

— ali hasan (@alishocky) February 20, 2017
IPL 2017:

Munaf Patel has a team.

Irfan Pathan does not.
Imran Tahir does not.
Ishant Sharma does not.

Smoking Weed! ?#IPLAuction

— NoLifeWithoutCricket (@NLWC07) February 20, 2017
Imran Tahir , Ishant Sharma , Alex Hales , Jason Roy , Irfan Pathan Go Unsold ? Seriously? ?#IPLAuction

— Don Johnston (@BeardedVillain7) February 20, 2017
After #IPLAuction
Ishant Sharma and Irfan Pathan be like#ipl @ipl pic.twitter.com/FceyPPRsoF

— Freaky (@mltweetfreak) February 20, 2017
Well done @msdhoni, Under Dhoni, @IrfanPathan has played 1 out of 23 matches in IPL 2016. Results in unsold pathan #IPL #iplauction

— Nawed khan (@Nawed143) February 20, 2017
A league where @IrfanPathan gets unsold twice, teams spend money on Karn Sharma, @VarunAaron & @JasonRoy20 sold for INR 1 cr. #IPLAuction???

— Aditya Sahay (@adisahay7) February 20, 2017
I still believe in you @IrfanPathan you have quite a bit of cricket left in you !! Keep fighting my man. #Ibelieve in you #IPLAuction

— Swapneel Deshpande (@iamneeld) February 20, 2017
#IrfanPathan after #IPLAuction pic.twitter.com/JtpRjza1A9

— Dosra Parera (@dosra_parera) February 21, 2017
R we guys serious? How can some one like @IrfanPathan remain unsold. #IPLAuction #shame

— Gurtej Batra (@IMGurtejBatra) February 20, 2017
One day @BCCI will realize that they lost the diamond #Irfanpathan while collecting stones. Good night @IrfanPathan champ 🙂

— Just Sahida ♡ (@SahidaLoveIrfan) February 20, 2017
Hard to digest a pill of @IrfanPathan not being bought at #IPLAuction He was at his best in SMAT @IPL

— Rahul Bhagvani (@TheBhagvani) February 20, 2017
Well played @msdhoni Haven't selected @IrfanPathan for a single match in IPL 2015 for CSK, almost same in IPL 2016 for RPS. Good bye pathan

— Nawed khan (@Nawed143) February 20, 2017
@msDhoni is the reason behind these ?. Did not allowed Irfan Pathan to play 2 @IPL season as a result team could not recognize his talent.?

— Anghan Uday (@uday_anghan) February 20, 2017
MS Dhoni stepped down as Captain…Ishant Sharma and Irfan Pathan remain unsold…no more Indian League..#IPLAuction

— Sid (@Sidd_1231000) February 20, 2017
Follow us on Telegram