Twitter Reactions: Fortunes sway for Pakistan as Misbah, Younis bat for the last time
West Indies need 297 runs to win the Test.
Updated - May 14, 2017 11:39 am
2.2K Views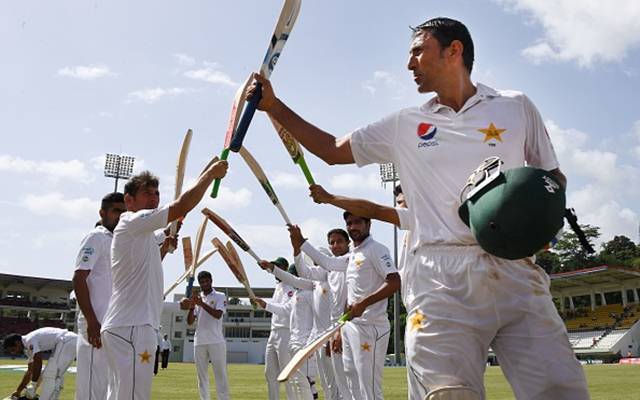 The penultimate day of the third and final Test between West Indies and Pakistan saw the fortunes sway from one side to the another. It was an exciting day of Test cricket which had something in store for everyone. Unlike the nature of this particular Test, where the match had been a slow paced one, the day 4 had some quick turn of events in hand.
The day started off with West Indies resuming their overnight score of 218/5. Half the team was back in the hut but the hopes were still there with the hosts since Roston Chase was declared fit to bat again after having injured himself on the day 3 of the game. He was retired hurt on 60 after a bouncer from Mohammad Amir hit his forearm. But the first session belonged to another pacer on the day 4.
Young fast bowler Mohammad Abbas bowled a brilliant spell on one of the flattest of tracks presented in the series. He ran through the West Indies lower order to bundle them out for 247 in the first innings. He returned with figures of 5/46 in the 25 overs that he bowled. In the Pakistan second innings, things were expected to turn emotional as Younis Khan and Misbah-ul-Haq came in to bat for the last time in Test cricket.
Both players were given guard of honors and they had a good reception from the crowd as well. None could score much though. Younis scored 35 and Misbah perished for a mere 2 to his name. A Pakistan collapse was on the cards and the visitors eventually declared with 174/8 in their second innings. West Indies were set a target of 304 to win. They lost the wicket of Kieran Powell on 4 to end the day with 7/1. West Indies need 297 runs to win the Test.
The Twitter world lauded the bowling spell of Mohammad Abbas and went emotional about the retirement of Younis Khan and Misbah-ul-Haq.
Here is how the Twitter reacted to the day's play:
Emotional scenes at Roseau Cricket Stadium as Misbah-ul-Haq & Younis Khan walks off to a guard of honour from team-mates. ##MisYou #WIvPAK pic.twitter.com/GrvBWkJuGn

— Raza Mehdi (@SyedRezaMehdi) May 13, 2017
Misbah gets out for the last time. Thank you for serving Pakistan Cricket Team! You will always remain our Hero. #WIvPAK #KingMisbah pic.twitter.com/FJ0B2FC4aZ

— Sir Saith Abdullah (@SaithAbdullah99) May 13, 2017
Misbah-ul-Haq walks off to a guard of honour from his team-mates. This is how legend career comes to an end. #MisYou #WIvPAK pic.twitter.com/Jr2HaNoNOD

— Raza Mehdi (@SyedRezaMehdi) May 13, 2017
Pakistan vs West Indies
3rd Test
Stumps Day 4
W.I 7-1 in 2nd Inn
Need 297 more runs to win
Pak 174-8 d in 2nd Inn#WIvPAK #MisYou #Zahisk pic.twitter.com/LB6BGTNlQw

— Sardar Zahid #MisYou (@zahisk) May 13, 2017
That last session belonging to Yasir Shah,brill with the bat & then takes a wicket in the final over. 21 wickets in the series. #WIvPAK

— zainab abbas (@ZAbbasOfficial) May 13, 2017
Congrats Misbah/Younus on retirement & their excellent achievements.Series win will b an Icing on the ?.Thanks 4 the entertainment #WIvPak

— waqar younis (@waqyounis99) May 13, 2017
Farewell to two Pakistan legends. @captainmisbahpk and @iam_younis made their final bows in Test Cricket today. ?? #MISYOU #WIvPAK pic.twitter.com/xYIyJQeyrC

— Amir Sohail (@amirsohailLive) May 13, 2017
It is a NO ball,ridiculous to see a spinner bowl so many no balls. #WIvPAK

— zainab abbas (@ZAbbasOfficial) May 13, 2017
Come on Boys fight hard and Win this Test for our Legends #YounisKhan & #MisbahUlHaq #WIvPAK pic.twitter.com/k8t9USMquB

— PeshawarZalmi (@PeshawarZalmi) May 13, 2017
.@realDonaldTrump are you aware that neither #Misbah nor #YounisKhan won't bat in international cricket again?#WIvPAK #MisYou

— Abhishek Mukherjee (@ovshake42) May 13, 2017
Pak team ensuring that the focus shifts back to the match! Lead of 211 with 6 down! #WIvPAK

— zainab abbas (@ZAbbasOfficial) May 13, 2017
How befitting that Misbah ends his career as the highest scorer for Pakistan in his last series – 271 #MisYou #WIvPak

— zainab abbas (@ZAbbasOfficial) May 13, 2017
YOUNIS KHAN:

118 Tests
10099 runs
Avg 52.05
34 100s
33 50s
Six 200s
HS 313#WIvPAK #misyou #ThankYouYounis

— Deepu Narayana (@deeputalks) May 13, 2017
All the West Indies players shaking Misbah's hand before he left the field. Role-model for cricketers around the world #WIvPAK #Cricket pic.twitter.com/kDNFxXTX4L

— Saj Sadiq (@Saj_PakPassion) May 13, 2017
Yk comes for the last time to bat in test cricket ☺️17yrs time flies. Still remember his debut against lanka #MisYou #WIvPAK

— Hina Tariq (@BeingHinaTariq) May 13, 2017
3rd duck for Babar Azam in four innings. He is finding Test cricket very hard. #WIvPak

— Mazher Arshad (@MazherArshad) May 13, 2017
Wonderful spell by Abbas bhai

Another Sialkoti doing well? #WIvPAK

— Usama Mir (@iamusamamir) May 13, 2017
Lesson for Selectors, bring Young Talent/ Domestic Performers in the Int'l arena, you will get results. Try batsmen in next series. #WIvPAK pic.twitter.com/VkKYCCsrsT

— Akber Ali (@AkberAli2611) May 13, 2017
Good news for Sialkotis. Abbas is first fast bowler from the city to take a 5-wicket haul in Tests. #WIvPak

— Mazher Arshad (@MazherArshad) May 13, 2017
5 wicket hall on the flattest of decks & when the batsmen were just looking to block everything, special stuff from Abbas!#MisYou #WIvPAK

— Ammar. (@Ammar_AliKhan) May 13, 2017
A 5 wkt haul & 14 wickets in the series for Mohd Abbas! #wivpak

— zainab abbas (@ZAbbasOfficial) May 13, 2017