Twitter Reactions: Gayle storm hits Sunrisers, takes Kings XI Punjab to 193
Chris Gayle hammered his 6th IPL ton.
Updated - Apr 19, 2018 9:46 pm
3.9K Views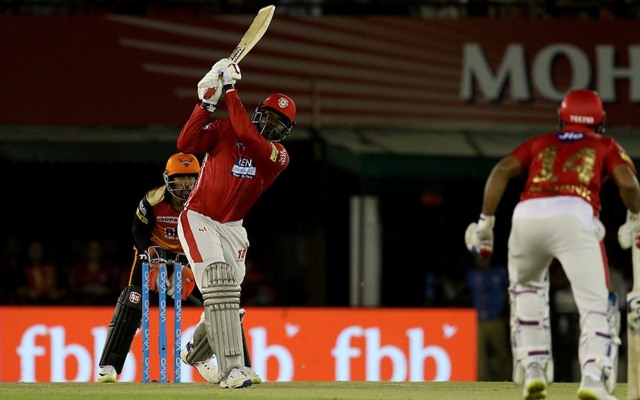 The Sunrisers Hyderabad have been unstoppable in the 2018 edition of the IPL thus far. They arrived in Mohali to witness another unstoppable force, named Chris Gayle, standing against them. Coming into their away fixture against the Kings XI Punjab, the SRH camp fancied their chances riding on their stellar run of form. They are the only unbeaten side in the tournament this year at the moment.
However, in order to keep the streak intact, they will have to bat well against a good KXIP bowling lineup. At the half way stage in the game, the match stands evenly balanced between the two sides. A herculean knock from Chris Gayle helped Kings XI Punjab post
Earlier in the match, it was the KXIP skipper Ravichandran Ashwin who surprisingly chose to bat first. The results at Mohali in the recent times have been 10-5 in the favor of the side chasing. The decision to bat first soon started to look like a very wise move with the Kings openers – KL Rahul and Chris Gayle – giving their side a firm start.
The two in-form batters added 53 runs for the first wicket. However, Rahul looked a little jittery on the day and perished in the 8th over, bowled by Rashid Khan, after scoring 18 (21). In walked Mayank Agarwal and blasted a quick 18 off 9 deliveries. He threw it away yet again after getting such a decent start. Meanwhile, Chris Gayle continued his onslaught from the other end.
In one of the overs bowled by Rashid Khan, he slapped four sixes in a row. The big Jamaican reached his fifty in the 13th over. It was the 23rd IPL fifty for him and his second in two matches this season. It was only a matter of time that the onslaught continued and Gayle notched up his 6th IPL ton. His unbeaten 103 came off just 63 deliveries with a boundary and 11 sixes. His efforts, combined with the cameos from Karun Nair (31 off 21 balls) and Aaron Finch (14* off 6 balls) took Kings XI Punjab to 193/3 in their stipulated 20 overs.
Here is how the fans reacted to the Kings XI Punjab innings:
Great to see @AaronFinch5 break the drought! ? he'll smack'em from now on ? #hesoffandrunning #woof #dogga #gaylewasprettygoodtoo ? #emojis #hashtags #boredom

— Glenn Maxwell (@Gmaxi_32) April 19, 2018
Don't know about Universal Boss, but Chris Gayle is certainly fantasy league boss. #FantasyCricketTrump #IPL2018

— Jamie Alter (@jamie_alterTOI) April 19, 2018
The Universe Boss. Lights up a match again…..

— Harsha Bhogle (@bhogleharsha) April 19, 2018
Chris Gayle has batted all 20 overs too. That's why you never write a player off. Both Dhoni and Gayle are a sublime proof of the same. #IPL

— Sameer Allana (@HitmanCricket) April 19, 2018
Who would have thought Rashid would go for 55! Think #KingsXI might have enough.

— Harsha Bhogle (@bhogleharsha) April 19, 2018
Champagne ? batting from C.Gayle ? 0ff 58 balls ?
6th @ipl ? ?
Great call by boys in the #SelectDugout on @StarSportsIndia ? pic.twitter.com/UI9rOYiloK

— Damien Fleming (@bowlologist) April 19, 2018
Chris Gayle is giving this crowd at Mohali a treat. His new franchise home and they are showing him the love. His 6th @IPL century. WOW. Still box office the Universe Boss. #VIVOIPL_2018 ???.

— ian bishop (@irbishi) April 19, 2018
Roaring ? in Mohali. And to think we nearly lost him from the @IPL Nice one @lionsdenkxip for not letting him go! ????#Gaylestorm #KXIPvSRH #IPL2018

— Isa Guha (@isaguha) April 19, 2018
Why is @YUVSTRONG12 pa not come into bat?? #KXIPvSRH #VIVOIPL

— Prragyan Ojha (@pragyanojha) April 19, 2018
This is incredible to watch …. #Universeboss #IPL

— Michael Vaughan (@MichaelVaughan) April 19, 2018
Rashid or Shakib will have to bowl the 19/20th over. Phew. #KXIPvSRH #IPL

— Aakash Chopra (@cricketaakash) April 19, 2018
Wow wee @henrygayle, I think you like playing for a different shade of red… @lionsdenkxip #KXIPvSRH #VIVOIPL

— Lisa Sthalekar (@sthalekar93) April 19, 2018
100 – Chris Gayle has posted his 6th @IPL century (104 off 63 balls), two more than anybody else. King. #KXIPvSRH pic.twitter.com/rL5WhEa48i

— OptaJim (@OptaJim) April 19, 2018
.@henrygayle is questioning all the franchise owners… proving why is called universe boss! #KXIPvSRH #VIVOIPL #RespectMaaan ??

— Prragyan Ojha (@pragyanojha) April 19, 2018
Hail to the king.. !!! @henrygayle #21 …!! #putsomerespecttohisname.. brilliant quote … !!… https://t.co/JwHAurhZt7

— Kieron Pollard (@KieronPollard55) April 19, 2018
No. Of 100s in each Season!

2008 : 6
2009 : 2
2010 : 6
2011 : 4
2012 : 6
2013 : 4
2014 : 3
2015 : 4
2016 : 6
2017 : 5
2018 : 1* (Gayle)#KXIPvSRH #IPL #Gaylestorm

— Cricket Engineer (@CricketEngineer) April 19, 2018
Gayle storm ???#KXIPvSRH pic.twitter.com/MFcvK5JezI

— Freelance 007 (@James_Beyond) April 19, 2018
For the latest cricket news, follow CricTracker.