Twitter Reactions: Imran Khan becomes the first cricketer to be elected as the Prime Minister of a country
He is now expected to lead from the front much like he did on the cricket field in the green jersey.
Updated - Jul 26, 2018 3:44 pm
4.6K Views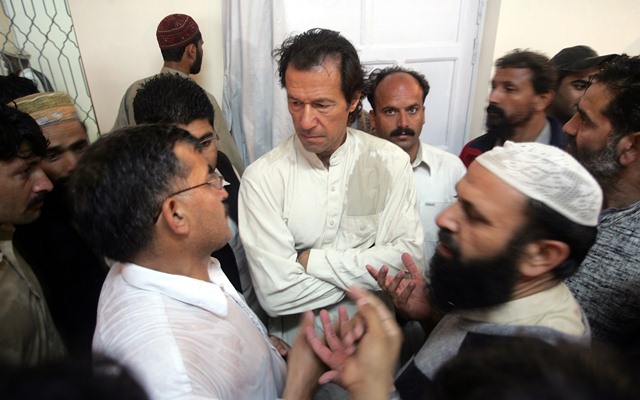 Follow us on Google News
Former Pakistan cricketer Imran Khan has created the history by winning the general elections in the country. He has become the first cricketer to be elected as the Prime Minister of a country. He contested the elections for Pakistan Tehreek-i-Insaf (PTI) political party and has won it with the majority of votes. Social media is buzzing with congratulatory messages for him as he is set to take over Nawaz Sharif as the Prime Minister of the country.
Very few sportspersons have moved into the upper echelon of politics after bidding adieu to their careers in the respective sports. Imran has joined a legendary list of Louisa Wall, George Weah, Manny Pacquiao, Vitali Klitschko, Romario, Sebastian Coe, Arnold Schwarzenegger, Gerald Ford, Glenn Lazarus and Vladimir Putin to make it big in politics after being serving their country in certain kind of sports.
This is a huge day in Pakistan's political history and Imran Khan will be tipped to do great things for the country. The people of the country have shown faith in him and the onus will be on him to repay it.
Will Imran shine as PM like he did on the 22 yards?
Imran Khan will lead the country as the PM now and is expected to be an inspiration for everyone. He was the one who led Pakistan to the World Cup victory in 1992 when all the hopes were lost. His achievements on the 22 yards were exceptional as he ended with 544 wickets in his international career to go with more than 7500 runs. He is still hailed as one of the best all-rounders the game has ever seen.
All the current and former Pakistan cricketers congratulated him and hoped that he will lead from the front for the country like he did on the cricket field.
Here are some of the tweets:
Congrat PTI and @ImranKhanPTI on a truly historic victory! The 22 yr old struggle has finally paid off & deservedly. Pakistanis have a lot of expectations from u I really hope u lead from the front! I request all opposing parties& media to accept the result and help rebuild 🇵🇰

— Shahid Afridi (@SAfridiOfficial) July 26, 2018
Ma Shaa Allah @ImranKhanPTI U done it once again 🤲🏼, Long Marathon Struggle against corruption ✅, A man of Strong Believe , #GREATLEADER #IRONMAN 😍👏🏼👏🏼👏🏼👏🏼, Banay Ga Naya Pakistan 🇵🇰, IN SHAA ALLAH ,

— Mohammad Hafeez (@MHafeez22) July 26, 2018
This is the result of 22 years of conviction , relentless efforts , determination and not giving up!
Congratulations @ImranKhanPTI You have done it!!!#PrimeMinisterImranKhan #NayaPakistan #ElectionPakistan2018Results

— Shoaib Akhtar (@shoaib100mph) July 26, 2018
Congrats to @ImranKhanPTI i hope u guys will do the best for pakistani nation INSHALLAH👍👍👍

— Mohammad Amir (@iamamirofficial) July 26, 2018
What an example of refusing to give up and carry on fighting you are @ImranKhanPTI . May ALLAH be with you in all challenges in proving to be the best Political Captain Pakistan ever had . Well played to the people of NAYA PAKISTAN .

— Salman Butt (@im_SalmanButt) July 26, 2018
Who could be a bigger and better example of a leader than Imran Khan, who as a super star had the world at his feet and yet elbow greased for 22 years to work for his objective and vision..he's special and we are proud to have him as our Prime Minister..

— Ramiz Raja (@iramizraja) July 26, 2018
Come and get a hug in India! Congratulations @ImranKhanPTI pic.twitter.com/UWUXc4RE6A

— Shobhaa De (@DeShobhaa) July 26, 2018
This election didn't turn out to be about Nawaz Sharif. It was about Imran Khan. Before July 25, the vote was considered PMLN & anti-PMLN. On Election Day it was Imran Khan versus the rest.

— Rehman Azhar (@rehman_azhar) July 26, 2018
A cartoon published in Daily Jang after the victory of Pakistan Cricket Team lead by @ImranKhanPTI in 1992 pic.twitter.com/ZyFxkCA81u

— Hamid Mir (@HamidMirPAK) July 26, 2018
22 years later, after humiliations, hurdles and sacrifices, my sons' father is Pakistan's next PM. It's an incredible lesson in tenacity, belief & refusal to accept defeat. The challenge now is to remember why he entered politics in the 1st place. Congratulations @ImranKhanPTI

— Jemima Goldsmith (@Jemima_Khan) July 26, 2018
Good Morning Pakistan, oh sorry Naya Pakistan 🙂 just want to take a moment and say a big thank you to the people of KPK! You trusted him way before anyone else did and you did it again!
Pakistan is proud of KPK! #ElectionPakisntan2018 #ElectionPakisntan2018 @ImranKhanPTI

— Farhan Saeed (@farhan_saeed) July 26, 2018
Congratulations @ImranKhanPTI I pray that Allah will guide you to build the Naya Pakistan. as promised. Best wishes.

— Fauzia Kasuri (@FauziaKasuri) July 26, 2018
When you wake up and see Imran Khan as Prime Minister of Pakistan. pic.twitter.com/8lDcZXGRCq

— Kamil (@MazahiyaBoy) July 26, 2018
Years back it was just a dream to put 'Prime Minister' with Imran Khan's name and NOW!!!
I CRYYYYY😭❤️🇵🇰

— fudge ✿ (@agirlnamedfajar) July 26, 2018
Tell me something more beautiful than "Prime minister IMRAN KHAN". ⭐️💖

— Dr. Emma Khan 👩🏻‍⚕️🇵🇰 (@dr_emmakhankpk) July 26, 2018
You did it Pakistan! 🇵🇰🇵🇰🇵🇰

Waking up to the reality that Imran Khan is Pakistan's PM is a tremendously amazing feeling.

Pakistan has finally spoken. Rejecting political dynasties and corruption for change.

The beginning of a new era.
Naya Pakistan Mubarak Everyone!

— Soraya Aziz (@SorayaAziz) July 26, 2018
Heartfelt congratulations @ImranKhanPTI! Ever since I met u in 92 after u won the world cup for Pak, u've been preparing for this day! #Missionaccomplished! Now the real challenge: to stay focused on pure intentions to serve country+ get to work! #followyourdreams #IKzindabad!!!

— Kristiane Backer (@KristianeBacker) July 26, 2018
[interaction id="5b583444db31a061fa26b34f"]
Keep following CricTracker for more news and updates
Follow us on Telegram