Twitter Reactions: India dominate Day One riding on centuries by Vijay and Kohli
While Sri Lankan bowling did manage to get wickets at the end of the day, they were trolled for a major part of the innings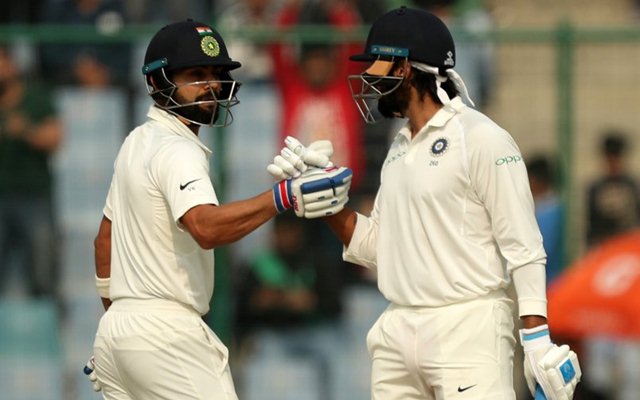 The third and final test kicked off at the Ferozeshah Kotla stadium. Day One saw some stupendous batting performance from the Indian stalwarts. The duo of Murali Vijay and Virat Kohli made the Sri Lankan bowlers toil hard on the field as India dominated the day.
Earlier in the day, it was skipper Virat Kohli who won the toss as India elected to bat first. Mohammed Shami and Shikhar Dhawan were brought in for Umesh Yadav and KL Rahul. As for Sri Lanka, Lakshan Sandakan, Roshen Silva and Dhananjaya De Silva were included in the side.
Batting first, India lost Shikhar Dhawan early. Surprisingly, Cheteshwar Pujara was also dismissed in the first session. While India lost two wickets in the first session, they still managed to score runs. That's when Murali Vijay and Virat Kohli combined for a brilliant third wicket partnership of 283 runs. Both batsmen went on to register splendid centuries on Day One.
India didn't lose a single wicket in the first session. Virat Kohli went on to register his 20th Test hundred. He also crossed 3000 runs as an Indian captain in Tests and became only the third player to do so. The way he made his batting look so comfortable was praiseworthy.
Murali Vijay made his second consecutive century after comeback. The right hander played a scintillating knock as he registered his 11th century in Tests. The 'Monk' as he's referred to by his teammates displayed his valour with a significant innings of 155.
However, Murali Vijay got dismissed during the end moments of the day. Ajinkya Rahane too got dismissed cheaply as Sri Lanka tried to create some trouble in the end. Lakshan Sandakan accounted for both the wickets in consecutive overs. India were 371/4 at stumps on Day 1 with Virat Kohli batting on 156 not out while Rohit Sharma had 6 runs.
Twitter was all praise for the duo of Murali Vijay and Virat Kohli. The tremendous character displayed by both of them had the fans hail them. While Sri Lankan bowling did manage to get wickets at the end of the day, they were trolled for a major part of the innings. Ajinkya Rahane also got criticised for yet another single digit score. Here we have some of the amazing Twitter reactions from Day One.
Btw … @imVkohli is a freak … Best player in the World … #DifferentLevel

— Michael Vaughan (@MichaelVaughan) December 2, 2017
My twins trying to acknowledge Virat's 150 but continue with the Christmas decorations, or should I say vandalism. #INDvSL pic.twitter.com/Bdov4Z8mRk

— Brendan Taylor (@BrendanTaylor86) December 2, 2017
The greatest batsman of his generation. He is on a different level to any current batsmen – @imVkohli!

— KP (@KP24) December 2, 2017
Kohli and Vijay continue on their merry way..

— cricketingview (@cricketingview) December 2, 2017
Don't think sending a nightwatchman for Rohit was a good ploy, oh wait, it was Rahane? ?#INDvSL

— Nikhil ? (@CricCrazyNIKS) December 2, 2017
Ajinkya Rahane's patchy from continues.. particularly shaky against tweakers initially ! Hope he will regain the mojo on overseas tours ! #INDvSL

— Navneet Mundhra (@navneet_mundhra) December 2, 2017
Rahane was definitely a night watchmen here. Horrible horrible series. 4th consecutive single digit score..

— Anas Khan (@AnasMagnificent) December 2, 2017
Save the runs for SA, Rahane. What a series he had last time, and that too with Dhoni waiting to end his career.

— Alagappan V (@IndianMourinho) December 2, 2017
Rahane in ODI:

Kept scoring fifties but not getting much opportunity..

Rahane in Test:

Kept getting opportunities but not scoring runs..

— Broken Cricket (@BrokenCricket) December 2, 2017
Never thought I'd look forward to the annoying ad jingles more than the cricket. Thanks, @OfficialSLC.#INDvSL

— Vinayakk (@vinayakkm) December 2, 2017
Unfair to keep dropping KL Rahul I think. He played against big teams like australia in india. And is a much more solid player than dhawan in tests. Really unfair.

— Realist_Indian (@India_Progress) December 2, 2017
Both KL Rahul and Rohit Sharma have played 20 odd Tests. KL's average is higher by 4, has one more century, made his debut a year later.

Better investment?#INDvsSL

— Gaurav Sethi (@BoredCricket) December 2, 2017
Someone had to miss out but it is hard on KL Rahul who has 9 half centuries in 12 innings.

— Harsha Bhogle (@bhogleharsha) December 2, 2017
Murali Vijay and Virat Kohli doing a replay of last week's Air India fight. pic.twitter.com/ZoFqvgwYqs

— Sorabh Pant (@hankypanty) December 2, 2017
"Virat. All you can see is India. This is your kingdom. You will make hundreds here. Just don't leave your kingdom. Making hundreds away from your kingdom is difficult." pic.twitter.com/rmkoAxY8US

— Broken Eye Socket (@DennisCricket_) December 2, 2017
3000 Test runs as captain for Virat Kohli
Third Indian after MS Dhoni (3454) and Gavaskar (3449)#IndvSL

— Mohandas Menon (@mohanstatsman) December 2, 2017
Who would that be? I'll go with Rahul. #INDvSL pic.twitter.com/yztB5zgXpK

— Third Man? (@imSanath7) December 2, 2017
A typical Kotla pitch…win the toss, bat and pile on the runs. #IndvSL

— Aakash Chopra (@cricketaakash) December 2, 2017
Three Delhi boys in the XI at the Kotla #INDvSL

— Gaurav Kalra (@gauravkalra75) December 2, 2017
India to declare at 625/7 on second day…three centuries including a double century. #IndvSL

— Aakash Chopra (@cricketaakash) December 2, 2017
Err.. Jonathan Trott in the commentary box for #INDvSL? ?

— Vinayakk (@vinayakkm) December 2, 2017
Great captaincy to get Pujara.

Superb#INDvSL

— Broken Eye Socket (@DennisCricket_) December 2, 2017
Aakash Chopra: Cheteshwar Pujara got out early today.

Harsha Bhogle: Well, weekends are not known for being long and slow.#INDvSL

— Moody Motu (@MoodyMotu) December 2, 2017
India might rue the two wickets they have lost but will still believe they won the session #INDvSL

— Harsha Bhogle (@bhogleharsha) December 2, 2017
India is dealing in boundaries ?
6 Fours already #INDvSL

— Prajakta Bhawsar (@ViratsFangirl18) December 2, 2017
The smog at Delhi is a disgrace to India.#INDvSL

— Broken Eye Socket (@DennisCricket_) December 2, 2017
Pujara's weekend plan
Bat on Saturday
Bat on Sunday#INDvSL

— Gaurav Kalra (@gauravkalra75) December 2, 2017
So, it's Vijay-Dhawan opening in the first Test vs SA on 5th January. Rahul is the reserve opener for the time being. #IndvSL

— Aakash Chopra (@cricketaakash) December 2, 2017
.@nassercricket's "Vijay never scores ugly runs" is one of those things that will remain forever true. Such grace when he gets going. #INDvSL

— Vinayakk (@vinayakkm) December 2, 2017
Wake up
Eat
Score half century/ century
Sleep

The basic routine of @imVkohli #INDvSL

— Prajakta Bhawsar (@ViratsFangirl18) December 2, 2017
King Virat Kohli! He doesn't pile up runs, he piles up hundreds!

What a day I've had! #INDvSL

— Manya (@CSKian716) December 2, 2017
Seems like Virat didn't even realise he's got to his 50. Looks he's in the 'zone', nothing matters, just him n the ball. #INDvSL

— Deep Dasgupta (@DeepDasgupta7) December 2, 2017
Kohli must be thinking back to all those first class matches at the Kotla when batting was a lot harder than this #INDvSL

— Gaurav Kalra (@gauravkalra75) December 2, 2017
Dilruwan Perera 100 wkts in 25 Tests, the quickest by a Sri Lankan Test bowler.
Murali needed 27 Tests! #IndvSL

— Mohandas Menon (@mohanstatsman) December 2, 2017
Not like Bradman. Not like Tendulkar. Virat will write his own script in the annals of Cricket #IndvSL

— Vikrant Gupta (@vikrantgupta73) December 2, 2017
Top class 100 from Murali Vijay. Really happy for him .After a comeback 2 back to back centuries. Rightly called the monk @mvj888 .#INDvSL

— Mohammad Kaif (@MohammadKaif) December 2, 2017
Back to back hundreds. Monk like discipline from Vijay. Hundred was there for the taking…and he took it. #IndvSL

— Aakash Chopra (@cricketaakash) December 2, 2017
King Kohli makes another ton.

At home. #Indvsl

— Broken Eye Socket (@DennisCricket_) December 2, 2017
Century for @imVkohli, first at his home, Delhi. Keeps on scoring runs for fun, don't talk about the opposition, many play weak teams often, not everyone scores this consistently. Make most of what you face. Bat on. #INDvSL

— Nikhil ? (@CricCrazyNIKS) December 2, 2017