Twitter Reactions: Jermaine Blackwood and Shannon Gabriel steer West Indies to a win over England
The visitors could not have started the series in a better fashion.
Updated - Jul 13, 2020 10:22 am
9.2K Views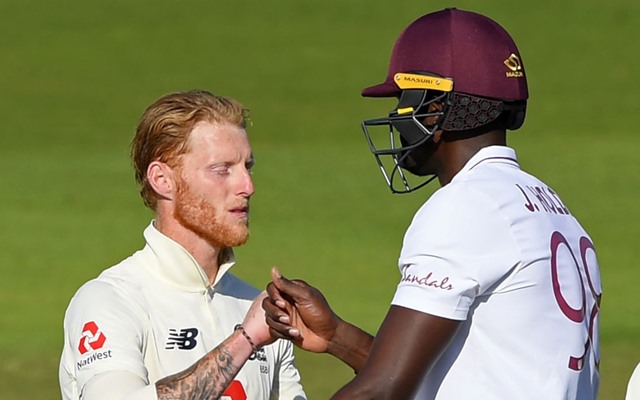 Follow us on Google News
Jermaine Blackwood played the most significant innings of his Test career to single-handedly steer his team past the finish line at Southampton in the first Test against England. The right-hander scored a sedate 95, as the West Indies side romped home with 4 wickets to spare to take a 1-0 lead in the series.
Earlier in the day, the visitors were in trouble as they lost three quick wickets with just 27 runs on the board. After John Campbell had to hobble off the field after a searing yorker from Jofra Archer crashed onto his toe, Kraigg Brathwaite and Shamar Brooks were removed by Archer for single-digit scores. Mark Wood then castled Shai Hope as the visitors were pushed to the back foot. But then, the duo of Blackwood and Roston Chase came together to steady the ship for their side.
Jermaine Blackwood anchors the West Indies chase
Blackwood and Chase put on a match-turning 77-run partnership to allow the visitors to gain an upper hand in the match. The duo did not take any risks and kept the scoreboard ticking. And, when the opportunity presented itself, they pounced on it and made the bowlers pay.
But then, against the run of play, Jofra Archer removed Chase with a fiery bouncer that caught the batsman by surprise. But then, Blackwood continued to steer his side to the finish line by combining caution with calculated aggression.
When the bowlers went short, he cut them with panache, and when the bowlers went full, he was quick to transfer his weight onto the front foot and drove them past cover or down the ground. But, the right-hander could not complete his hundred, as he mistimed an aerial drive and holed out to mid-off, with his side just 11 runs away from victory.
But then, skipper Jason Holder and Campbell, who returned to the crease once again held their nerve to enable their side to reach the target with 4 wickets to spare. The bandwagon now moves to Manchester where the next two Tests will be played. The visitors could not have started the series in a better fashion.
Here are some of the reactions from Twitter
Someone get me this time-travelling tweeting machine God @JofraArcher has. #ENGvWI #WestIndies #England #RaiseTheBat pic.twitter.com/ZsWoQsDYEm

— Sabyasachi Chowdhury (@sabya0912) July 12, 2020
Jason Holder is a fantastic cricket leader. Really happy for the West Indies. Thank you @SkyCricket for great coverage!

— Kass Naidoo (@KassNaidoo) July 12, 2020
This win should be no surprise. This is a seriously committed West Indian Test team, with proper Test match skills.

— Sambit Bal (@sambitbal) July 12, 2020
The greatness of test cricket, game and the balance swinging back and forth, result decided late into day 5. The return of cricket could not have been better. Congratulations to @windiescricket on what will be one of their most fascinating Test victories #ENGvWI

— Hemang Badani (@hemangkbadani) July 13, 2020
Well played Windies 👏👏👏 .
A big 👍🏻 to @ECB_cricket and Sky sports for putting together some wonderful cricket during these times. #ENGvsWI #TestCricket

— Ashwin (During Covid 19)🇮🇳 (@ashwinravi99) July 13, 2020
Well done @windiescricket Super win .. they seem to be able to life to their best especially against England 👏👏👏👏Great stuff .. Congratulations!!!

— Russel Arnold (@RusselArnold69) July 13, 2020
Always want England to win but have to say I'm really pleased for the @windiescricket. They could have easily not come over here and English cricket could have been in serious trouble financially. Well done all at @ECB_cricket for getting the game on. 👏🏻👏🏻

— Luke Wright (@lukewright204) July 12, 2020
The discipline shown by this West Indies batting line-up has been impressive, they are keeping it simple, no flamboyance and have made England to earn the wickets. Down to the wire now, can they keep their nerves? #ENGvWI

— Sanjjeev (@Sanjjeev) July 12, 2020
Brilliant win by West Indies:

A professional and disciplined team effort
A captain who led from the front and saw his team home
Batsmen who fought hard in both innings
Shannon Gabriel with 9 wickets led the pace attack superbly#ENGvWI #Cricket

— Saj Sadiq (@Saj_PakPassion) July 12, 2020
🚨Stat Alert🚨
West Indies is the only away team to chase a target of 200+ twice in England in this century🙌🏿🙌🏿🙌🏿#WIReady #ENGvWI #MenInMaroon pic.twitter.com/yCkqfao244

— Windies Cricket (@windiescricket) July 12, 2020
You are a good sport, @tinobest! #ENGvWI #Cricket pic.twitter.com/lPoUfy16mv

— CricBlog (@cric_blog) July 12, 2020
Shortest and tallest men of the team batting together. pic.twitter.com/VxNIfRC8NL

— Mufaddal Vohra (@mufaddal_vohra) July 12, 2020
John Campbell. #Respect #ENGvWI

— Surya Kumar Yadav (@surya_14kumar) July 12, 2020
What a match this has been. Well done, West Indies for bringing in joy during these Test ing times #ENGvWI

— Rajal Arora (@RajalArora) July 12, 2020
#ENGvWI: Ain't no feeling like a WInning feeling 1️⃣🆙 #WIReady #MenInMaroon 🌴🏏 pic.twitter.com/UrmqrBE8lq

— Windies Cricket (@windiescricket) July 12, 2020
"My phone is buzzing in my pocket, Bish. I can hear it vibrating with messages" – Michael Holding.

He's been so cute on commentary for the past hour. #ENGvWI

— Sreshth Shah (@sreshthx) July 12, 2020
First game after the break belongs to us!

Some gritty performance from the lads. This team deserves the win in this game. Congratulations boys

You make us proud… 👊🏿 #ENGvWI pic.twitter.com/wYAVRGOwh6

— Sir Vivian Richards (@ivivianrichards) July 12, 2020
Now that is TEST CRICKET 🔥 congrats @windiescricket #BiGWIN✊🏾

— Tino95 (@tinobest) July 12, 2020
Kudos to the selection of 11 by @windiescricket. Most people expected them to play Cornwall and leave out either Chase or Blackwood. They picked an extra batsmen and backed their quicks. Both played vital roles. Selecting the right 11 is a very under rated art.#ENGvWI

— Gaurav Sundararaman (@gaurav_sundar) July 12, 2020
Wasn't to be a century but what a brilliant innings from Jermaine Blackwood. Kept easing the pressure with shots which is so important in a close run chase.

— Harsha Bhogle (@bhogleharsha) July 12, 2020
That's it Johnooooo, Leh WI Go Fellas!!!!!#WIReady #ENGvWI #MenInMaroon

— Windies Cricket (@windiescricket) July 12, 2020
Cricket is so much better with @windiescricket doing well in the longest format of the game.Congratulations to the WI team for winning the test match #ENGvWI

— Irfan Pathan (@IrfanPathan) July 12, 2020
Great to have Test Cricket back.
Congratulations @windiescricket Well played. #ENGvWI #RaiseTheBat #cricketisback

— Jason Gillespie 🌱 (@dizzy259) July 12, 2020
Nice to wake up and see that the @windiescricket have won the first Test match. Given the build-up for this game, as well as the meaning behind it for so many reasons. So much strength can be taken out of this match for a team that is lead so well by @JasonHolder & @Coachsim13 👏🏽

— Lisa Sthalekar (@sthalekar93) July 12, 2020
Congrats @windiescricket for a magical performance 👏😎🏝Great test match win 🤸🏽@Jaseholder98 & gang bring on Old Trafford 🏏 #seampipbouncefizz 😬 pic.twitter.com/ZTthKCr8JJ

— Danny Morrison (@SteelyDan66) July 13, 2020
West Indies have beaten England 4 times in the last 6 Test matches#ENGvWI #Cricket

— Saj Sadiq (@Saj_PakPassion) July 12, 2020
West Indies vs England in Tests since 2015

WI won 5
Eng won 4
Draw 1

— Mazher Arshad (@MazherArshad) July 12, 2020
Good all-round performances by players from both teams.
Jermaine Blackwood played a crucial knock in a tense situation to see @windiescricket through. An important win which has set up the series perfectly. #ENGvWI pic.twitter.com/PLbJlqIe8c

— Sachin Tendulkar (@sachin_rt) July 12, 2020
Mine is #MichaelHolding 🏆 https://t.co/jyA7M54OdK

— ANGAD BEDI (@Imangadbedi) July 12, 2020
He came when West Indies was 27 for 3 while chasing 200 with all the question mark on his spot after throwing his wicket the in first innings but he has played a absolutely fantastic 95 runs from 154 balls including 12 fours. Well played, Blackwood. #ENGvWI pic.twitter.com/MkXM3aksEH

— Johns. (@CricCrazyJohns) July 12, 2020
Michael Holding: He got hit one on the toe and now one on the head. He's now well balanced

😂😂😂 Holding has been on fire in this test. #ENGvWI

— Manya (@CSKian716) July 12, 2020
Absolutely brilliant by the West Indies, 1st Test win of the 3 match series. It was always going to be tough in the UK, but great character and resolve by @Jaseholder98 and his team. Critical contributions made by Gabriel & Blackwood. Celebrate and set your sights on the next one

— Daren Ganga (@DarenGanga) July 12, 2020
Well done to @windiescricket played with patience great skill and maturity we'll lead by their captain @Jaseholder98 #ENGvWI 👏🏽👏🏽👏🏽

— Daren Sammy (@darensammy88) July 12, 2020
Well played, West Indies.
Well played, Test Cricket 🏏
Thank You, England….for making this possible in current times. Gratitude. #EngWI #TestCricket

— Aakash Chopra (@cricketaakash) July 12, 2020
Brilliant result for an understated, determined West Indies side. Excellent test match. This has been good for our game.

— Harsha Bhogle (@bhogleharsha) July 12, 2020
Great week of Test Cricket … For the West Indies to have come over to play is remarkable in these times … For them to have played so well & won is incredible … I don't even think England fans will be too disppaointed … bloody love Test cricket 👍

— Michael Vaughan (@MichaelVaughan) July 12, 2020
Big team WIN today @windiescricket We worked really hard for this! Job not done yet but great start. #WINdies

— Jermaine Blackwood (@JBlackwood100) July 12, 2020
WHAT A WIN!!!

Yes boys @windiescricket 🔥

— Sir Vivian Richards (@ivivianrichards) July 12, 2020
Wow @windiescricket what a win. Top display of test cricket.

— Virat Kohli (@imVkohli) July 12, 2020
Can't speak highly enough about the skill and character shown by @windiescricket . Very well coached and led by @Coachsim13 and @Jaseholder98 . Kudos to Gabriel and Blackwood as well for outstanding contributions. Yes still two test to go but good start👏🏻👏🏻👏🏻👏🏻.

— Ian bishop (@irbishi) July 12, 2020
So proud of @windiescricket for beating England in this first #TestCricket match!🙌🏾🏏 #RallyRoundDeWestIndies💪🏾 #WIvsEng pic.twitter.com/kd9PM5T2dA

— Robert Williams🇧🇲 (@IslandBoy_Coach) July 12, 2020
He said he developed 'Test Match Temperament' before the test match but couldn't resist to throw his wicket away in first innings but shown a great character in second innings to lead his team to victory. Well played 'Jermaine Blackwood'. #RaiseTheBat #ENGvsWI

— Jignal Bamania (@JignalBamania) July 12, 2020
Follow us on Telegram