Twitter Reactions: Lewis Gregory's all-round blitz keeps Lahore Qalandars winless
Peshawar Zalmi have now lost three matches on the trot this season.
Updated - Feb 29, 2020 5:10 am
71 Views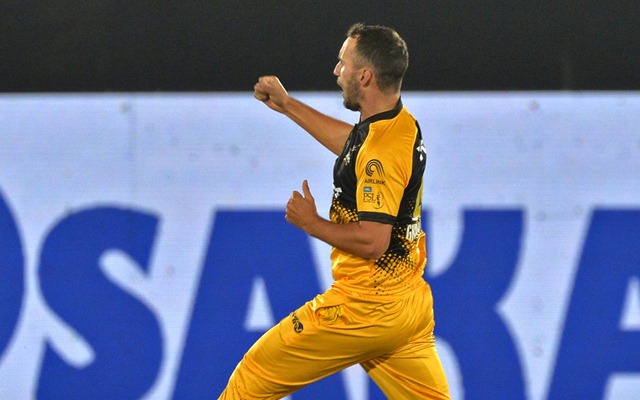 The Lahore Qalandars' fate hasn't changed in the PSL, even after the tournament shifted completely to the home country. They are once again staring at a bottom finish in the group stages having lost their third game this season. Although the format is unpredictable and there's always room for a comeback, the Qalandars look down on confidence and Peshawar Zalmi took complete advantage of their vulnerability.
The weather conditions didn't allow a full game and the affair was reduced to 12 overs per side. Much to the delight of the fans, Tom Banton got going the way the English fans have been seeing him back in Europe. After the early dismissal of Kamran Akmal, he spanked the ball clean and hard to all parts, providing the side with a solid start.
Adding to his exceptional strokeplay was Haider Ali's audacious hitting at the other end. The 19-year-old is one of the most highly-rated teenage cricketers in the country and showed glimpses of a bright future. The young duo added 37 runs for the second wicket in no time and after Banton's dismissal, Haider Ali added a few more big hits to his day's tally.
He was dismissed for a 12-ball 34 and the side reached the 100-run mark before 9th over finished. Some late blitz from Lewis Gregory and Darren Sammy ensured Zalmi registered 132 runs for the loss of 7 wickets. Dilbar Hussain's 4/24 in 3 overs was the only positive take away for the Qalandars.
Lewis Gregory demolishes the Qalandars
Chris Lynn provided a perfect start for the Qalandars alongside Fakhar Zaman. The duo nearly added 50 runs for the opening wicket inside 5 overs and with all the wickets in hand, it seemed like Lahore have a fair shot at winning their first game of the season. But things changed drastically when Lewis Gregory came on to Bowl in the 5th over.
He picked up the prized scalp of Lynn and immediately followed it up with the wicket of Mohamad Hafeez. In Gregory's next over, he removed Fakhar Zaman as well and the Qalandars fell apart. Samit Patel's complimentary cameo did help them register a respectable total towards the end, but after the 5th over, the game was running one-way till the end.
In the end, the Qalandars just managed 116 runs for the loss of 6 wickets. Lewis Gregory chipped in with four wickets in his three overs, giving away just 25 runs. Zalmi are finally beginning to find a rhythm and this win has definitely got the side on the right track. Gregory was named player of the match for his all-round brilliance on the day.
Here's how Twitter reacted:
A good night for Somerset in Rawalpindi:

Tom Banton 34 off 15 balls
Lewis Gregory 16 off 8 balls and 4/25
(Pics courtesy PCB)#PSLV2020 #PZvLQ pic.twitter.com/Y80ItVwjDp

— Saj Sadiq (@Saj_PakPassion) February 28, 2020
Meet Aqib Javed, the sole think-tank behind Lahore Qalandars for the past 5 years. He is the one, who has brought such a big franchise to a shame. Rana brothers should kick this man out of management. I'm a Zalmi fan, but just couldn't see LQ lose any more matches. #PZvLQ #LQvPZ pic.twitter.com/jMKJgezAHR

— Bilal Raaid (@Bilal_Raaid) February 28, 2020
Retweet if you're feeling sad for him.#PZvLQ pic.twitter.com/qaOMpkeBPt

— Sed Nibba ♡ (@iBadSoul) February 28, 2020
Harnay Tak tou thek tha ab Lahore qalanders k players heat up hona bhi shuru 😅#PZvLQ pic.twitter.com/0Gt99IJBDg

— Syed Ali Zaidi (@syed_aley97) February 28, 2020
All Good for #PZvLQ, lets all of us appreciate the ground staff. Well done guys.

— Ihtisham Ul Haq (@iihtishamm) February 28, 2020
This is not rain
These are rana fawad's tears😢😢😢#PZvLQ #HBLPSL pic.twitter.com/riAY6QwzU5

— ⭐informistan_⭐ 🇵🇰 (@Acchaa_sorry) February 28, 2020
Images of Match 11 of HBL PSL 2020
It was a shortened match due to delays because of rain; however, the crowd still came in huge numbers. Re-Live the moments!#HBLPSL #PSLV #PZvLQ pic.twitter.com/KQLsFTH5DQ

— Green Team (@greenteam1992) February 28, 2020
About high time we raise this issue and demand a team replacement with different name, different coach, different buyer and totally new management for Lahore. #PZvLQ #HBLPSLV

— Zeeshan Haider (@ahoyzeesh) February 28, 2020
Message to @FawadRanaLQ by Pindi Boys. #HBLPSL #PSLV #PZvLQ #LQvPZ pic.twitter.com/ELX80n0v0e

— Faizan Hayat Khan (@FaizanHayat13) February 28, 2020
First time in #PSL history @lahoreqalandars picked up a player Maaz Khan from my home town #Bajaur. A very warm instant for us to have such a great talent and hope he will get his way to national team through This platform.#PZvLQ #HBLPSL #PSL2020 pic.twitter.com/v7V7ICm2FZ

— Dilwale khan (@iamsrkbiloti) February 28, 2020
Interviewer: How much patience do you have?

Me: Har saal PSL main Lahore ko support Krtata hoon.
**Hired**#PZvLQ #HBLPSL #PSL2020 #HBLPSLV #LahoreQalandars

— Imtiaz Ali Khan (@imtiaz49) February 28, 2020
Haider Ali, Next big thing in Pakistan after Babar Azam☺️☺️☺️#HaiderAli #PSL2020 #PeshawarZalmi

— Najeeb ul Hasnain (@ImNajeebH) February 28, 2020
Best Talent in the history of Pakistan Cricket, MALIK HAIDER ALI KHAN 🔥❤️

Go On It's Your Turn Boy ..!
Haidar Ali Smashed 34 Runs Of Just 12 Balls With 4 Sixes And A Four…! 👌🏻🔥#HBLPSL #PeshawarZalmi #HaiderAli pic.twitter.com/XhNLOwwdHD

— Rabia #Imadian ♥ (@RabiaNoorKhan2) February 28, 2020
Love you love you..👊💕❤💯

peshawer Zalmi 😊

Peshawar win by 16 runs

#PeshawarZalmi 💪💪@Saeedkhan_kpk pic.twitter.com/19rrwkLEj1

— REHMAN🔥SAEED♡💔 (@Saeedkhan_kpk) February 28, 2020
Lahoris when they found that it has stopped raining in Rawalpindi and they won't get a free 1 point for no result 😂😂#LahoreQalandars #PeshawarZalmi pic.twitter.com/YfmqatDKkB

— MuNeeBa💫 (@MuNeeBaMaLiik) February 28, 2020
Visual representation of common sense evaporating out of Chris Lynn's head when he actually decided to try and win a match for LAHORE #PSL5 #Lahore #PeshawarZalmi pic.twitter.com/iYldpbTIGm

— Shoaib (@Syed_Shobi29) February 28, 2020
Agar ye banda Franchiser na hota na to #LahoreQalandars ko koi munh b nahi lagata #HBLPSLV #HBLPSL #PeshawarZalmi #LQvPZ pic.twitter.com/pGRMFW34gX

— Maaz Ul Amin 🇵🇰 (@maazulamin) February 28, 2020
Congratulations #PeshawarZalmi on winning convincingly against #LahoreQalandars. Hard luck #Lahore best of luck in next game. What an amazing comeback by #YellowStorm in the tournament. Above all I'm so impressed with #HaiderAli. #PzvsLQ #PSL2020 #HBLPSL @FawadRanaLQ @JAfridi10

— Ameer Taimoor Khan (@AmeerTaimoorKh1) February 28, 2020