Twitter Reactions: New Zealand storm into the ascendancy as England play catch up
England was bowled out for a paltry 58 runs in the 22nd over.
Updated - Mar 22, 2018 2:08 pm
790 Views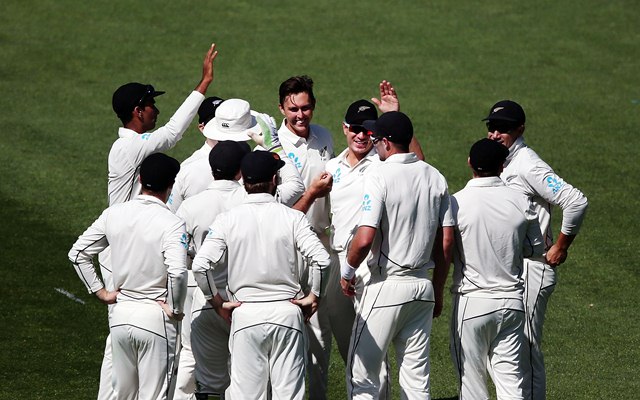 Follow us on Google News
The opening Test of New Zealand versus England at the Eden Park at Auckland is currently underway. The game has entered the pages of history as it's the inaugural Day/Night Test in New Zealand. The track was expected to assist the fast bowlers and it behaved no differently during play. Kane Williamson, the Kiwi skipper, had no hesitation whatsoever in having a crack at the English batsmen.
The decision worked wonders for them as Trent Boult and Tim Southee inflicted mayhem in the English camp with a flurry of wickets. Meanwhile, England had no answers to the questions hurled at them by the fast-bowling duo. The carnage started unfolding in the fifth over by Boult and continued till the 21st over by the same bowler after which England was bowled out for a paltry 58 runs.
An embarrassment for England
The highest partnership of 31 off 30 balls for the tenth wicket was stitched between Chris Overton and James Anderson, which pretty much summed up England's dismal show. Apart from Overton and Mark Stoneman, no English batsmen managed to breach the double figure mark. Ben Stokes, who made a comeback to Test cricket after six months, perished for an eight-ball duck.
Alistair Cook and skipper Joe Root, also, was unable to steady the ship for England. At one stage, they ran the danger of being bowled out for the lowest-ever Test score of 26 by New Zealand in 1955. However, Chris Overton broke the shackles, spanked a few to the boundaries and gave the English fans something to cheer about.
New Zealand with the upper hand
During New Zealand's innings, James Anderson nipped out Gujarat-born Jeet Raval, inducing an outside edge from the left-hander. However, Tom Latham and Kane Williamson put their heads down and carved an important stand of 84 runs. However, Latham fell prey to Stuart broad after his 112-balls vigil at the crease. Nevertheless, by then, New Zealand had already compiled a lead of 34 runs.
Meanwhile, Williamson looked unruffled at the crease and stood on the brink of his eighteenth century in Test cricket. Ross Taylor, who made a comeback after a leg-injury, became Anderson's second victim. Nevertheless, Henry Nicholls and Williamson staved off the final burst by the Englishmen. After a pretty one-sided opening day, here's how Twitter reacted.
Here are the best tweets of the day
6 6 16 18 18 18 23 23 27 58

I wish these were the scores of our top ten batsmen today, but sadly these are the fall of England wickets. #NZvENG #bbccricket

— Steve Pye (@1980sSportsBlog) March 22, 2018
Lowest Test innings totals v New Zealand:
51 by Zimbabwe at Napier on 28 January 2012
58 by England at Auckland on 22 March 2018
59 by Zimbabwe at Harare on 8 August 2005
64 by England at Wellington on 15 February 1978
77 by West Indies at Auckland on 13 March 1956#NZvEng

— Arthur_S (@allanholloway) March 22, 2018
Joe Root leads England cricket team off the field after first day's play in #NZvENG cricket test… pic.twitter.com/74oDB71aAc

— Deon Gouws (@DeonGouws_Credo) March 22, 2018
Joe Root leads out the English batsmen. #NZvENG pic.twitter.com/VScOahH1PT

— Danny Kelly (@dannykellywords) March 22, 2018
No wonder they selected Overton instead of Wood…He can bat! #NZvENG

— Harvey Waywell (@wellway27) March 22, 2018
Kane Williamson has made 50% more runs than the entire England team in the first inning. And the day is still to end. #NZvENG

— Papya. (@Dhaanu) March 22, 2018
Some great bowling from NZ, some poor batting from England, but what a catch from Kane Williamson #NZvENG

— Murray White (@Muzza_90) March 22, 2018
Just in case you missed it, a replay of England's innings overnight… #NZvENG #BaylissOut pic.twitter.com/HPcAPlPW90

— Tom (@SillyMidTom) March 22, 2018
It's after 9pm, do Joe Root's parents know where he is? #NZvENG

— Buzzy Brat (@basinbrat) March 22, 2018
I can forgive Root and Stokes for their dismissals. They were fantastic deliveries. The rest: MOVE YOUR BLOODY FEET! You're meant to be international cricketers #NZvENG

— Lee Payne (@ncfclee) March 22, 2018
#NZvENG Hubby says his best score ever is nearly as good as the whole England team! #TMS

— Nicky silvertrainee (@cushionmaker) March 22, 2018
Wakes up checks score…shakes phone to check again…stares in disbelief…throws phone away… #NZvENG

— Tony (@MrTonyBe) March 22, 2018
BLACKCAPS Coach Mike Hesson – 'There's still plenty of work to do' #nzveng #FindYourNight pic.twitter.com/isZMduxdg7

— BLACKCAPS (@BLACKCAPS) March 22, 2018
Seriously England?

Time to get back to basics me thinks.#Cricket pic.twitter.com/XxckjX8kCE

— leefer (@leefer3) March 22, 2018
Wins toss, elects to field, watches his bowlers destroy the opposition, makes an amazing catch, finishes the day closing in on a century – reasonable day in the office for Kane Williamson #NZvEng https://t.co/xDLcHuEReR

— Sian Cowper (@siancowper) March 22, 2018
Stumps, Day 1.

Kane Williamson has a first-innings lead of 33 over England. #NZvENG pic.twitter.com/TkGK2hvrLJ

— bet365_aus (@bet365_aus) March 22, 2018
There's a lot wrong with English cricket but I would do this:

– Sack Bayliss
– Strip Joe Root of captaincy
– Drop Stoneman for Hameed
– Drop Ali for anyone. Genuinely anyone.
– Drop Woakes
– Drop Broad
– Make the County Champ mean something
– Play fewer ODIs and T20s#NZvENG pic.twitter.com/Qxtjrg77xY

— Stride (@SamStride93) March 22, 2018
New Zealand's biggest first-innings lead over England batting 2nd – 298 at Lord's on 25 June 1973 (253 v 551-9d)#NZvEng

— Arthur_S (@allanholloway) March 22, 2018
Test Runs in 2018

Virat Kohli 286 (6 innings)
Steve Smith 213 (5)
Joe Root 141(3)
Kane Williamson 91*(1)#SAvAUS #NZvENG #KingKane

— AI (@aha_irshi) March 22, 2018
Play ends in NewZealand-England Test & play begins in SouthAfrica-Australia Test. good to have full day of Test cricket after many T20 Internationals in 2018. Test cricket is the best cricket. #Cricket #NZvENG #SAvAUS

— Daniel Alexander (@daniel86cricket) March 22, 2018
Follow us on Telegram