Twitter Reactions: Ravindra Jadeja hits the bullseye twice to tie the game
Fielding at his favorite position at backward point, Jadeja inflicted two crucial run outs to keep Gujarat Lions alive in the game.
Updated - Apr 30, 2017 12:35 am
2.9K Views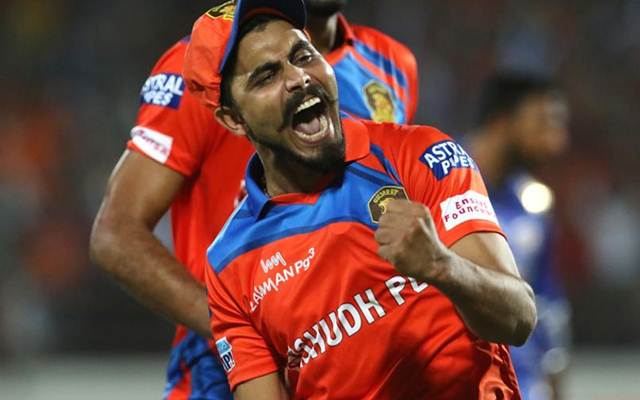 Follow us on Telegram
IPL 2017 witnessed its first Super Over tonight which Mumbai Indians ended up winning. It was the seventh Super Over in IPL history. Both the teams ended their allotted 20 overs at the score of 153 at the SCA Stadium in Rajkot. Defending a low total, Gujarat Lions fielded exceptionally well. As many as four run outs were affected in Mumbai Indians' innings. Interestingly, all four run outs were done through direct hits by left-handers.
Faulkner started it but it was Ravindra Jadeja's twin run outs and a brilliant direct hit from Irfan Pathan on his debut for the Lions, which were crucial in holding back Mumbai who were cantering towards victory at one stage. Irfan, after that run out, was immediately summoned to bowl the last over.
Defending 11 runs, Pathan got hit for a six first ball by Krunal Pandya. The left-handed Pandya took a single next ball which got the No. 10 Bumrah on strike. Bumrah tapped and set for the single to get Pandya back on strike and in came Jadeja from backward point. He picked the ball and released it immediately to hit the stumps directly. Bumrah was a couple of inches short of his ground.
Tension soared in the Mumbai Indians dugout. With 4 to win off 3 balls, the equation was pretty simple but they had just one wicket in hand as Malinga joined Pandya in the middle. He steered the next two balls for three runs which left Malinga to get the last run off the last ball of the match.
Raina called all his men inside the ring anticipating that Malinga won't go for the big one. Everyone knew that Pandya will back-up a very long way so the fielders had to be on their toes.
Malinga swung hard but couldn't make contact but the ball thudded his pads and went towards the point region. Jadeja quickly picked up and fired onto the stumps hitting them directly again. He didn't bother to wait for the umpire's decision and set off in celebration. The replay confirmed the run out of Pandya, as he was agonisingly short by just half an inch.
Jadeja's twin run outs gave Gujarat another opportunity to come back in the game but they couldn't capitalise on it as Mumbai Indians won the super over by 5 runs.
Here is how Twitterati reacted to Jadeja's brilliance:
Sir Jadeja isn't called SIR for nothing. Best outfield fielder on the planet. #MIvGL #IPL

— Aakash Chopra (@cricketaakash) April 29, 2017
Gujarat made three direct hits in last 12 balls and Sir Jadeja hit two of them which completely changed the colour of this game..

— Broken Cricket (@BrokenCricket) April 29, 2017
I Repeat! You Can Keep Sir Ravinrda Jadeja Out Off Bowling. You Can't Keep Me Away From Taking Wickets. 10th Down#GLvMI #MIvGL Sir Jadeja

— Sir Ravindra Jadeja (@SirJadeja) April 29, 2017
Ravindra Jadeja automatically qualifies for Archery & 10m Shooting in 2020 Tokyo Olympics. #GLvMI #DirectHit

— भुरगो भयंकर! (@Nautankibaba) April 29, 2017
Shane Warne called Jadeja a rockstar in 2008-09 and the rest of the world laughed! Now, we all celebrate Sir Ravindra Jadeja! #IPL #GLvMI

— Prashant Paul (@PrashantSport) April 29, 2017
How good is Ravindra Jadeja ? One of the best fielders the modern game has seen

— Gav Joshi (@Gampa_cricket) April 29, 2017
It's the first super over of #IPL2017 !

Direct hits galore by Gujarat Lions. Two from rockstar SIR JADEJA in the final over.

Madness. pic.twitter.com/R2kdNUG2nb

— ScoopWhoop News (@scoopwhoopnews) April 29, 2017
Sooner or later, they are gonna make the temples of Sir Jadeja. He is a GOD himself. Hell energetic. Saved a defeat.#ipl #GLvMI #MIvGL

— Idle (@IdleSid) April 29, 2017
@greatbong Sir Jadeja.
Knighthood​ in line for his fielding!

— Mohammed Faisal (@TrickyFaisal) April 29, 2017
What a Nail-Biting Match it was uptill now…Truly Amazing ? Bow-down to Sir Jadeja ?
Now time for The First #SuperOver of this #IPL #GLvMI

— Kaustubh Mishra (@kaustubhmishra4) April 29, 2017
Sir Jadeja is pretty much the best fielder in the world

— TheFrustratedIndian (@FrustIndian) April 29, 2017
Ravindra Jadeja the best fielder in business?
Magnificent on the field, exceptional catcher and pinpoint with his throws #GLvMI #IPL

— Ankit Mishra (@editedidea) April 29, 2017
I told u before… Don't mess with sir Jadeja's arm….. @imjadeja #GLvMI #Jadeja

— Shárik Deshmukh (@ThePProfessor) April 29, 2017
Great piece of work on field by Sir Jadeja…One of the greatest fielders #GLvMI #ipl

— malay shrotriya (@malay_shrotriya) April 29, 2017
Sir Jadeja twin runout . What a fielder 🙂 #GLvMI

— nagaraj (@naga25french) April 29, 2017
@Lay_Thaker Kids follow pollard
Adults follow Sharma
Legends follow Sir Jadeja

— ऋषिल व्यास (@eRushilvyas) April 29, 2017
#GLvsMI What an thriller performance Shown by an incredible Gujarat Lions fielders #Superthrow #Superover #IPLT20
Well Done Sir Jadeja!!!

— Manu Sharma (@manusharma13571) April 29, 2017
You don't give bowling to Sir Jadeja. It's ok, he will take wickets by running batsman out???? #GLvMI

— vinod velluru (@vineeev) April 29, 2017
First Super Over of IPL 10..
Courtesy – Mind blowing throwing arm of Sir Jadeja ?

— sayan bandyopadhyay (@sayanguddu) April 29, 2017
Follow us on Google News