Twitter Reactions: Sarfaraz Khan backs his Ranji triple with a double against Himachal Pradesh
Sarfaraz is now the fourth-highest scorer in this year's Ranji season with 642 runs.
Updated - Jan 27, 2020 6:39 pm
2.5K Views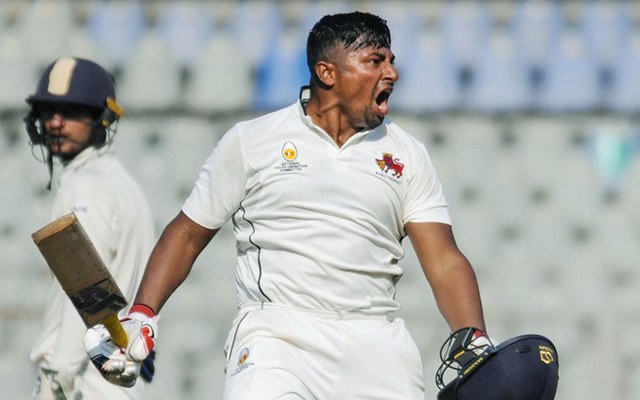 Mumbai batsman Sarfaraz Khan is on a roll this Ranji season. After having slammed an unbeaten triple hundred against Uttar Pradesh at home about a week ago, he produced another double hundred against Himachal Pradesh in Dharamsala on Monday. The 22-year-old right-hand batter came to the crease with Mumbai reeling at 16 for 3 after the home team won the toss and elected to field. And just as they had done against UP, Sarfaraz and captain Aditya Tare put up a crucial partnership of 143 runs. The visitors ended Day 1 at 372 for 5 with Sarfaraz still unbeaten on 226 in just 213 balls. He has hit 32 boundaries and four sixes so far.
Sarfaraz scored at a brisk pace and completed his century just before tea, when he was on 132. After the interval, he accelerated and dealing in boundaries, he jumped to his double hundred in just 199 balls. With his latest big score, Sarfaraz is now the fourth-highest scorer in this year's Ranji season with 642 runs in only four matches. He averages a staggering 321-plus which is even more than Arunachal Pradesh's Rahul Dalal (123). Dalal has scored 986 runs from seven matches.
Against Himachal, Sarfaraz got good support from Shubham Ranjane, who came in at No.7 to score 44 and the duo has so far added unbeaten 158 runs.
At 22, Sarfaraz was being seen as the next batting prodigy from Mumbai — a batting powerhouse over the years — but things were not clicking for him. He also tried his luck for UP which also did not pay off. Sarfaraz then returned to Mumbai and now could well have earned the break that he needed.
Sarfaraz happy to join elite club
"It's a proud feeling to return and also join Mumbai's triple-century club, alongside great players like Sachin Tendulkar, Sunil Gavaskar, Wasim Jaffer and Rohit Sharma," ESPNcricinfo quoted Sarfaraz as saying.
Sarfaraz recently opened up over his experience of getting dropped from Royal Challengers Bangalore in 2016. His fitness had been a concern and RCB skipper Virat Kohli wanted him to focus on his fitness and get ready for top-level cricket. Changes in Sarfaraz's approach and fitness have become visible ever since.
"I felt good not just about my improved fitness but because it helped me score runs and get a lead. At one point, all my team-mates used to call me 'panda' because I used to eat a lot. Now, they've started calling me 'macho'. Actually, very few people know it's my nickname now," Sarfaraz added.
As a team, however, Mumbai have struggled this year as they have won only one of the five games they have played so far to remain at No.12 of the Cross Pool Elite Group. Meanwhile, the users on social media lauded Sarfaraz for the masterful knock.
Here is how Twitterati reacted to Sarfaraz's double: –
What a phenomenal talent @Khan_s_n Sarfaraz Khan is! His last four innings for Mumbai have been 71*, 36, 301* & he's overnight on 226*. This makes his current batting average for the season an incredible 634! Imagine a side with him & @PrithviShaw both in it, plus @ShreyasIyer15!

— Shashi Tharoor (@ShashiTharoor) January 27, 2020
Back-to-back double tons ✔️
Back-to-back triple tons ❓

With the way #SarfarazKhan is batting, he seems to be unstoppable at the moment. 🔥#SaddaPunjab #RanjiTrophy #HPvMUM pic.twitter.com/X3eiGMVQnt

— Kings XI Punjab (@lionsdenkxip) January 27, 2020
And the dream run for #SarfarazKhan continues💥💥💥
Last innings triple century 301*
Now double century 226*
Hope he converts this one into another triple century 💯💯💯
Long way to go boyy💪#RanjiTrophy pic.twitter.com/zuFUsLUWd8

— Akhilesh Jangam (@Akhilesh19_99) January 27, 2020
#SarfarazKhan#RanjiTrophy
– Triple century against Uttar Pradesh

– Now, double century against Himachal Pradesh. pic.twitter.com/bMsWgN9BsN

— Advocate Atifur Hussain (@AdvocateAtifur) January 27, 2020
Great to see Sarfaraz khan continue his form. This will for sure increases his confidence level. A Great talent. 😍😍👌👌👏👏

— arun (@arunk0306) January 27, 2020
Set for another triple ton within a week! #SarfarazKhan

— Sudin Kadam (@sudinkadam) January 27, 2020
Ranji Trophy Wrap | Sarfaraz Khan Smashes Unbeaten Double, R Vinay Kumar Achieves 500 Wickets https://t.co/yPz1IL2Ogu pic.twitter.com/QeUbqrtqhi

— SportsGridUK (@Sportsgriduk) January 27, 2020
Future is here 🔥🔥🔥🔥#SarfarazKhan

— Being AMAN (@BeingAM93665708) January 27, 2020
Sarfaraz Khan Last 2 Ranji Innings

Runs – 301*
balls – 391
4s – 30
6s – 8
SR – 76.98

Runs – 226*(today)
Balls – 213
4s – 32
6s – 4
SR – 103.5

What A Talent. Absolute Top Performance by Young Indian Man #SarfarazKhan.#RanjiTrophy #HPvMUM pic.twitter.com/zk4xCzgiCj

— Raj Singh 🇮🇳 (@_rajsinghh) January 27, 2020
The 300 crowned in last match #SarfarazKhan playing on 226*(213) with 32*4 & 4*6 rescuing #Mumbai yet again. He along with @adu97 62 & @ssranjane7 44* took Mumbai at 372/5 EoD1

Counting last game he Scored 527* in 3 days. Trending on Twitter.#MumbaiCricket pic.twitter.com/MDJIrgm17e

— MumbaiCricket (@cricket_mumbai) January 27, 2020
The 300 crowned in last match #SarfarazKhan playing on 226*(213) with 32*4 & 4*6 rescuing #Mumbai yet again. He along with @adu97 62 & @ssranjane7 44* took Mumbai at 372/5 EoD1

Counting last game he Scored 527* in 3 days. Trending on Twitter.#MumbaiCricket pic.twitter.com/GJ7kbj9Wrr

— महाराष्ट्रपुत्र हर्षद HARSHAD MANE (@harshad2103) January 27, 2020
Runs – 301*(391) (Last inning)
Runs – 226*(213) (Still Playing)

Azamgarh ka sher on 🔥 #SarfarazKhan pic.twitter.com/zvxzs812LA

— आदर्श यादव(Adarsh-Yadav) 🇮🇳 (@adarsh_8489) January 27, 2020