Twitter Reactions: Twin centuries by Vijay and Kohli help India dominate Day 1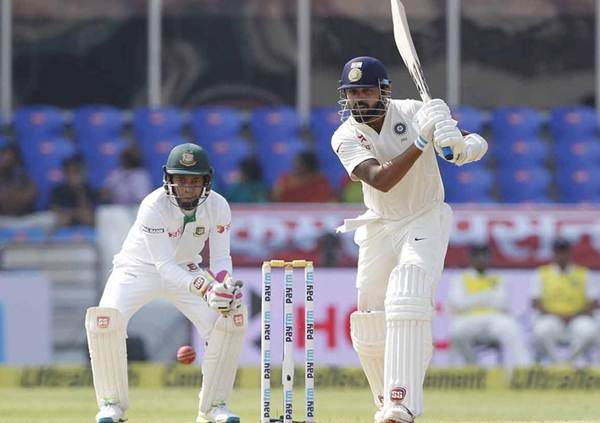 The one-off Test between India and Bangladesh began with a bang for the home side as they dominated Day 1. The Hyderabad crowd witnessed a splendid batting performance by the Indian top order. Earlier in the day, captain Virat Kohli won the toss and elected to bat first. Karun Nair who scored a triple century in his last game missed out along with Jayant Yadav who also produced some brilliant all-round performances in the England series.
Taskin Ahmed sent KL Rahul's stumps for a toss in the very first over. Following that, it was completely India's day throughout. Murali Vijay and Cheteshwar Pujara then built a 178 runs partnership for the second wicket. Pujara fell short of a possible century as he edged one to the wicketkeeper batting on 83.
Vijay continued his prime form from the England series as he went on to complete his 9th century in Tests. Soon after, he was bowled by Taijul Islam. Virat Kohli walked in with an aggressive mindset and unsurprisingly batted spectacularly.
He raced his way to a fantastic hundred and stayed not out on 111* at stumps on Day 1. Ajinkiya Rahane was also not out at 45 as both the batsmen combined for a 122* runs partnership for the fourth wicket. The duo look set to take India to a formidable total.
It wasn't an easy day for Bangladesh bowlers on the field. Bad lengths, poor fielding, missed chances and bad reviews would be a good description for their day. They could've expressed themselves a lot better in the field.
Twitter kept everyone entertained during the game. Words of praise were sung for Murali Vijay and the Indian Test captain which also kept the statistics on a roll. On the other hand, trolls didn't fail to have their hilarious takes on some incidents on the field.
Here are some of the Twitter reactions that took place during the course of the day:
I see @imVkohli is at it again ? #differentclass ? #IndvBan

— Alex Tudor (@alextudorcoach) February 9, 2017
I see that bloke from another planet is at it again ….. #Freak @imVkohli …..

— Michael Vaughan (@MichaelVaughan) February 9, 2017
@imVkohli is well nigh unstoppable & so is top Indn order!Ball running well fr hosts but B'Deshis will've learnt thing or 2 abt Test Crkt!!

— Bishan Bedi (@BishanBedi) February 9, 2017
#T20 chala raha hai BC, nearly 7 runs per over in last 10 overs,#IndvBan

— Athar ? (@cricdrugs) February 9, 2017
This is Bangladesh's first test in India. The way Indians are playing, this could turn into Bangladesh's last test in India. #IndvsBan

— Sagar (@sagarcasm) February 9, 2017
Must be a normal day then. @imVkohli cruises to a century.

— Harsha Bhogle (@bhogleharsha) February 9, 2017
"What's your name?" Virat Kohli.

"Spell it?" K-O-H-L-I.

"I think you spelled M-A-C-H-I-N-E wrong there."

Unbelievable season. #IndvBan

— Saurabh Somani (@saurabh_42) February 9, 2017
The mad-man in me wants Kohli to say "fuck it" and go for the century today itself.#IndvBan

— Happy (@Jsr_avi) February 9, 2017
That's the thing about Virat Kohli now, he has raced away to 61 in 84 playing almost no risk shots, at complete ease. #INDvBAN

— Nikhil ? (@CricCrazyNIKS) February 9, 2017
1000 Test runs this season for Virat Kohli! ?#IndvBan

— Mohandas Menon (@mohanstatsman) February 9, 2017
Absolutely brilliant innings from Murali Vijay . Makes it look very easy.#IndvsBan

— Mohammad Kaif (@MohammadKaif) February 9, 2017
.@mvj888 celebrates as he brings up his 9th Test ton #INDvBAN @Paytm Test Cricket pic.twitter.com/vRgB9YOOfT

— BCCI (@BCCI) February 9, 2017
Guys, it's Leg Before The Wicket. Not Bat before the wicket. #INDvBAN

— Aakash Chopra (@cricketaakash) February 9, 2017
Bangladesh were testing whether the review system is working properly or not. #INDvBAN

— Sampath Bandarupalli (@SampathStats) February 9, 2017
Classy ton by Murali Vijay. In fact I can't think any of his 9 centuries not being that…

— Cricketwallah (@cricketwallah) February 9, 2017
That sweet black spot on Virat Kohli's bat show's how consistently he middles the ball #IndvsBan

— Virat Kohli Club?? (@ViratsArmy) February 9, 2017
Players will naturally have a moan when left out. Spare a thought for @karun126 for whom 300 wasn't quite enough to earn selection..! 1/2

— mark butcher (@markbutcher72) February 9, 2017
Pic 1:- Life providing me opportunities.
Pic 2:- How I screw it up!#INDvBAN pic.twitter.com/hHdTeEPSBK

— Sameer Allana (@HitmanCricket) February 9, 2017
Mildly surprising that Mushfiqur Rahim didn't pump arms and jump in the air before the possible run-out of Vijay was completed. #WT20redux

— Saurabh Somani (@saurabh_42) February 9, 2017
Acha ball ta,
Wicket keeper ka catch ta,
Koshish nai kare,
Batsman ki weight piche ta..

VVS Laxman's hindi commentary#IndvBan

— PhD in Bak*****!! (@Atheist_Krishna) February 9, 2017
KL Rahul's technique is circumspect. Where was your feet and then your hands, sir?

— Bharath Ramaraj (@Fancricket12) February 9, 2017
Highest scores by Indians before missing out in the next Test:

303* – K NAIR
223 – V Mankad
206 – R Shastri
206 – G Gambhir#INDvBAN

— Sampath Bandarupalli (@SampathStats) February 9, 2017
India v Bangladesh, 1st Test: 10th November, 2000
India v Bangladesh, 1st Test in India: 9th February, 2017#IndvBan

— Cricbuzz (@cricbuzz) February 9, 2017