Twitter Reactions: Umpire Chris Gaffaney has a brainfade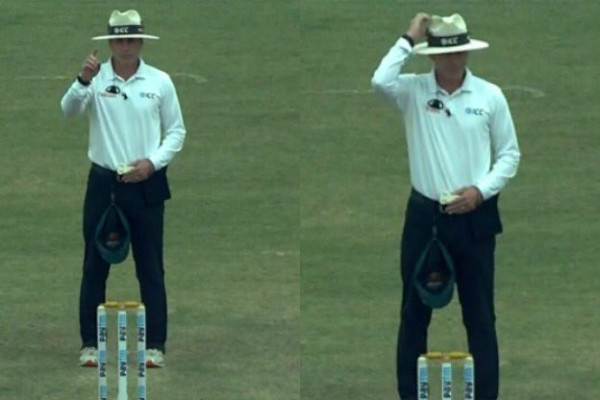 Follow us on Google News
If this series is going to be remembered for something other than the cricket played, it's going to be the memes that have been created throughout. There have been so many incidents that the Twitterati has never managed to run out of jokes.
It all began from the famous Matt Renshaw moment where he retired in the middle to go for a loo break. The internet broke with hilarious takes on his sudden return to the pavilion. Later, Renshaw went on to say at the press conference that even the Indian players sledged him on the same topic.
What followed was Ishant Sharma's face expression meme. If you thought Ishant Sharma is going to be remembered only for his Lords spell or the one to Ponting in his early days, you're wrong. His face became so famous that Star Sports eventually ran a 'Ishant face' competition among all the commentators and expert panel. Social media had found the ultimate troll.
Then we had the DRS controversy as Steve Smith seek dressing room advice on referring one of the umpiring decisions. This created a huge stir but twitter just couldn't stop trolling him for the same, comparing each of Steve Smith's action as to referring from the dressing room. We couldn't help but share a good laugh.
There was also a trend on Pat Cummins where people drew some really funny comparisons of the duration between Pat Cummins' wickets. He played a test match after a gap of 6 years.
On Day 4 of the third Test, there was an incident where Umpire Chris Gaffaney almost pointed his finger to a half shout for caught behind, but suddenly changed his mind and started scratching his head. It led to an outburst of laughter in the commentary box as well as in the field.
What about Twitter? Well, they just found yet another meme to take a go at. Some hilarious captions for the umpire clip started surfacing and we're sure you're gonna enjoy reading this one. Here are some of the hilarious reactions to the umpire blunder.
When you are tired of waiting for your turn to bat while umpiringpic.twitter.com/zG3N31AiDh

— capt. (@thephukdi) March 19, 2017
When you were going to start bhangra but DJ changed the song. pic.twitter.com/WJZ6Cpa1ud

— Pakchikpak Raja Babu (@HaramiParindey) March 19, 2017
When your about to give out but then suddenly realises that they didn't paid for this.pic.twitter.com/C5CAhqXpWg

— Mask (@Mr_LoLwa) March 19, 2017
When you're about to give out but realise that Bat aur Ball dono batsmen ke hai.. woh out toh game band !!
pic.twitter.com/gY1cXTMXnF

— Godman Chikna (@Madan_Chikna) March 19, 2017
When you're telling your friends how many bottles you're down but suddenly your mom sees you. pic.twitter.com/0FwSVvJR5p

— Angoor? (@ladywithflaws) March 19, 2017
When you are about to show the middle finger to your friend and suddenly the teachers sees you pic.twitter.com/ZsxQP9bFC4

— Akshay Jain (@ComedyBanda) March 19, 2017
When you're telling the answer and examiner see you. pic.twitter.com/YFjjQCXgoi

— Abhay (@Woh_ladka) March 19, 2017
When mom says yes for a plan but she realises that dad has said no pic.twitter.com/0Y3Nt53Unb

— Manya ? (@CSKian716) March 19, 2017
When the umpire has dandruff in his hair.. #INDvAUS pic.twitter.com/V2gZN9U8RM

— Sameer Allana (@HitmanCricket) March 19, 2017
https://twitter.com/sagarcasm/status/843325978143277056
When your crush waves, but then you realize she is waving to the guy behind you. pic.twitter.com/s8xzF5WxPO

— ️Silly Point (@FarziCricketer) March 19, 2017
We all have that one friend whom you meet Everytime Fakes a Handshake to make fun of you. pic.twitter.com/NTZqWwcAXc

— Manish (@Slysterr) March 19, 2017
— Aakash Chopra (@cricketaakash) March 19, 2017
Follow us on Telegram