Twitter Reactions: Virat Kohli makes merry of South Africa to slam his 7th double ton in Tests
He also completed 7000 runs in his Test career.
Updated - Oct 11, 2019 2:53 pm
35.6K Views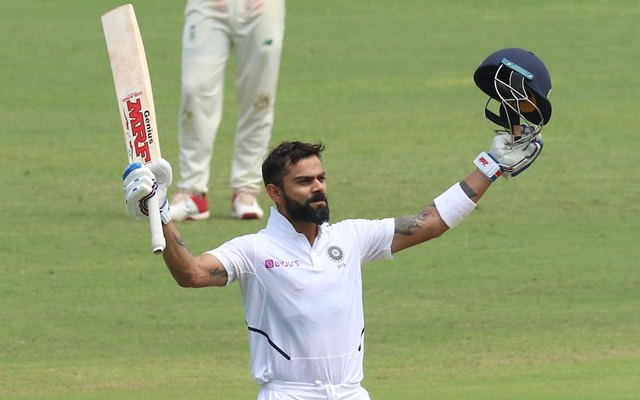 You beauty Virat Kohli! The Indian captain has the second-best conversion rate in terms of converting his 50s into 100s after Don Bradman. Well, what about the double centuries? India's run-machine is back to scoring runs and notching up tons at will and how! Kohli literally made merry of South Africa's bowling on Day 2 of the second Test match in Pune and slammed seventh double century of his career in whites.
In the process, he also completed 7000 Test runs in 138 innings which is an exceptional achievement. As far as his heroic knock is concerned, Virat Kohli resumed his innings at 63 on Friday and didn't think far too ahead. He respected the bowlers and gave them the first hour understanding the importance of the ongoing fourth-wicket partnership.
With the sun beating down and the second ball getting old, the help for the bowlers reduced considerably and soon the 30-year-old notched up his ton with a trademark straight drive off Vernon Philander just before lunch. And then the grind began again. He didn't play a rash shot after getting to the milestone and was determined on scoring big.
Luck favours Kohli too
After the lunch though Virat Kohli switched gears and made sure that he didn't play many dot balls. Ajinkya Rahane also played his shots when there was a ball to hit as they made South Africa toil hard. However, all wasn't hunky-dory for the Indian skipper Keshav Maharaj induced a false shot off him not once or twice but thrice. The left-arm spinner bowled a flighted delivery in the good length on a couple of occasions.
And both the times, Kohli leaned forward to drive through the covers only to edge it to the slip where Faf du Plessis was stationed. However, once the ball was well wide of the fielder, and on the other occasion, the ball passed low and had Du Plessis been low in the slip, Kohli would've got out. But it was his day and Virat Kohli made the most of it.
Apart from that period of a couple of overs, the hosts' skipper was extremely comfortable in the middle frustrating South African bowlers to the hilt. He went to the tea unbeaten on 194 and it was almost clear by then that the visitors were only waiting for India to declare. After the third session began, Kohli wasn't in any hurry and collected singles on his way to yet another majestic double century.
And unlike his ton, Kohli got his 200th run with a double off Senuran Muthusamy to become the Indian with most double hundreds in Tests. As usual, when Kohli scores big, records are broken and get created and it was no different after his marathon knock in Pune.
Here's how Twitter reacted:
7 test double hundreds already 🙈 . I'm sure @imVkohli will play for another 10 years which is scary to think what his numbers will be. 🐐

— Brendan Taylor (@BrendanTaylor86) October 11, 2019
Brilliant from the Indian captain. Well played. This double ton has set up the match as well. @imVkohli and his team should close the series here.

— Boria Majumdar (@BoriaMajumdar) October 11, 2019
.@imVkohli scores his seventh double Hundred in Test Cricket. #INDvsSA pic.twitter.com/TvpfKX5FUv

— CricTracker (@Cricketracker) October 11, 2019
Most Test Double Hundreds

12 – Sir Don Bradman
11 – Kumar Sangakkara
9 – Brian Lara

7 – VIRAT KOHLI / Wally Hammond / Mahela Jayawardena

6 – Sachin Tendulkar / Virender Sehwag / Javed Miandad / Marvan Atapattu /Ricky Ponting / Younis Khan pic.twitter.com/XWxWD689F9

— Cricketopia (@CricketopiaCom) October 11, 2019
Most Test double-centuries since June 2016:

Virat Kohli – 7

England – 3
New Zealand – 3
Pakistan – 3
Australia – 2
Bangladesh – 2
West Indies – 1#IndvSA

— Bharath Seervi (@SeerviBharath) October 11, 2019
200 for Virat! While Kohli celebrated Rohit's simple hundred with energy, Rohit was taking sip of water so timely that he had to go to loo just when Kohli reached the milestone. Jealousy is going over the line. #INDvSA

— Silly Point (@FarziCricketer) October 11, 2019
In other news.. another double hundred by the staggering run machine @imVkohli . Goes ahead of the legends SMG and SRT with seven double tons.. his fitness puts him in another league.. Virat hai toh mumkin hai! Salute! 👍#INDvsSA

— Rajdeep Sardesai (@sardesairajdeep) October 11, 2019
Congrats #KingKohli 200 Runs #IndvSa 200*(296) and test career 7000 runs #whistlepodu @imVkohli #TeamIndia pic.twitter.com/QM6ZcvkDZC

— Saravanan Hari 💛🦁🏏 ‏ (@CricSuperFan) October 11, 2019
7 double hundreds, 7000 Test runs… Virat Kohli continues to break records. One can only marvel at how he manages to stay in the moment each time he comes out to bat. No Indian has got as many double hundreds in Test cricket now. pic.twitter.com/qArA8LLJ5D

— Ashish Magotra (@clutchplay) October 11, 2019
Fastest to 7000 Test runs:

131 – Hammond
134 – Sehwag
136 – Tendulkar
138 – Sobers, Sangakkara, KOHLI#IndvSA

— Bharath Seervi (@SeerviBharath) October 11, 2019
🔥🔥🙏🙏💪💪 https://t.co/VbhqkjBeOW

— vennela kishore (@vennelakishore) October 11, 2019
Virat Kohli completes his seventh double hundred in Tests and also completes 7000 Test runs.
Joint-fourth in the list of fastest to 7k runs (138 innings) behind Hammond, Sehwag and Sachin.
Also joint-fourth in the list of most 200s behind Bradman, Sangakkara and Lara#INDvSA

— Sarang Bhalerao (@bhaleraosarang) October 11, 2019
https://t.co/LTv2xMjU4l pic.twitter.com/3IPOuNsD8v

— Jofra The Psychic (@JofraWizard) October 11, 2019
Well played @imVkohli .many more to come .

— Parvinder Awana (@ParvinderAwana) October 11, 2019
reminder. virat kohli will only turn 31 next month. #INDvSA

— Gaurav Kalra (@gauravkalra75) October 11, 2019
Why Jadeja was promoted –

For Virat Kohli to take SA by the sword, he had to borrow it from Sir.#IndvSA

— Gaurav Sethi (@BoredCricket) October 11, 2019
Is there any Virat Kohli mutual fund? I'd like to invest all my money in it. The conversion rate is too damn good. #Kohli200 #INDvSA @bhogleharsha

— Yathartha Sharma (@shree_maan) October 11, 2019
Got to be kidding me! Freak! #ViratKohli Scoring double tons can't be so easy, even on Indian tracks! Love his test match batting! Best all round player in the world! By a distant mile! #INDvsSA @BCCI @imVkohli

— Pathik (@pathikbawa) October 11, 2019
Another milestone for the run-machine, Virat Kohli. #INDvsSA pic.twitter.com/aFw3AOrEJf

— CricTracker (@Cricketracker) October 11, 2019
Virat Kohli:

First 41 Tests – 0 double-centuries

Next 40 Tests – 7 double-centuries#IndvSA

— Bharath Seervi (@SeerviBharath) October 11, 2019
7 double centuries and 7K Test runs is the 7 Hells opposition teams weren't prepared for. #INDvSA

— Manya (@CSKian716) October 11, 2019
After that first double hundred, Kohli has raced to seven in the next 41 Tests. That is a pretty scary rate. Once he figures things out, he is a hard man to stop. He has such control over everything he does with the bat in hand. pic.twitter.com/UWTPz6ukTG

— Ashish Magotra (@clutchplay) October 11, 2019