Twitter reacts to MS Dhoni's stumping to get rid of Glenn Maxwell
Twitter was filled with some splendid reactions on Dhoni's stumping.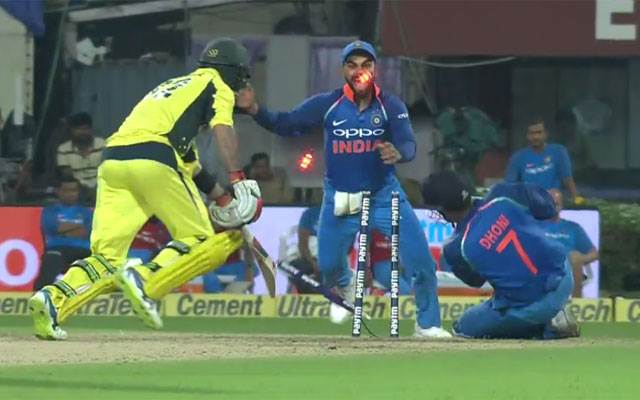 Twitter went berserk when MS Dhoni effected the stumping of Glenn Maxwell who was looking dangerous at the crease. After having hit Kuldeep Yadav for two consecutive sixes, India tried to slow him down. As the pressure started to increase, Maxwell, as usual, tried to do something extraordinary.
He charged down but was beaten in the air as the ball sneaked through his legs. Dhoni held on the ball and hit the stumps at lightning speed as usual. Yuzvendra Chahal got Maxwell's wicket for the second consecutive time as Virat Kohli and Co burst into celebrations.
The Indian wicketkeeper is known for his speedy glove work behind the stumps and today's stumping was yet another masterpiece by the legend. He recently became the first-ever wicketkeeper to effect 100 stumpings in One Day Internationals.
Earlier in the day, Australia despite some sensational fifties by the duo of Ajinkya Rahane and Virat Kohli managed to restrict India to 252. The visitors who were chasing a target of 253 runs were welcomed with a solid spell of swing bowling by the Indian new bowlers Bhuvneshwar Kumar and Jasprit Bumrah. Both seemed unplayable as Hilton Cartwright and David Warner fell prey to Bhuvneshwar leaving Australia reeling at 9/2. That's when skipper Steve Smith and Travis Head rescued the Aussies from a poor start.
Head soon got out and in came the Big Show. Like the last game, he again decided to go after Kuldeep as he smashed him for consecutive sixes. However, Chahal bowled cleverly to him as he got the better of Maxwell again like the last game. Dhoni's work behind the stumps deserved equal credit.
Twitter was filled with some splendid reactions regarding the Dhoni stumping. While people applauded his consistency behind the stumps, others termed him as unbelievable.
Here are some of the amazing Twitter reactions lauding Dhoni's stumping:
Dhoniiiiiyaaaaaaaaaa ??❤

— Tamanna? (@justacrazyass) September 21, 2017
Sehwag just said these words on air.

— SAGAR (@sagarcasm) September 21, 2017
300th ODI for India and Dhoni still, to quote from 'Kanha' in Shubh Mangal Saavdhan, 'Jo bhi kare, kare sab quick quick quick…' #Stumped https://t.co/WZtbgWOvke

— Tareque Laskar (@tarequelaskar) September 21, 2017
#INDvAUS
You Vs The Guy she tells you not to worry about pic.twitter.com/SgwG5YtxU4

— Sagnik Misra (@Sangy_Sagnik) September 21, 2017
I believe alt of young aspiring wicketkeepers vl hv Dhoni as dr idol. He makes it lyk, so cool, easy n classy ??n d swag whn he appeals ☺️?

— Deeksha (@Mahii7_) September 21, 2017
LOOK AT DHONI'S HAPPINESS ??

— ♕Aaruuuuu? (@Aarushiiiiiiiii) September 21, 2017
Don't know why after that stumping I feel like Dhoni acted like a father-boss to the guy who was trying to bully his children #Swag ??

— ? (@tarun_0707) September 21, 2017
Dhoni is quick behind the wickets. Between the wickets. And in picking the wickets after victory.

— LOLendra Singh (@LOLendraSingh) September 21, 2017
Dhoni is a legend. That stumping was unbelievable. Like Congress politicians he watches the feet; only and only the feet. pic.twitter.com/QLb0EBzXLz

— Anand Ranganathan (@ARanganathan72) September 21, 2017
Bowler to Umpire: HOWS THAT?

Umpire to Dhoni: HOWS THAT?

Dhoni: Out hai. Dede

Umpire: Out☝?

— Anshu Mor (@anshuMor) September 21, 2017
Strict Warning ⚠️
Don't Dare to Step Out When Mahendra Singham Dhoni is behind the stumps! #INDvAUS #2ndODI

— MS Dhoni Fans #Dhoni (@msdfansofficial) September 21, 2017
When you see Dhoni celebrating. pic.twitter.com/is8cGAsEa2

— Silly Point (@FarziCricketer) September 21, 2017
Chahal had that coming. Dhoniiiii

— Saurabh Malhotra (@MalhotraSaurabh) September 21, 2017
Yum Yes Dee. #IndvAus

— Prabhu ? ‏ (@Cricprabhu) September 21, 2017
That Dhoni stumping may have hit the stumps but it hit me right here..❤️

— Sameer Allana (@HitmanCricket) September 21, 2017
Ye stumping Mahi hi kar sakta tha ??????????

— Hardik (@Humor_Silly) September 21, 2017
Once a freak always a freak.

— Athar ? (@cricdrugs) September 21, 2017
Oh Dhoni Dhoni! ⚡ #INDvAUS

— Manya (@CSKian716) September 21, 2017
THIS WAS CHAHAL BUT HAD DHONI WRITTEN ALL OVER IT, flash af #INDvAUS

— Samreen (@SamreenRazzaqui) September 21, 2017
Dhoni reaction made that wicket special ??? #INDvAUS

— rishcheeku&mahiyafan (@riku210193) September 21, 2017
It is always a crime to amble outside the crease when the ball is turning and MS Dhoni is behind the stumps. #IndvAus

— Shubh AggarWall (@shubh_chintak) September 21, 2017
If it's raining, there are bound to be lightnings no? ⚡
Mahendra Lightning Dhoni. ??#INDvAUS

— Chennai Super Kings (@ChennaiIPL) September 21, 2017
Main reason I like 2 spinners operating together is that Dhoni is up at the stumps, and close to the microphone???

— Gaurav Kapur (@gauravkapur) September 21, 2017