Twitter salutes Tamim Iqbal as he bats one-handed against Sri Lanka
Tamim has been used out of the tournament.
Updated - Sep 16, 2018 12:29 am
8K Views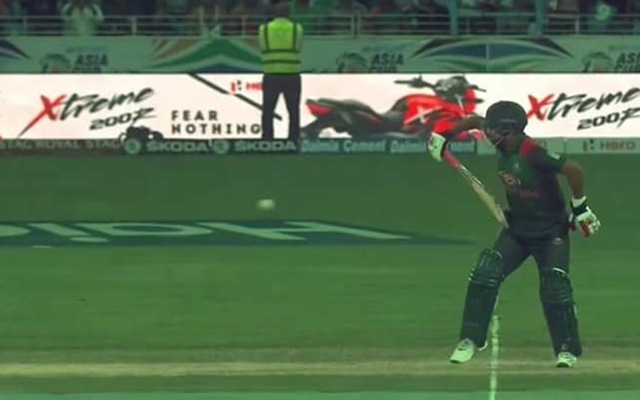 Bangladesh are currently playing the opening match against Sri Lanka at Dubai International Cricket Stadium in this year's Asia Cup in the United Arab Emirates (UAE). However, they lost the wickets of Liton Das and Shakib Al Hasan in the very first over. In the penultimate delivery of the second over, Bangladeshi opening batsman Tamim Iqbal was hit on the wrists by Suranga Lakmal.
The left-hander went for a pull and missed the ball completely. Subsequently, he screeched with pain after which he was treated with medical attention on an immediate basis. Thereafter, he walked off the pitch and was rushed to a nearby hospital for a scan. Unfortunately, he was later ruled out of the tournament owing to a fractured wrist, much to Bangladesh's agony.
Tamim bats 'single-handed'
Mohammad Mithun and Mushfiqur Rahim stitched together a 131-run stand to bail their team out of a precarious position. However, they lost wickets in quick succession and were reduced to 229/9 runs despite Mushfiqur Rahim's century. With Tamim already ruled out, Bangladesh were expected to set a target of 230 for the Lankans to win the opening match.
But Tamim had other ideas. He came out to accompany his partner Mushfiqur. Bangladesh still had 19 balls to play. The most glaring part was that he batted with only his top hand. He defended his first delivery, which conjured roars from the audience present at the venue. He lent support to Mushfiqur, who went on to add 32 more runs in the next 15 deliveries.
The Bangladesh knock eventually came to a close when Mushfiqur mistimed a ball off Thisara Perera into the hands of Kusal Mendis at long-on. He scored 144 runs in 150 balls with the help of 11 boundaries and four sixes. In the meantime, Twitter heaped praises on the 29-year-old Tamim for his gutsy effort on the cricket pitch.
Here is how Twitter hailed Tamim
Brave @TamimOfficial28 you Are a True hero of your Nation..👏🏼👏🏼👏🏼 pic.twitter.com/PCuLFBi50a

— Gulbadin Naib (@GbNaib) September 15, 2018
Awful news for @TamimOfficial28 who is ruled out of #AsiaCup2018 with a fractured wrist. @BCBtigers

— Alan Wilkins (@alanwilkins22) September 15, 2018
Respect to Tamim for coming out to bat despite a fractured wrist.

— Nikhil 🏏 (@CricCrazyNIKS) September 15, 2018
How to not love a batsman coming back out to bat when his hand has already been broken? #Tamim#asiacup2018

— Andrew Fidel Fernando (@afidelf) September 15, 2018
Unbelievable scenes! Tamim Iqbal has walked in at No. 11 and is batting with only one hand! Crazy scenes. This is remarkable bravery from Tamim Iqbal. 👏👏❤️❤️

— Engr. M Omar Faruk (@omaarfarruk) September 15, 2018
Even with a wrist fracture he decide to play for his country.
Perfect example of sportsmanship.

Thats Tamim Iqbal for you. May be in different nation still won heart of every nation. #AsiaCup2018

— Sanskari_stud 🎃 (@sanskari_stud) September 15, 2018
Great sportsmanship from Tamim Iqbal #respect #BANvSL

— Adeel malko (@adeelpakistani1) September 15, 2018
Wonderful from Tamim Iqbal to bat despite his wrist injury to support Mushfiqur Rahim

Malcolm Marshall at Leeds in 1984
Saleem Malik batted left-handed v Walsh so that Wasim completed his 50 in Faisalabad in 1986
Graeme Smith at the SCG in 2008 Test#AsiaCup2018 #KnockThemOut

— Sarang Bhalerao (@bhaleraosarang) September 15, 2018
Tamim iqbal.. with fractured wrist.. with customized (did tear) glove to accommodate plastered wrist and played with one hand..

#Take_A_Bow #AsiaCup2018 #SLvBAN

— SKB (@cric_SKB) September 15, 2018
Ohhh Myyy Myyy, Tamim Iqbal is back on the field and will bat with his broken wrist. That's Tamim's Graeme Smith moment here! Meanwhile Boundaries continue to flow from Mushi's bat. #AsiaCup2018 #BANvSL

— ❤ⱽᶦʳᵃᵗᶦᵃⁿADI🇮🇳❤ (@Aditya_k168) September 15, 2018
TAMIM IQBAL 1-0 Injury
Wonderful commitment, an example to look at in modern era#SLvBAN #AsiaCup2018

— TheRealistic (@DeRealistic) September 15, 2018
Tamim Iqbal ko mera istakbaal… Absolute pleasure to see this man again . Hats off ..@StarSportsIndia @cricketaakash @therealkapildev @harbhajan_singh #AskTheExperts @TamimOfficial28

— kapil choudhary (@kapilchoudhary1) September 15, 2018
Hats off to you Tamim Iqbal. Very well playing Mushfiqur!! #BanvsSL #AsiaCup2018

— Music Ka Keeda (@Saqibmala) September 15, 2018
Wat Am Seeing
Tamim Iqbal batting in one hand #SLvsBan

— T R P (@PattanaikRaj) September 15, 2018
Win or lose now doesn't matter for me. I just want to say Tamim Iqbal is the hero for today's match❤❤❤

— The SAAM Buddies (@thesaambuddies) September 15, 2018
How inspiring is Tamim Iqbal walking out to bat with one hand? This is bravery and commands massive respect!
And Mushfiqur Rahim is doing everything to make this easy for Tamin Iqbal. Incredible stuff.#BANvSL

— Saniya (@touche_always) September 15, 2018
Tamim Iqbal you are really a Tiger!! Respect Man !!!

— Abu Zaman (@abuzaman786) September 15, 2018
I am crying ..!
A big salue for Tamim Iqbal .
Thank You mushi😍😍

— Farid Ahamed Joy (@FaridAhamedJoy9) September 15, 2018
For more news and developments, stay tuned on CricTracker.com.