Twitter slams Dinesh Karthik for not promoting Andre Russell up the order
Russell was sent at number seven in the game and he could only score 15 runs.
Updated - Apr 21, 2019 9:26 pm
1.4K Views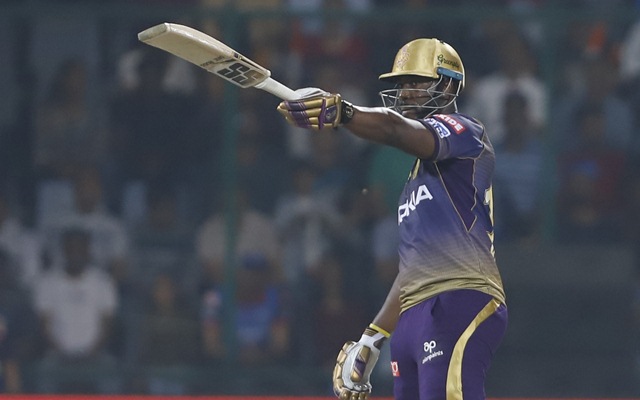 Kolkata Knight Riders (KKR) might have lost the plot mid-way into the Indian Premier League (IPL) 2019, but their West Indian all-rounder Andre Russell has been a sensation this season. The 30-year-old Jamaican has thrashed almost everything that has come his way this summer and has a staggering strike-rate of 217 plus! In 10 matches, Russell has amassed 392 runs at an average of 65 plus and is the fifth highest-scorer in this IPL.
However, the Russell story still had some disappointment attached to it and it is about his batting position. On Sunday, in their must-win return match against Sunrisers Hyderabad, the KKR had a terrific start with their openers Chris Lynn and Sunil Narine adding 42 runs in just 2.4 overs.
As Narine got out after a blitzkrieg 25 off eight balls, KKR lost all the momentum and were four down very soon. He could've sent in then to get hold of the pitch before going berserk. But Rinku Singh came ahead of him and scored 30 runs off 27 balls.
Russell came in when the KKR had less than five overs left in their innings. He could manage just 15 off nine balls and Dinesh Karthik's side eventually managed just 159 runs in 20 overs, losing eight wickets in the process.
Mark Waugh and Harsha Bhogle not convinced
While former Australia cricketer Mark Waugh expressed his displeasure with the KKR sending Andre Russell at No.7, the Twitterati also could not hide its frustration over the franchise's depriving its best batsman to play the most number of balls. Ace cricket commentator Harsha Bhogle was also flustered by the decision, asking in a tweet why couldn't the player be sent at No.6?
In the previous game against Royal Challengers Bangalore, KKR sent Russell at No. 6 while chasing a steep target of 214 and the batsman did his best to take them close to a win but eventually fell short by 10 runs. Russell himself made it known later that he was not happy batting so low down the order.
The Twitterati slammed captain Dinesh Karthik, who himself is in a poor form this season, for not promoting Russell in the batting order.
Here are some reactions:
13th over, no Russell yet. So what do the incumbent batsmen do? With every ball, they are giving Russell less time but surely they can't throw it away for him either. Why doesn't he just bat at no 6?

— Harsha Bhogle (@bhogleharsha) April 21, 2019
Seriously..Karthik has got such a talented squad and he is wasting it with his idiotic captaincy. Such a defensive approach in bowling and Russell coming on so late. What was that? #SRHvKKR

— Ayush Sharma (@ayushsharma2507) April 21, 2019
karthik aur Gill ko team se bahar hona chahiye, keeping Uthappa kar lega, Russell ko 2nd down me aana chahiye @iamsrk @KKRiders

— santu (@the_Sdas) April 21, 2019
I just asking the team management why Russell at number 7 and why not number 4 ? Mr. Karthik toady u prove that ur the worsted player I ever seen also ur captaincy.

— Subrata Goswami (@chotu19121) April 21, 2019
From today match it was clear that Karthik is not a good https://t.co/YeJJ77eiS2 was a wrong decision to promote Rinku Singh ahead of Russell. Becuse of sending Russell in lowest order is the main cause of defeat of KKR.please change the captain – KKR management.

— Subrat Hota (@subrathota3007) April 21, 2019
Still don't know why #kkr not sending Russell early
He is a match winner
Poor captaincy by #karthik @KKRiders deserved to lose today
Pathetic captaincy #IPL2019 #SRHvKKR

— Karan RF 101 / SRH (@karanreddyRF) April 21, 2019
Russell himself wanted to bat up the order. But We have legendary management. They want him to hit every ball. And remove Dinesh Karthik as our Captain @KKRiders #SRHvKKR

— Wizård. (@iamraj4srk) April 21, 2019
Really dissappointed with kkr management and Dinesh Karthik so far in this ipl, firstly gill not at top order and now sending Russell at 7 is ridiculous,he has earned every thing to bat higher up #IPL2019 #KKRHaiTaiyaar #SRH #SRHvKKR #IPL12

— Manu (@Manu73263890) April 21, 2019
Dinesh Karthik should come after Russell, Russell should bat atleast 5-7 overs #SRHvKKR

— Mitul (@Eme2ul) April 21, 2019
Rinku Singh and Dinesh Karthik before Russell should be a sackable offence.

— Arun (@ManUtdSZN) April 21, 2019
Worst captaincy by dinesh karthik

Russell should be in place of rinku Singh

Or else

Rinku Singh or Chris lynn should have attacked from 12th or 13th over..

Some thing is wrong in KKR dugout#SRHvKKR #IPL2019

— Aegon Targaryen !! (@FedererFan56) April 21, 2019
Please change the captain.russel ko age bat karne ko bejo.pahle Russell fir Karthik.

— Debashish Das (@tatandas59) April 21, 2019
More like hire Gambhir as a mentor and he can help in auction afterall he was the one who got us Russell,Narine and Kuldeep and he'll also help that noob Dinesh Karthik in captaincy.

— Forza Serie A (@forzaseriea_a) April 21, 2019
Cannot understand the logic of keeping Russell so low in the batting order. Clearly a better scorer than Karthik,rana, Gill, uthapa, Rinku combined. Madness #SRHvKKR

— Ashish (@ashishraikar) April 21, 2019
is Dinesh Karthik gone mad , why he's not promoting Andre Russell . u playing him just four overs left to bat with tail enders bowlers !!!
gill there instead rana, really ?
Absolute zero strategy for batting order. #SRHvKKR

— Sinner (@outlawedbylaw) April 21, 2019
Meanwhile, Andre Russell must have been kicking himself in the dressing room. He had made a statement after the previous match that he should have been sent earlier. That message hasn't yet been delivered to Dinesh Karthik. #IPL2019 #SRHvsKKR

— Gautam chauhan (@Gautamchauhan2) April 21, 2019
[interaction id="5cbae8296fdf9a7a17e42b76″]