Twitter slams KL Rahul for failing yet again in Adelaide
He could only two score runs as India got off to a worst possible start.
Updated - Dec 6, 2018 8:58 am
2.4K Views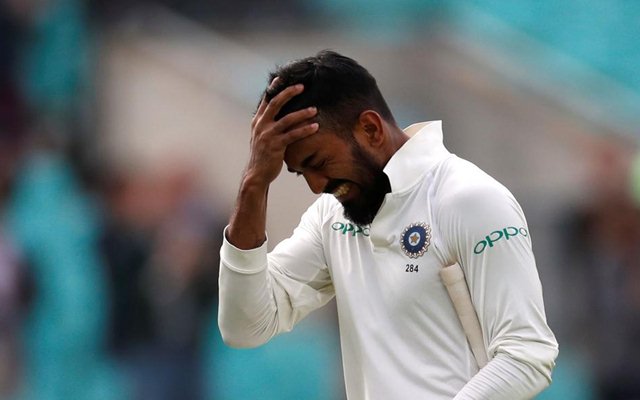 Follow us on Telegram
The highly anticipated Test series of the year between Australia and India finally got underway today in Adelaide and with it, Virat Kohli's luck at the toss also changed. After losing all the five tosses on England tour, he managed to win it on a featherbed of a pitch for the batsmen only to see one of his openers KL Rahul come back into the hut in the second over.
Rahul definitely didn't offer a good morning to the Indian fans back home. It was always going to be tough early with a hint of grass on the wicket but one would always expect for the openers to see off the first hour. But Rahul was in some hurry. He started off well by flicking one of the Mitchell Starc's delivery to deep mid-wicket in the first over. But Josh Hazlewood hit the straps from the word go as he kept Murali Vijay on the tenterhooks for the first three balls of his over.
Rahul drives unnecessarily
Vijay somehow got off the strike off the fourth delivery with a tentative single. But then KL Rahul, for some weird reasons, wafted at a harmless ball outside the off-stump only to edge it to the third slip where Aaron Finch was stationed. Hazlewood swung it beautifully in the air but definitely, it wasn't the wicket-taking delivery and Rahul gifted him a wicket by scoring just two runs.
With that, he also handed over the advantage despite winning the toss on a wonderful batting pitch. No wonder he possesses the talent, but as Sanjay Bangar after his first innings dismissal in practice game, Rahul needs to convert his talent into the runs now.
This failure has certainly not helped his cause by any means and with his opening partner also back in the hut, Team India is certainly on the backfoot with the onus, for the umpteenth time, on their captain Virat Kohli.
Here's how Twitter reacted to Rahul's failure:
Failure for KL Rahul. No point chasing the ball wide in the second over of the match. Bad shot to play. Australia draw first blood. They will want to get to Virat asap. Pujara now.

— Boria Majumdar (@BoriaMajumdar) December 6, 2018
Didn't really have to play/hit that one. India loses Rahul in the second over. Partnership here please…take the sheen off. #AusvInd #7cricket @Channel7 @1116sen

— Aakash Chopra (@cricketaakash) December 6, 2018
Murali Vijay – KL Rahul opening stands outside India: 0, 48, 4, 3, 28, 11, 7, 0, 0 & 3 (last)
Avg p'ship: 10.40#AUSvIND

— Deepu Narayanan (@deeputalks) December 6, 2018
What's the necessity of going fishing outside the off stump? Have never understood KL Rahul the Test batsman in the last year or so. He was such a fine Test batsman when he first arrived. #AUSvIND #AUSvsIND

— Prasenjit Dey (@CricPrasen) December 6, 2018
Nothing to say about KL Rahul. Time to show him the door!

— Sohini (@Mittermaniac) December 6, 2018
How long are we going to continue with KL Rahul. This was a pretty decent deck unlike the ones at England

— Kumbhakaran Lift Masakadzas (@masakadzas) December 6, 2018
KL Rahul and M Vijay average 11.22 as an opening partnership in away Tests. On the day they fall well short of even that low mark. Rahul flashes outside off and is caught easily by Aaron Finch in the slip cordon. That is a poor shot. #AUSvIND

— Anand Vasu (@anandvasu) December 6, 2018
KL Rahul survives only 7 balls before he nicks one. India lost a first wicket in second over…

— Broken Cricket (@BrokenCricket) December 6, 2018
If KL Rahul is getting chances to prove himself than why not Rohit Sharma ??
I genuinely feel, that Rohit Sharma should get chances in all 4 games and after that someone can comment on his performance.

— Arjun Yadav (@M_Arjun_yadav) December 5, 2018
As expected, KL Rahul fails yet again. Averages 23.44 this year (11 tests, 19 innings). If the team is picking as per conditions (Vihari dropped for Rohit), should have picked Dhawan in the squad and playing XI and not Rahul. Team management has been clueless. #AUSvIND

— Aditya (@forwardshortleg) December 6, 2018
Last time KL Rahul played a test in Australia, he showed that he had the patience & ability to adapt to the conditions and play in this format.

He hasn't delivered on that promise since his debut. That's frustrating.

— Clive (@vanillawallah) December 6, 2018
Countries change, continents change, but KL Rahul and his mischiefs outside the off stump are always there and thereabout. Not the greatest of starts this. Rocked early!#AUSvIND

— North Stand Gang – Wankhede (@NorthStandGang) December 6, 2018
KL Rahul with the most important question days before the first test 🔥🔥 pic.twitter.com/hKh1GHqnMV

— Cricketing Baboon (@MadMart05) December 4, 2018
Classic case of the right shot poorly executed from KL Rahul. Does mean we are now only one wicket away from Kohli batting though.

— Peter Miller (@TheCricketGeek) December 6, 2018
Batsman like KL Rahul should've been the reason why Ricky Ponting predicted Josh Hazlewood to be the leading wicket taker of the series!

Time's up Rahul

Get back to Ranjis at least 💔#AUSvsIND #AUSvIND

— Vijayendra Kosigi (@kosigi_vijay11) December 6, 2018
Fans right now to KL Rahul #AUSvIND pic.twitter.com/o1zeXpH6N2

— Mitul (@Eme2ul) December 6, 2018
KL Rahul's poor run of form continues. A lose drive away from the body gives Josh Hazlewood his first wicket. #AUSvIND

— Ek Tippa (@ektippa) December 6, 2018
India can easily play bhuvi as an opener and i bet my life he'd play better shot in the 2nd over than kl rahul#INDvAUS

— khabib sharma69 (@landlord0007) December 6, 2018
KL Rahul is making an impact in the very first Test Match, the only way he knows how to..by getting out cheaply. 🙄 #AUSvIND

— YAAAAAAS 👸🏻 (@Gracious_Gal) December 6, 2018
Follow us on Google News