Twitter trolls Sony as wrestler Matt Hardy graces his presence in the post-day show
Hardy is known for setting the ring on fire with his fiery moves.
Updated - Dec 6, 2018 2:00 pm
899 Views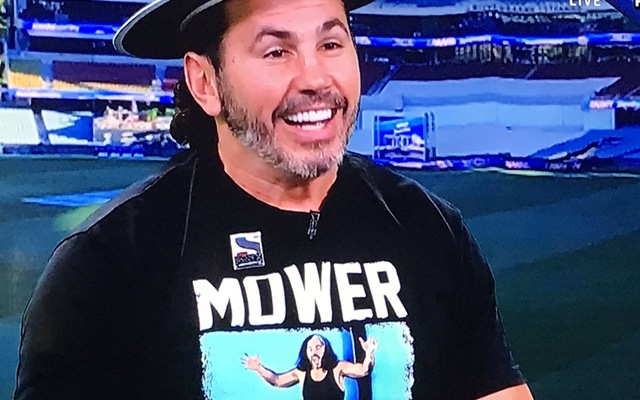 The opening day of the first Test between India and Australia at the renowned Adelaide Oval turned out to be an exciting one, despite too many runs not being scored. At one point in time, the visitors got Virat Kohli and Co by the scruff of their necks, having reduced them to 19/3 in the 11th over. The likes of Josh Hazlewood, Mitchell Starc and Pat Cummins spewed venom.
Runs were hard to come by after India won the toss and elected to bat first. A few loose strokes from some of their star batsmen got them in a rabbit hole. While the likes of Murali Vijay, KL Rahul, and Virat Kohli got out fishing outside the off-stump, the likes of Rishabh Pant and Rohit Sharma threw their wickets away after getting the measure of the playing conditions.
Nevertheless, Cheteshwar Pujara put his head down and scored 123 runs from 246 balls to drag his team out of the precarious position. His knock was laced with seven boundaries and two sixes. After losing their first five wickets at the score of 86, India ended their day on 250/9. However, they would've been happy had Pujara managed to stay not out until the close of play.
Matt Hardy in the studio
In the meantime, amidst some riveting cricket, the match also had some flavor of World Wrestling Entertainment (WWE) associated with it. Post the day's play, Matt Hardy, an American professional wrestler, graced his presence in the studio of Sony. A man known for setting the ring on fire with his fiery moves, Hardy was also sharing his insightful thoughts on cricket.
Even Murali Kartik, the presenter, was seen giving him some tips on how to play cricket. Matt's younger brother Jeff Hardy is also a part of the WWE. The elder of the Hardy's has won a number of titles, especially in the tag-team category. Even as a single wrestler, he is a three-time world champion. Meanwhile, supporters were bemused by Hardy's presence and they trolled Sony hilariously.
Here is how Twitter reacted
(Not) Exactly what we want to hear after the end of days play ! Expert guest and wrestler Matt hardy reviews cricket after the end of first day 👏 . Well done ! 🙄 pic.twitter.com/91s8ETnRXW

— Shreevats goswami (@shreevats1) December 6, 2018
Matt Hardy on a post match cricket show? Seriously? #ausvind

— Sriram.R (@leftyindian) December 6, 2018
I tuned in to watch highlights of Pujara's innings on Sony but instead got to see Matt Hardy and Murali Kartik analysing cricket. I've seen it all now.

— Mrinal Narang (@narangmrinal) December 6, 2018
It's actually a full blown program with Matt Hardy now. Minutes after the match ended! Goodness, @SPNSportsIndia. You have gone to the next level, truly.

— Vinayakk (@vinayakkm) December 6, 2018
Murali Karthik explaining how cricket works to WWE's Matt Hardy, who's on a cricket analysis show for god knows what reason. I think I'd rather that Star has an absolutely monopoly on cricket than suffer this trash on Sony. #AUSvIND

— Bhaskar Chawla (@BhaskarSirius) December 6, 2018
Is that Matt Hardy, the WWE star on an India-Australia surround show? 😁 #AusvInd

— Reuben Z (@R_Zed) December 6, 2018
Sony doesn't deserve Test Cricket. Bloody Matt Hardy to analyse a day of Test cricket that's seen 9 wickets and a century. Only saving grace is no one's screaming "thoko taali!" #AUSvIND

— shashreek roy (@shashreek) December 6, 2018
Murali Karthik teaching Matt Hardy the basics of cricket.

Awkwardness level: 1000!

— Amit Banerjee (@akb287) December 6, 2018
What's this @SPNSportsIndia? Matt Hardy reviewing today's play? Doob maro!

— Pa₹idhi $₹ivastava 🏏 (@BeingKohlicious) December 6, 2018
Matt Hardy, a WWE star, in mid innings show of a cricket match. Things are getting weird. #INDvAUS

— Somanjan Banerjee (@TheSomBanerjee) December 6, 2018
No worse decision in broadcasting than having John Abraham on Sony as the expert for Football World Cup.

Sony- Hold our Beer…..#MattHardy

— Gappistan Radio (@GappistanRadio) December 6, 2018
I haven't seen any cricketing stuff being spoken in the studio post-match in Extraaa Innings. Sunny Gavaskar asking for a selfie with Matt Hardy. Mark Butcher asking viewers to watch WWE Sunday Dhamaal on Sunday in Sony Ten. @SPNSportsIndia You remember India did play 87.5 overs!

— Dinesh Anand (@dinnudinesh94) December 6, 2018
Murali Kartik is explaining cricket to Matt Hardy. We have reached peak TV coverage. #AusvInd

— manas mitul (@ManasMitul) December 6, 2018
Very enlightening Post day 1 discussion in studio with WWE wrestler Matt Hardy. Another level this is! #AUSvIND #INDvAUS #Pujara

— Unnikrishnan (@unni1974) December 6, 2018
Matt Hardy on the post show?? Are you kidding me! 😑 #AUSvIND

— Chii (@ChiranthJSA) December 6, 2018