Twitter unhappy over Mithali Raj's exclusion in the first T20I against New Zealand
Right from blaming Harmanpreet for not keeping her egos aside to pointing out India's poor collapse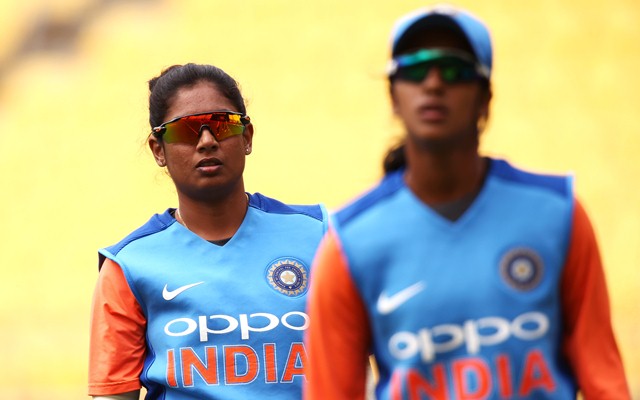 Follow us on Google News
The Indian fans were quite disappointed with Mithali Raj's exclusion from the T20I side. Regarded as India's most prominent batter when it comes to One Dayers, the 36-year-old has often found herself at loggerheads with the team management. Her rift with former coach Ramesh Powar following the conclusion of WT20 is well known.
In 85 T20Is, Mithali has an aggregate of 2283 runs which includes 17 fifties. Time and again, she has always proved her worth with the bat. However, the veteran hasn't been in a great patch of late. Her fielding too has been a concern for the team. As a result of these events, she was left out of the playing XI during the WT20 semifinals in spite of scoring fifties.
As Harmanpreet Kaur walked out for the toss today, there was no Mithali in the playing XI. She also holds the ninth position in the ICC rankings for top batters. Hence leaving her out was bound to raise certain eyebrows. She may not be a great asset in the shortest format but still decent enough to be picked in the playing XI.
Mithali could've arrested the collapse
Mithali Raj's absence was eventually felt in the batting order. Chasing 160, the Indian Women were cruising at 102/1. However, Smriti Mandhana's wicket led to a collapse in the middle. The visitors lost wickets like a pack of cards as the Kiwi bowlers cashed in. The Women in Blue ended up getting all out for 136 as they fell short by 23 runs. Twitter was quick to remind how Mithali's presence may have made a difference.
Right from blaming Harmanpreet for not keeping her egos aside to pointing out India's poor collapse, many felt that Mithali deserved a go. While she is likely to retire after the England series, the skipper had other views. Harmanpreet felt that all the players deserved a chance since it was their last opportunity to play overseas before the tournament in 2020.
Here are some of the Twitter reactions on Mithali Raj being dropped from the playing XI:-
India women without Mithali Raj 👎👎 #NZWvINDW

— Rahul. (@SRKrider1) February 6, 2019
So Mithali Raj sits out, Priya Punia makes her debut. And Mithali hands Punia her cap. Symbolic; after Jhulan Goswami's retirement, we're seeing the final transition in the @BCCIWomen team.

— Snehal Pradhan (@SnehalPradhan) February 6, 2019
Mithali Raj not playing. Are we seeing transition in women cricket. #NZvIND #NZWvINDW

— Advitiya Srivastava (@Advitya08) February 6, 2019
Bring #Mithaliraj in mext match no one play well than her. After #Mandhana #Harman #BCCI #NZWvINDW

— Naresh Mangeyi🐦 (@ImMangeyi) February 6, 2019
Just like we need Dhoni in the men's team, we need Mithali Raj in women's team to arrest a slide. India throwing wickets at the moment. #IndvsNz #mithaliraj

— Rohit Pitre (@pitre_rohit) February 6, 2019
Hahaha @BCCIWomen the collapse is unreal . Bring on Mithali raj you muppets

— Johar Ali (@ShahMufc) February 6, 2019
Dropping @M_Raj03 backfires on @ImHarmanpreet yet again! Indian women's cricket 🏏 needs to rise above politics. #MithaliRaj was at the peak of her form when she first got dropped for no reason #INDvNZ #T20

— somnath basu (@Basusms) February 6, 2019
Indian women think they're good enough to rest there best and most experienced players for a bunch of kids in 2020 cricket bow your head in shame poisonous Kaur and Mandhana bring back BIG STRONG MITHALI RAJ

— David Brent bets IPL (@DavidBrentIPL) February 6, 2019
Love her or hate her, India needs Mithali Raj as an anchor. #INDWvNZW

— Lalit Patel (@Lalit_Patel1992) February 6, 2019
once again india womens team loss the game mithali raj wins.why selector don't understand the value of mithali raj.

— manoharan laxman (@LaxmanManoharan) February 6, 2019
Im happy indian team is loosing. This is what happens when you remove experience of Mithali Raj. It's good wake up call for arrogant team management. #NZWvINDW

— @@@@ (@anonymousguy194) February 6, 2019
This happens when u don't have Mithali Raj 😢 #NZWvINDW https://t.co/0KIiUvlA66

— Rahul. (@SRKrider1) February 6, 2019
If u drop @M_Raj03 then this will happen @ImHarmanpreet …. #idiot #NZvIND #NZWvINDW #MithaliRaj

— Aditya Vaidya (@adityavaidya99) February 6, 2019
Mithali Raj is clearly better than some of these

— Neerav (@welloffcourse) February 6, 2019
@M_Raj03 Mithali Raj is a legend and deserves to go out on her terms. Today's results have shown that the batting order could still use her experience – from 102/2 to 136 all out! #NZWvINDW https://t.co/aOOn2XppTJ

— Abhi Ramanathan (@AbhiRamanathan) February 6, 2019
If mithali raj is Not starting 11 player you deserve loss… being indian not felt loss..

37 average in t20i
50+ in odi
50+ in test
Twitter not given sufficient text to describe mithali .

— V entertain (@VEntertain321) February 6, 2019
#NZWvINDW After watching today's Match Mithali Raj's reply to the selectors as she was dropped out of the playing XI pic.twitter.com/XbNoU6STmH

— rAvindrA vermA (@endlesseulogy) February 6, 2019
I guess the most effective argument in favour of Mithali Raj's inclusion in the T20I team is being provided by the team itself. Collapse of gigantic proportions.

— Papya. (@Dhaanu) February 6, 2019
Is it just the fan in me or everyone can clearly draw a parallel between #MSDhoni & #MithaliRaj?
Both senior-most members, who have got glory to the team, now being questioned/sidelined by people within the team.
And every game where they were 'rested', #India has suffered.

— Pratik Dawda (@pratikdawda) February 6, 2019
Yet again #MithaliRaj absence felt ! Today's chase is classic example y do you need Indian eves stalwart mithali ! #INDWvNZW

— Pradeep Narayanamoorthy (@Pradeep2402) February 6, 2019
Follow us on Telegram