Twitter unhappy with Rohit Sharma's failure against Hong Kong
Rohit missed out on an opportunity to score big.
Updated - Sep 18, 2018 6:27 pm
1.2K Views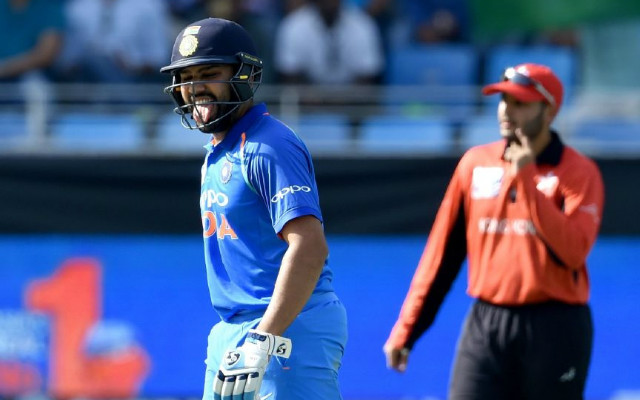 Follow us on Telegram
India's Asia Cup campaign finally got underway against Hong Kong today as they are being tipped as the overwhelming favourites in the game. Their luck at the toss though and the opposition invited Team India to bat first in the scorching heat. It goes without saying that the fans will be hoping for the batsmen to post a huge total on the board and get warmed up ahead of the marquee clash against Pakistan. But the skipper Rohit Sharma missed out on an opportunity and was dismissed only on 23 by Ehsan Khan.
The duo of Rohit and Shikhar Dhawan provided India with a quick-fire start and the new-ball bowlers didn't trouble them even a bit. The first seven overs saw them score 45 runs and it was clear by then that it will be a long outing for Hong Kong. Their captain Anshuman Rath decided to bring their most effective bowler Ehsan Khan into the attack early in the eighth over and it reaped rich rewards straight away.
Rohit's irresponsible stroke
Meanwhile, Rohit Sharma was looking in good touch and had played a couple of lofted shots as well. He didn't look rusty in his approach and raced away to 23 only in 21 balls. But there was a sudden rush in his blood and stepped out of his crease to launch Ehsan out of the ground. In the process, the bat turned in his hand and could only top edge the delivery for the mid-on fielder to catch it easily.
It was a tame end to what looked like a flourishing knock to start his Asia Cup. Such a shot was uncalled for at that stage and he should've targetted any other bowler. Ehsan has been one of the best bowlers for Hong Kong. He scalped the wickets of Fakhar Zaman and Babar Azam in the last game as well and was also key for his team in the qualifying tournament.
Twitter was livid with Rohit playing an irresponsible shot and lashed out at him for the same. Ambati Rayudu and Shikhar Dhawan have played sensibly since then and made sure that they don't give up a good start.
Here's how Twitter reacted to Rohit's dismissal:
Rohit Sharma was half rested & half played in this game.#INDvHK

— chetan_k (@trust_my_lies) September 18, 2018
@ImRo45 Dude, wt was the necessary to play Aaddy Guddy shot too early🤔😰? You had a good chance to score 200+ & you have spoiled it, if it was against Sri Lanka there was a chance of dropping the catch coz if you see most of the players are pregnant & are in delivery stages😂😁

— Anand. R (@Indiaisgr88) September 18, 2018
Rohit Sharma is such a humble captain. Thinking about other teams too. Encouraging them by giving away his wicket cheaply. Great #indvhk #AsiaCup

— Jagrati Yadav (@JagratiYadav3) September 18, 2018
Rohit Sharma has so much talent that he don't want to show it to a team like Hong Kong.

Attitude at its best…😎#INDvHK

— Rahul (@iamRahul22) September 18, 2018
Rohit Sharma must be mad at himself, lost a golden opportunity to score another 200.

— Lousy Lawyer (@Lousy_Lawyer) September 18, 2018
@ImRo45 pic.twitter.com/QPxlgbVF72

— Narendra (@Shakktimaan_) September 18, 2018
Rohit sharma gets out early because he wants out of form shikhar dhawan to perform and regain his confidence True captaincy .

— Hunट₹₹ Jalotian♂ (@nickhunterr) September 18, 2018
Rohit Sharma
(Last 5 Innings) (Asia cup)

0 (2)
15 (14)
39 (28)
1 (5)
23 (22)#AsiaCup2018 #INDvHK

— Cαρтαιɳ ɱαɾνєℓℓσυѕ …!! (@Marvellous_Capt) September 18, 2018
Rohit Sharma did not score in this game because tomorrow is the big one #AsiaCup2018

— Prem Mohanty (@philipbkk) September 18, 2018
Rohit Sharma didn't score against HK he don't wanted to waste his talent against small team #INDvHK

— CHOTAA BHEEM (@Chotaa_Bheem) September 18, 2018
Once again "Rohit Sharma" gets out to played at cross batted shot
the only reason why he not playing in test cricket. checked out Mr Rohit #INDvHK #AsiaCup18

— Sachin Padwal (@sachin140778) September 18, 2018
Rohit sharma after getting out early against HK. #INDvHK pic.twitter.com/A6xwfK9k8U

— Mask Indian (@Mr_LoLwa) September 18, 2018
Solid foundation laid by Rohit Sharma against a formidable opposition. That's captaincy! #INDvHK

— Keh Ke Peheno (@coolfunnytshirt) September 18, 2018
@coolfunnytshirt to rohit sharma after his usual early dismissal pic.twitter.com/oQD3YdbSTb

— being me… (@BeingAtin) September 18, 2018
Rohit Sharma saving his energy for more important things.. #AsiaCup #INDvHK

— No Balls Cricket (@NoBallsCricket) September 18, 2018
If he's a big match player why should he play small matches? @zaheer @ImRo45

— khaliqur rahman (@khaliqurrahman) September 18, 2018
Virat Kohli: Bhai tere 200 ka kya hua?

Rohit Sharma: #INDvHK pic.twitter.com/5czdxxRcxr

— Rishabh Srivastava (@AskRishabh) September 18, 2018
Rithika : phone a friend lifeline use karna chahungi.

Amitabh : kya karte hai aapke mitra?

Rithika : kuch nhi bas Maggie boy hai

Amitabh : computer ji @ImRo45 ko phone lagaya jaye…#INDvHK

— Sagar🇮🇳 (@iam__Sagar) September 18, 2018
Keep following CricTracker for more news and updates.
Follow us on Google News